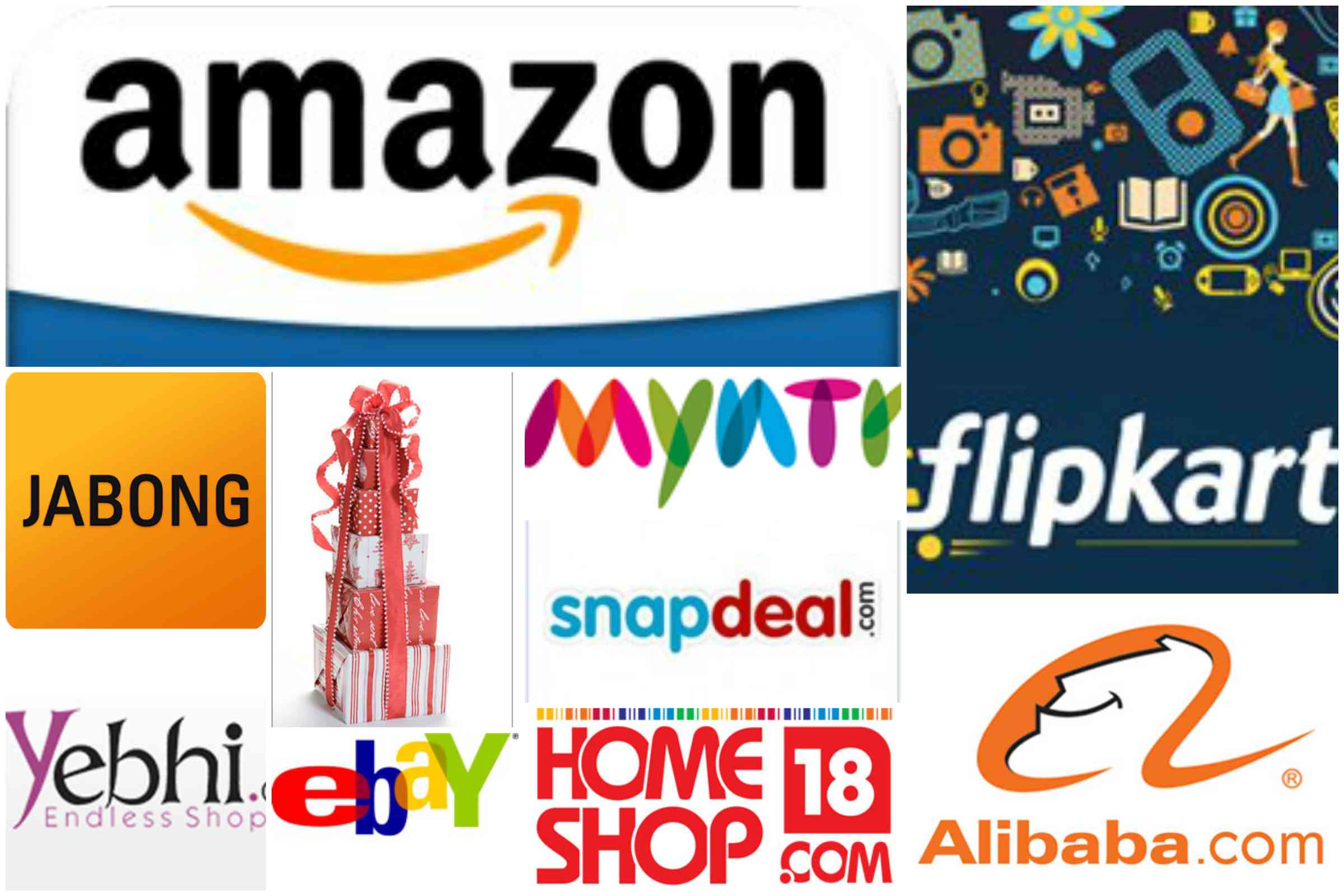 ere is the list of top 10 online shopping sites those are found to be trustworthy by Indians. These sites are ranked according to their services, products, ranges, warranty and quality of products.
The data on the basis of which ranking has been done are taken from various sources.
List of top 10 Online Shopping Sites in India
1. Flipkart.com –
Flipkart.com ranked as no.1 online shopping site of India because of its product range, services, product quality etc. According to Alexa ranking, Flipkart is named in top 10 sites used by Indians. The service of flipkart.com is found to be good and trustworthy. Flipkart.com was founded by two Indians only in 2007.
Flipkart is also the biggest e-commerce brand of India. The website covers all products from home appliances to gadgets, books to video CDs, garments to baby clothes
2. Amazon.in –
Amazon is a US e-commerce company which is world's no. 1 e-commerce site. Amazon holds the record of employing a maximum number of employees in an Internet-based business company. Amazon started its journey from books only but then soon it came up with movie DVDs, CDs etc. After the success of these products, Amazon never looked back and now provides almost every product online.
Amazon India is investing a good amount of money to lure Indians. The exciting offers and good service helped Amazon to take as second best eCommerce site of India in few days only.
3. Myntra.com –
Myntra is an Indian eCommerce site. It is regarded as India's top 3rd online site to shop products. Myntra allows its users to chose varieties of dress. One can  choose any type of dress of any brand from Myntra.
The best thing about Myntra is its product quality and service. Now, Myntra is merged into Flipkart to compete Amazon, but myntra.com is still running as a separate website and entity. Buying clothes and gifts online can be best done via Myntra.
4. Jabong.com
Jabong.com is again an Indian eCommerce biggie which is really known for its good service and products. All types of lifestyle materials like shoes, dresses, gift items etc. can be bought at best rates from Jabong. Many sources confirm that Jabong is the second most clicked shopping site in India.
Although Jabong deals in fashion and lifestyle products only, but still is the fourth ranked online shopping site of India in terms of trust and service. The advertisements of Jabong.com are also one of the best among its competitors which helped it to rise at good rate.
5. Snapdeal.com
Snapdeal.com is also an Indian ecommerce site which started in 2010 only but gained a good popularity among Indian buyers in a very less time. In comparision to others, the growth rate of snapdeal is amazing. Snapdeal covers mainly most of the products like flipkart and amazon. This ecommerce site is widely used by people because of its best offers and good delivery service.
Apart from eCommerce, Snapdeal also stepped in mCommerce to enhance its business since people nowdays use mobiles a lot to purchase several items. It is also termed as a site which provides products at quite a low price when compared to others. Snapdeal ranks at number 5 today but its business policies can make it the king too.
6. Ebay.in
Ebay is a multinational eCommerce giant from USA which operates in India as ebay.in for its business. Ebay.in sells each and every type of product. It is known for its best online auction capability.
It helps the third party to sell its item on the site. From new to old products, everything is available on ebay. It is one of the oldest and strongest eCommerce site of world and India. It holds the position of 6 among Indian online marketing biggies.
7. Alibaba.com
Alibaba.com is new in the Indian market but made a strong impact among Indian because of it fine quality of product and services. Alibaba.com is a Chinese ecommerce site which is known as one of the biggest in eCommerce field. Alibaba.com ranks 8th in India because of the credibility factor attached with it. Snapdeal and Alibaba are planning something to defeat their other competitors. Everything is available on Alibaba.com
8. Homeshop18
Homeshop18.com is a network 18 group associated eCommerce site managed by Reliance now. Homeshop18 gained its maximum momentum via televisions. It offers a cool range of all products including gadgets, home ware, clothing, jewellery etc. Shopping can be done online but its doing the best on air service in India which adds its online credibility too. It ranks 8th as best online sites of India to trust.
9. Shopclues.com
Shopclues.com is again an Indian major eCommerce site which deals in each and every type of product. Its reported that ShopClues was ranked as top 35 sites in 2011 but now its in top 10 online shopping sites in India.
ShopClues is well known for its good product and warehousing. Shopclues is very famous among youth and this favoritism of youth for it helps it to gain momentum in Indian market. The site is well known for its gadgets shopping.
10. Yebhi.com
Yebhi.com is again an Indian eCommerce site famous for lifestyle products including clothing, fashionable items, gift items plus home products too. Yebhi.com began its journey from bigshoebazaar.com but later changed to yebhi.com. Products like mobiles, cameras, shirts, watches, laptops etc. are the backbone of this site. It also made its name in top 10 online shopping sites in India.
Apart from these, sites like Tradus.in, Zovi.com, Koovs.com, yepme.com etc are looking forward to join this top 10 club. Now, very soon Tata is also going enter this eCommerce race.
More interesting stories-