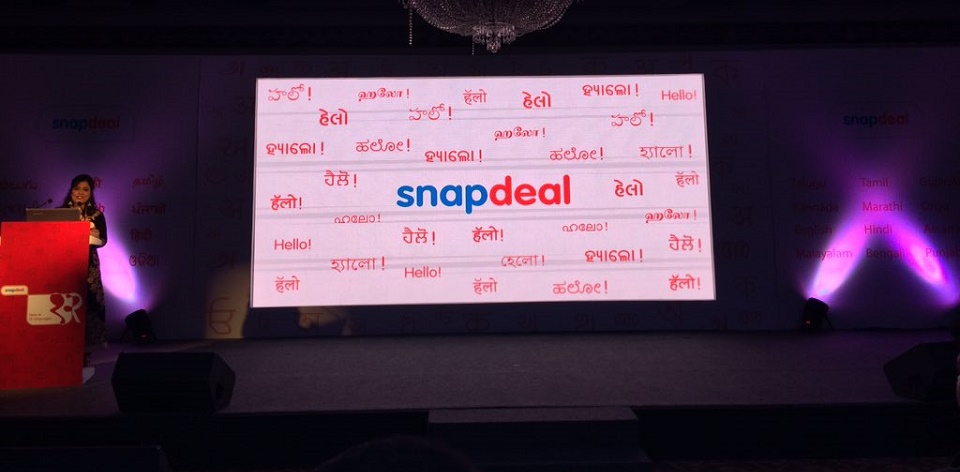 Being a leading online shopping website in Indian market, Snapdeal is taking more innovative steps  for its customers to overcome the language barrier.
By 26th Of Jan 2016, Snapdeal will be available in 11 more Indian languages for the Indian online shoppers. Snapdeal is going to be in these regional languages –
Hindi
Telugu
Gujarati
Tamil
Marathi
Bengali
Kannada
Malayalam
Oriya
Assamese
Punjabi
At moment, Snapdeal UI on the mobile is available in Hindi and Telugu. With this 'Multilingual interface' Snapdeal is trying to reach to 130 Million smartphone users in India, who use internet in regional languages.
At Press conference of event, Rohit Bansal co-founder Snapdeal & product head Anand Chandrasekaran mentioned many interesting facts above increasing E-commerce trend. Rohit mentioned –
"Snapdeal's multilingual user interface has been developed on the basis of the feedback it received from both its buyers & sellers. A significant percentage of the user base opts for Hindi and other regional languages to speak to their customer care representatives. With this multilingual platform, these customers can now shop in their native language. The platform allows users to pick the language of their choice for browsing, for payments and for order tracking,"

"The multilingual platform is built on top of Snaplite, Snapdeal's website for mobile browser, which is 85% lighter and consumes less bandwidth. This means that not only is it in the language of the regions, it also consumes 85% less bandwidth and loads in 1/4th the time of most other mobile sites."
It's a good day when you can help bring 130 million more users to a level playing field. Snapdeal, now in 11 Indic languages!

— Anand Chandrasekaran (@anandc) December 15, 2015
Blazingly fast E-commerce for the next 130M Indian Users – @Snapdeal in 11 more languages. #indiameetsbharat pic.twitter.com/F4crg5jnom

— Anand Chandrasekaran (@anandc) December 15, 2015
E-commerce in India have massive exposure by #Rohitbansal co-founder @snapdeal#ecommercepic.twitter.com/7ONRkBeVGN

— Yogita Aggarwal (@tanyagarg60) December 15, 2015
Though Snapdeal is the first eCommerce website for their 'multilingual interface' in India, team is expecting early movers benefits for same. Lets wait and watch the success of Snapdeal. All the best for their initiative under 'Project Bharat'.
Reader's don't miss to share your views on same. We will be happy to hear you.
Also Read –