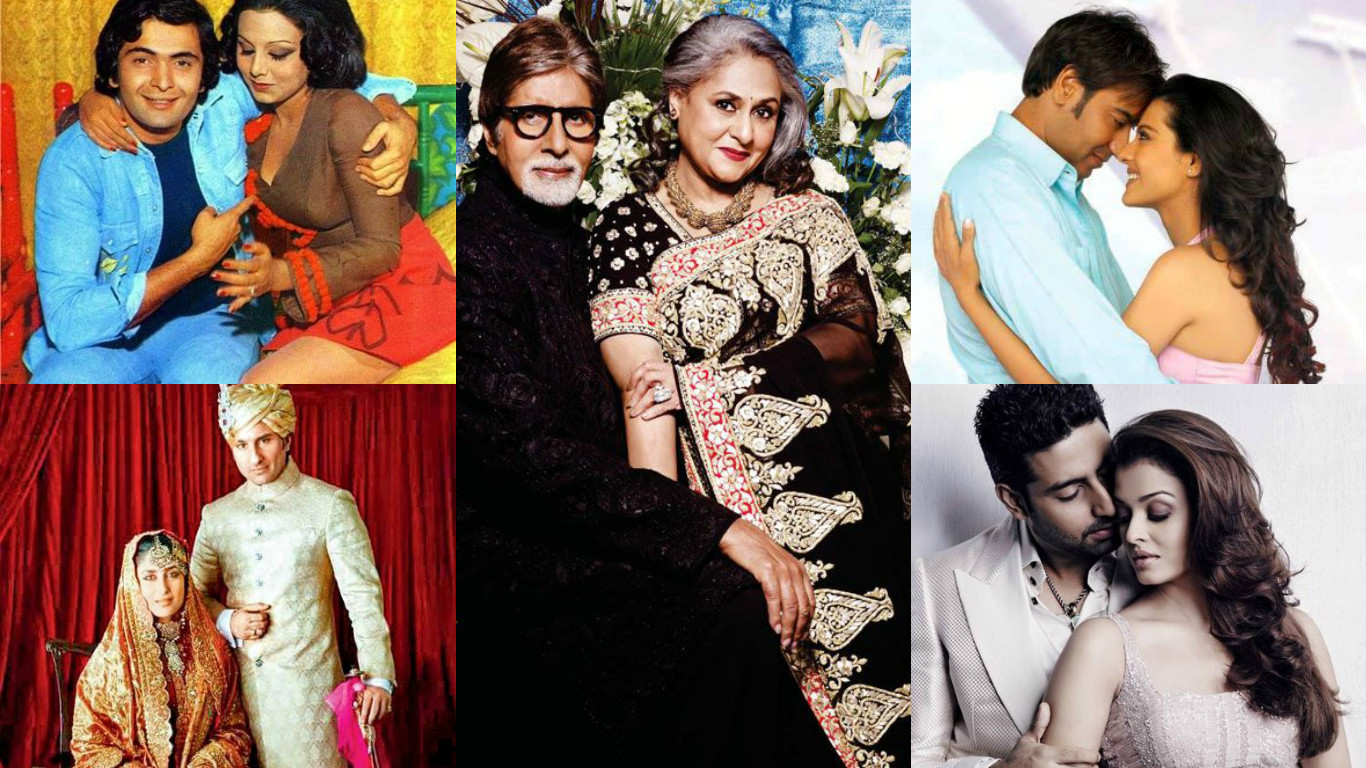 The best relationships usually begin unexpectedly. No one knows when the cupid strikes his arrow and brings a magical feeling in the hearts of two beautiful souls. At some point of our life, we all experience this blissful feeling and have the best time of our lives, don't we? Love is such a beautiful feeling that even the powerful Bollywood celebrities go weak on their knees. B-town celebrities are always looked upon for their fashion sense, style and even for their inspiring love.
Few B-town couples have had sizzling on-screen chemistry which developed into heart melting real life love stories whereas some have been friends before becoming couples. Each Bollywood couple love story has been an iconic story making you believe that fairytale love story does happen. So let's take you into the love lane of the top 10 real life couples of Bollywood.

1. Amitabh and Jaya Bachchan:

They are often referred as the golden couple of Bollywood, after all, they have been married for 43 years and have shown us that trust and respect for each other builds a strong relationship. It was love at first sight for Jaya Bachchan but their love turned into marriage after the success of Zanjeer in 1973. Amitabh feels blessed to have a partner like Jaya who is traditional, but has a modern outlook.
They have nurtured loving relationship which lasted for decades despite various troubles in the paradise. Jaya Bachchan has strongly supported her husband in every situation and been the pillar of his life. They truly inspire every one of us and show us that it takes years to beautify the relationship.
Also Read – Top Most 100 + Romantic Songs of Bollywood

2. Dilip Kumar and Saira Banu:

Love has no age barriers which was proved by the legendary couples Dilip Kumar and Saira Banu. Saira Banu had been a huge fan of the Tragedy King, Dilip Kumar but never in her dreams thought to marry him. But less did she know that Dilip Kumar would surprise her with a wedding proposal.
They got married in 1966 when Saira Banu had been just 22 years old and the couple had an age difference of 22 years. But this age gap never affected their relationship and even after so many decades the romantic couple still look so much in love with each other.

3. Rishi Kapoor and Neetu Singh:
Another cute Jodi of Bollywood who are truly an inspiration. Rishi Kapoor and Neetu Singh were a sensational hit on-screen couple and love blossomed over a period of time. Rishi Kapoor who was known as the chocolate boy of Bollywood often made pranks on Neetu, and over the time, she started dating the prankster and fell madly in love with him.
Their wedding was the talk of the B-town and post wedding Neetu decided to quit movies, yet she made a comeback and did various cute couple roles with her husband in Love Aaj Kal, Jab Tak Hain Jaan, Besharam.

4. Dharmendra and Hema Malini:
Who wouldn't fall head over heels in love with the Dream Girl, Hema Malini? Eventhough many popular actors of her time pursued her, but she was headstrong and wanted to focus on her career. But as they say, it is difficult to resist love and during the set of Sholay, she fell in love with the macho Punjabi man Dharmendra. Unfortunately, Dharmendra was married then and his wife was reluctant to give a divorce, but the strong-willed couple converted to Islam and got married.
Also Read – How To Find The Mr. Perfect Of Your Life
They have been married for 32 years and have acted in more than 40 movies! Their determined decision shows us that love tests you in various ways, but how far are you ready to go for your love is what it matters.

5. Anupam Kher and Kirron Kher:

Love give you several chances and the same happened to Kirron Kher when her first wedding with Gautam Berry didn't work. She and Anupam Kher had been best buddies since their theatre classes, and when she started working with him on several theatre shows, then some spark flew between them which made them realise that they have something more than friendship.
Kirron Kher divorced her husband and married the versatile actor Anupam Kher. Both had their best times traveling around the world together, but their blissful marriage faced a test time when Anupam Kher entertainment company went under a huge loss and his successful career graph dropped down. However in a couple of years, things turned better and both of them rose high in their career. Their love story shows us, no matter how much turmoil comes in life, together as a couple life can be challenged.

6. Akshay Kumar and Twinkle:

Love is beautiful when you understand and support your partner dedicatedly. The Khiladi of Bollywood Akshay Kumar was known for his playboy image and was linked with several beauties of tinsel town such as Shilpa Shetty, Raveena Tandon, Pooja Batra, Priyanka Chopra. But this didn't stop Twinkle Khanna falling in love with the sturdy looking Akshay. They met during the photo shoot of Filmfare but fell in love during the shoots of International Khiladi.
Twinkle shares that as she lost the bet that if her film Mela would be a flop, she would marry Akshay! And they both got married in 2001. After 15 years of marriage, Akshay still can't take his eyes off from his wife and feels that Twinkle has raised him, given him emotional support during tough times. She has given up her acting career but is a successful writer and interior designer.

7. Ajay Devgn and Kajol:

What do we call opposites attract? Kajol and Ajay Devgn. Why? Because they both have poles apart personality, yet even after their 17 years of wedding they are so much in love with each other. Where Ajay Devgn is a reserved personality, Kajol is just the opposite by being bubbly and full of life. They were good friends and dated for 4 years before settling down to marriage in 1999. Kajol gives credits to Ajay Devgn for the stability in her life and says that they co-captain their marriage ship.
And Ajay states that in our differences we complete and complement each other (totally romantic). Even though they have had bad phases in their wedding life, such as Ajay and Kangana linkup, Kajol's miscarriage, nothing deterred their strong bond and they both overcame the hurdles in their life. Now they are happily married and have two wonderful kids.

8. Abhishek Bachchan and Aishwarya Rai:

Another powerful couple of B-town, whom the world never imagined them getting married. Their relationship started from 'just friends' which grew into love during the sets of Umrao Jaan, Guru and Dhoom 2. Abhishek proposed her in NYC after the premiere of Guru and they had an extravagant wedding 2007. The wedding was iconic and the talk of the town. Ash calls Abhishek as supporting husband, whereas Abhishek says Ash is the anchor of his life!
Now isn't that adorable? They both share a sweet baby girl Aaradhya who is very dear to both of them. Their relationship shows how much they understand each other and how important it is to nurture each other for a positive growth.

9. Ritesh Deshmukh and Genelia D Souza:

The cutest couple of B-town who are totally adorable and definitely role models for several couples. Ritesh and Genelia met on the sets of Tujhe Meri Kasam where Genie had a presumption that he would be a spoiled brat, but the ice broke and in due course of time both became best buddies. Genelia found a true gentleman in him and both of them slowly developed feelings for each other.
Love didn't happen overnight for them, instead, they grew with their love for each other and took time in building their relation. Genelia finds him the mature guy and loves him for letting her be the way she is. Ritesh calls her unconditional love and supports his strength to move on. Now that's the sweetest thing to hear!

10. Saif and Kareena:

Nothing can be more royal and posh than the relationship between Saif and Kareena. Their relationship has always been in the limelight and they have proved to be the hottest couple of Bollywood. Prior their wedding, Bebo and Nawab of Pataudi dated for 5 years and been in a live-in relationship showing the world that they were a couple with different ideologies.
Also Read –Kareena Kapoor Khan beauty Secrets
Eventually then got married in 2012 and since then they have been in the media for several reasons. Kareena got married to Saif on one condition, that she could work even after the wedding, and we have seen her doing several movies post marriage. This shows us that in a marriage you ought to respect each other's decision.
We are sure you are loving this real life Bollywood couples blog which is so inspiring for all of us. Do share the name of your favourite real life couple of Bollywood, mine is Ritesh and Genelia, they are damn cute. 
Read More-