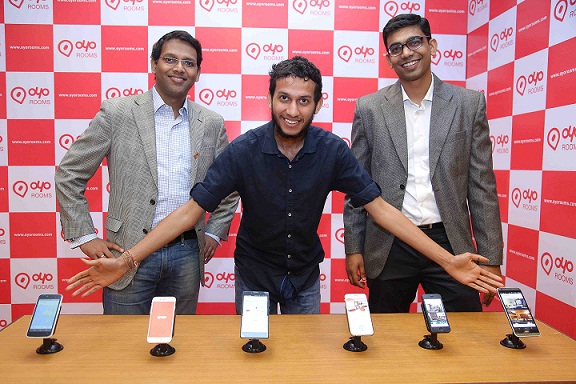 OYO, India's largest branded network of hotels, has become the youngest Indian startup to be included in the prestigious LinkedIn Top Attractors list for India in 2016. Ranked at number 16 overall and 6th in the rank of home-grown Indian companies, OYO is the only hospitality company among the 25 companies featured. The list also features industry stalwarts such as Amazon, Google and Flipkart.
The Top Attractors list is the first ranking of its kind to be based entirely on actions of LinkedIn users. According to LinkedIn, the 25 companies featured on the list are the best in India at attracting and keeping top talent. OYO pipped eCommerce companies such as MakeMyTrip and Zomato, and veterans such as Cisco, Reliance and Accenture, that are also featured in the same list.
Speaking about the achievement, Ritesh Agarwal, CEO and Founder, OYO, said, "We are ecstatic at being recognized as a top attractor by LinkedIn. People and technology form the crux of our operations and this survey along with its methodology represents the best convergence of the two. OYO is a preferred employer on account of being an agent of transformation. In the very short time since our launch, we have driven positive impact in the hospitality sector as well as the experience of lakhs of Indian travellers. The OYO DNA is all about being innovative, agile and responsive. This recognition further validates our belief in our vision of becoming the most-loved hotel brand in the world."
Also Check – 15 Hot & Inspiring Startups in India 2016
Globally, the list featured companies such as Apple, Facebook and Uber. LinkedIn partnered with Censuswide Research to carry out an online survey of 6,266 workers between May 18 and May 23, 2016. The countries surveyed were Australia, Brazil, France, India, UK and USA.
The list comprises companies where people most eagerly want to land jobs, and stay in them, as determined by 12 metrics that measure online actions taken by LinkedIn's members. Among those metrics are the number of views and applications per job posting on LinkedIn and other career sites, the number of views of a company's career page, and employee retention statistics as measured through profile updates.
Do check my Travel Log – Kairali Ayurvedic Health Resort, Palakkad Kerala
In just three years since its inception, OYO has managed to expand its network to include 70,000 rooms  in 180 Indian cities, with 2.3 million room-nights booked in the first quarter of 2016. CB Insights has cited OYO as one of the top 50 startups most likely to next reach unicorn status.
About OYO:
Founded by Ritesh Agarwal, India's first graduate of the Thiel Fellowship, OYO currently operates in more than 180 Indian cities. These include major metros, regional hubs, top leisure destinations, as well as pilgrimage towns. OYO is also present in Malaysia.
The company's vision is to become the world's most preferred and trusted hotel brand. It is backed by the world's leading investors including the Soft Bank Group, Green oaks Capital, Sequoia Capital and Light speed India.
India's largest branded network of hotels, OYO has partnered with IRCTC, Airtel, Samsung, Lenovo, Biotique, Cleartrip, Itzcash, FreeCharge, Mobikwik,  Peppertap and Grofers to deliver a seamless and standardised experience to guests.
Read More articles-