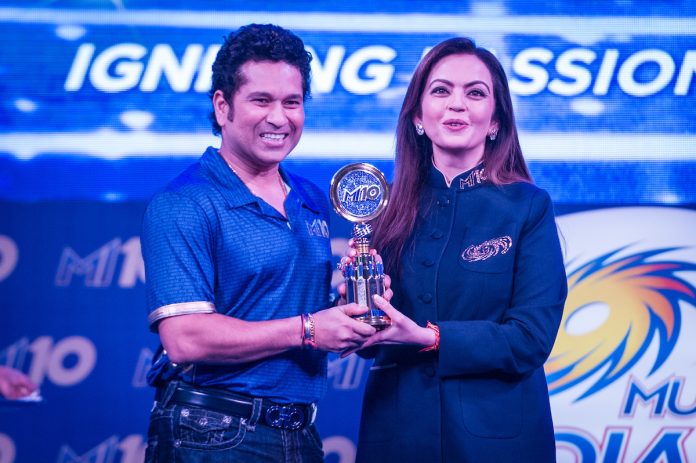 Mumbai Indians – the founding member franchise of Indian Premier League since 2008, celebrated a decade long completion of its cricketing excellence here in Mumbai on 10th April.
Pegged as 'MI10' – Igniting Passion For 10 Years, the Mumbai Indians' 10 year celebration saw a galaxy of past and present Mumbai Indians cricketers and support staff including current India coach Anil Kumble, Sanath Jayasuriya, Shikhar Dhawan, Harsha Bhogle and former Indian cricketers ie, Sunil Gavaskar, Ajay Jadeja, Abey Kuruvilla arrive at the franchise owners' residence.
Mrs Nita Ambani, on the occasion felicitated cricketing legend and Mumbai Indians 'Icon' Sachin Tendulkar, Harbhajan Singh and Lasith Malinga for their invaluable contribution to the team over the decade. Mumbai Indians is the only franchise amongst the IPL founding members, which has three members being part of the club since its inception. The trio are known as the 'Spine', 'Sprit' and the 'Soul' in the Mumbai Indians inner-circle.
'MI10' celebration was also an event to mark Mumbai Indians emergence as the best sports club brand not just in Asia but globally. These ten years have seen Mumbai Indians win 2 IPL and an equal Champions League T20 trophies.
Many young talents like Jasprit Bumrah, Hardik Pandya, Krunal Pandya, Axer Patel, Ambati Rayudu etc – who once were little known in cricket circle, have been unearthed by Mumbai Indians, providing them a platform to horn their skills with the mix of world's best cricketing support staff. Today these youngsters have gone to represent India and have contributed in brining glory to the nation.
As a commemorative to the 10 glorious years, Mr Mukesh Ambani along with Sachin Tendulkar, Harbhajan Singh, Lashith Malinga, Nita Ambani and Akash Ambani joint together to release a memorabilia book encapsulating the decade long journey with interesting anecdotes, interviews and comments from all past and present Mumbai Indians cricketers.
Mumbai Indians not just won hearts of hoards of its fan with no-field performances, but off-field too through community service. Since 2010, Mumbai Indians have been attached to social cause 'Education For All' to support underprivileged children for rightful and equal education. Mumbai Indians have supported and impacted life of 1 lakh underprivileged children through partner NGOs providing educational support.