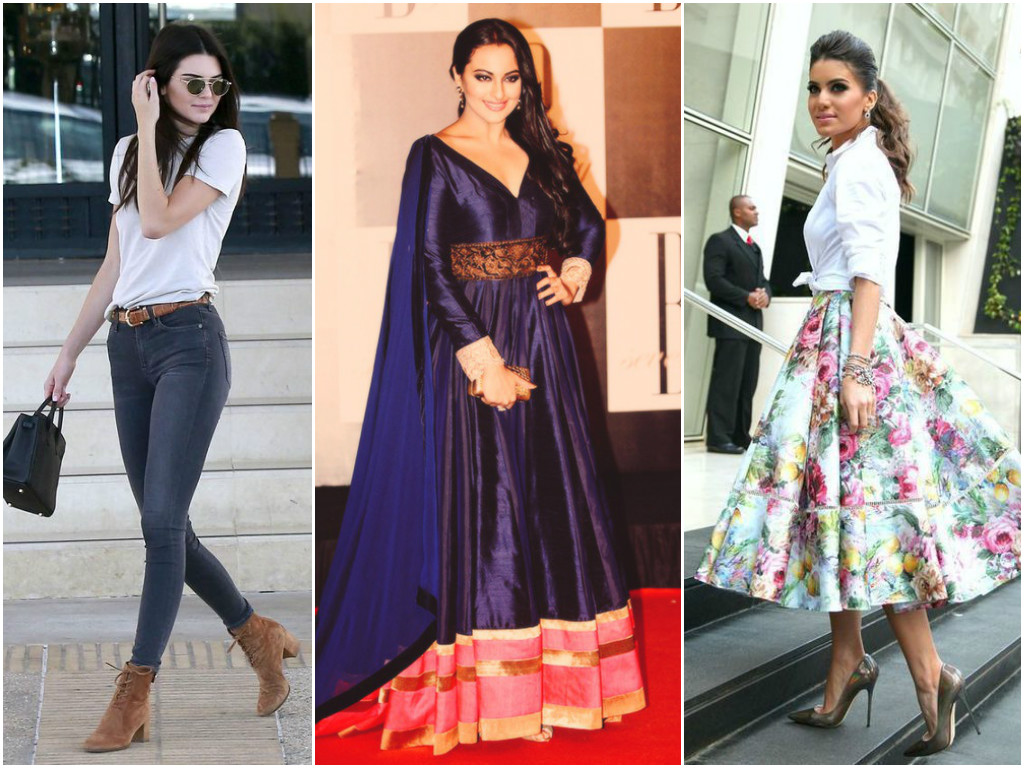 Are you dreaming of having a svelte figure of Deepika Padukone, but does your tummy fat disturb your beautiful dream and bring you back to the harsh reality of your life? If you are someone who loves dressing like a celebrity but hides in a boring, loose outfit, then this post is for you girl.
Tummy fat is the stubborn fat that falls in love with your body and doesn't feel like going away. Be whatever reason but hiding behind a balloon dress would look uninteresting and make you less confident.
But we have solutions for your tummy fat. Oh no we aren't sharing any exercises here, instead, we are giving you tricks on how to look terrific in an outfit that would hide your tummy fat. You don't have to go for a major wardrobe transformation, instead, you just have to style yourself smartly and shop wisely. So, take a look lovelies and learn how to hide the rigid belly fat under an awesome outfit.
1. Avoid bodycon:

We know how much you admire favourite models, celebrities wearing bodycon, but we suggest you to stay away from bodycon as much as possible. It would only highlight your belly and make you feel more bad about your body. But no, be happy how you look and dress smartly to look fabulous.
2. Go for A-line outfits:

If you think you can't wear a dress due to your belly fat, then dearie think again. Look for A-line dresses, tops and A-line skirts that would disappear your fat and make you look stunning. Even while buying Indian wear, style your salwar suits, Anarkali in A-line fashion which would be a cool trick to hide your troublesome tummy fat.
3. Make asymmetric tops and kaftan top your BFF:

Like bodycon, tight tops aren't for you. So keep them behind and look for alternatives as it is better to look wow instead of drab. Kaftan tops easily hide away the belly fat and if you aren't a fan of kaftan tops we suggest you to try the sassy asymmetric tops that would give you what you are looking for- a slimmer look.
4. Leggings and tunics will be your favourite:
source:fashion-district.org
As we suggested you to stay away from tight-fitting tops, we ask you to pick wider tops such as kaftan tops and team them with leggings. Leggings will do an amazing job of hiding your tummy flab and would bring make you look a size down. So you can ditch your jeans and try this combination to look like a fashionable lady.
5. Pick empire waistline outfit:
source: pinterest.com
Be it western or Indian clothes it would be wiser to choose empire waistline attires. This style of clothing will camouflage all the unwanted fat and give a silhouette of a trim figure. So, when you pick Anarkali suits, tops, dresses try going for empire waistline style suits and you can stop worrying that your tummy would be seen.
Must Check  –  DEEPIKA PADUKONE HAIR STYLES FOR YOU
6. High rise denim would vanish your belly:

If you have a belly fat then you should avoid low waist trousers, denim and pants as this style of pants will show your love handles. The best way to hide your tummy is by wearing high rise or mid rise pants, it will make you look smarter.
7. Invest in a body shaper:
If you are shying from dresses due to your tummy fat, then try wearing a proper fitting body shape which would smoothen your mid section and make you look fabulous. Focus on corsets, camisoles, shaping panties and make sure you go for right size as the wrong fit can cause health hazards.
Essential tricks and tips:
Go for bold prints and patterns that will draw away the attention from your belly fat.
Avoid wearing wide, chunky belts which highlight the tummy area.
Wear untucked t-shirts, tops and look slimmer.
Be wise in choosing the fabrics, as chiffon, georgette or any flowy material would suit your body.
Say no to clingy dresses that will enhance your fatty areas and turn your dressing into drab.
Flared outfits are made for your body, hide the fat beneath a gorgeous looking flared skirts, dresses.
We hope you loved our article, do share your comments and secret way to hide belly fat below.
 Read More-