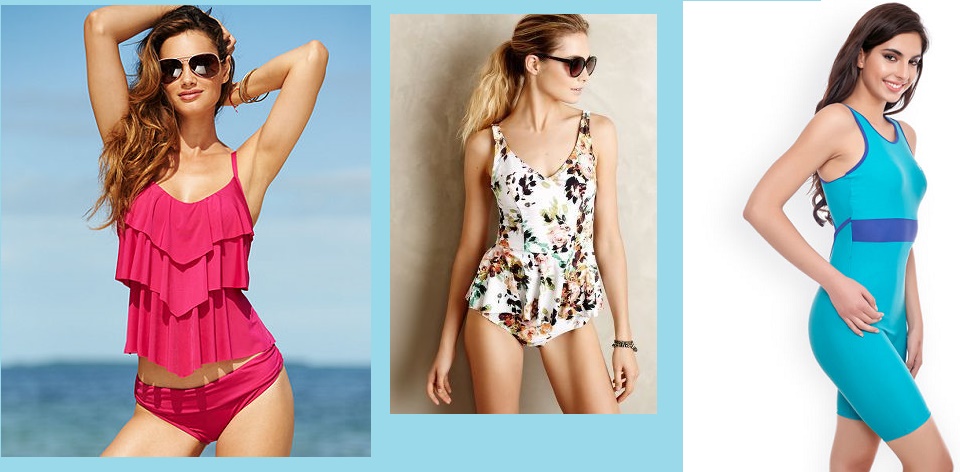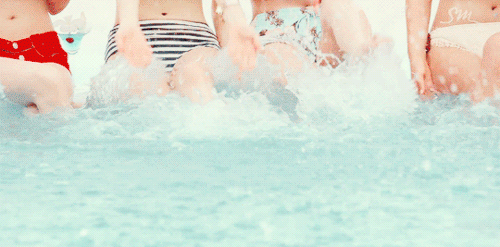 The sun is flaunting its rays at its best, so why not flaunt your uber-cool sartorial choices by wearing a style statement bikini. It's summer time girls and the best way to beat the heat are to head for the beach. If you are far away from the beach destination, then organizing a pool party and celebrate the summer in elan. Are you worried about exposing your body?
Then worry not, there are myriad of swimwear that would hide your flaws and highlight your assets.

So, girl be bold, be beautiful because you are special and much more than what you think.
Without further delay, let's start our top 10 beachwear which is a rage among the fashionistas and we definitely suggest you start online shopping after reading our post.
Some of the beachwear ideas are inspired from the Myntra Trending Beach Wear 2016 Infographic.


1. One piece Swimsuit:
Haven't we all have secretly admired PC's swimsuit in Dostana? This is the safest pick of the beginners or girls who are slightly shy to try something new. If you have got slender legs, then this style of swimsuit in floral prints, Aztec prints is the present craze.

2. Fringed Swimsuit:
Look bold and raunchy in the fringed swimsuit that was way popular during the 70's. Also, the halter neckline beachwear is trending so you would be completely fashion forward beach babe in this snazzy swimsuit.

3. Peplum Tankini:
Bring a complete summer vibe in the swanky peplum tankini set. We can't get over the floral print and love this tankini which will effortlessly hide your tummy paunch and reduce your anxiety.

4. Off shoulder Swimwear:
The trendsetter of the year that looks adorable and instantly glams up the look. Pep up your beach volleyball sport with the cute off shoulder swimwear in sultry white number.

5. Sarong:
Make your swimsuit an ultimate fun wear with sarongs. You can style them as a skirt, wraps, cover-up or like Alia Bhatt just tie it around your waist and soar up the temperature. What say, girls?
Read More – Bollywood Actresses Airport Styles – Travel

6. Maxi Swimsuit:
If you are uncomfortable with the bikini, then you have to thank the designers to make the maxi swimsuit, which is classy and comfortable. You can even save yourself from getting sun-kissed!

7. Cover up Swimsuit:

Who said you can't wear a swimsuit if you are chubby? Doll up yourself smartly in a flimsy kaftan and wear a stylish hat to complete the look. So stash your closet with the vibrant kaftan and walk in panache the next time you hit the beach.


8. High waist Bikini:

We wish we could walk confidently like the celebs and models in a swimwear. But hey, we can! Style up in the high-waist style bikini and tuck in the love handles that have separated you from swimwear.

9. Ruffle Swimsuit:
This ladies swimwear is designed to make you look trendy and to hide all your flaws. The flounce bikini top is for the plus size ladies who are often confused on what to wear as a swimsuit. Pick solid shades or printed ruffle swimsuit and look perfect for the beach party.

10. Cut-out Swimsuit:
Nothing can make you look sumptuous as the cut-out swimwear which is the current favorite of every bikini lover. Rock your sexy abs in the hot looking swimsuit and there would be several head-turners at the poolside.

11. Legsuit:
Want to flaunt your slender legs? Then we suggest you the leg suit, which would give you completely protect you from sun tan and even highlight your long legs. Leggy lasses this swimsuit is just for you!
We hope you have a fun-filled beach dance in your favorite bikini with your girl squad this weekend!
Image Source: pinterest.com
Gif: giphy.com, tumblr.com
We shared the 12 popular Beach outfits for women this year. Share with us which of these are your favorite beach wear.
Read More-