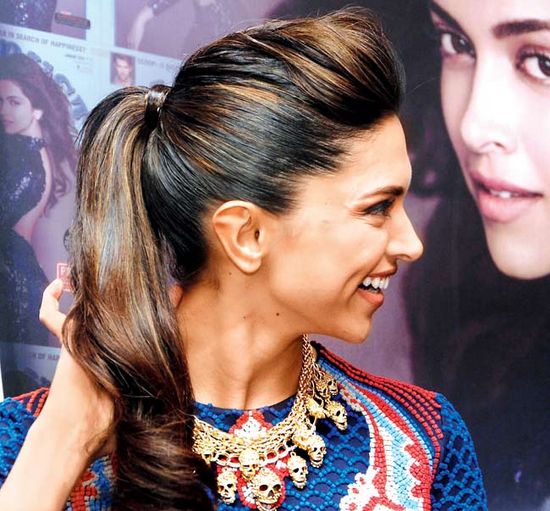 Love Deepika Padukone Hairstyles? then check this blog where we are talking about adorable Deepika and her hair styles.
The sassy lady of Bollywood, Deepika Padukone is a lady of inspiration. She is the most successful lady of Bollywood who is now making her mark in the Hollywood. Along with her spectacular acting, she has a beautiful style that has made her style icons for many girls. Be it her Naina look in YJHD or the Mastani look in Bajirao Mastani she has slayed every look, and every look of hers is worth trying.
Her captivating look, splendid acting and lovely personality make her our favorite and that is why we are here bringing her top fashionable hairstyles that every girl must try. From college look, work look to party look Deepika shows you how to look sophisticated for every occasion.
We love her buns, ponytail and even like her adorable braids that add a fun element to her persona. Check out the top 10 hairstyles and get inspired by the sensual B-town diva Deepika Padukone's beauty secrets.
Athenian Twist:

source: rediff.com
We love the vintage look of her hairstyle which makes her look royal and beautiful. During the promotions of Tamasha, Deepika came with stunning outfits and hairstyle, thanks to her hair stylist who made her look gorgeous beauty.
The sleek braid on her wavy hair looks like a tiara and makes her look celestial. As this look would suit both the ethnic and western wear, you can try this look at your BFF's sangeet function or even at your college functions.
Tousled tresses with braid:
Source: Google Images
This is our favorite hairstyle in which Deepika looks dreamy and resplendent. The side braid that melts down to soft, tousled waves brings a classy look. We love the braid and recommend all our readers to try this glamorous look that makes Deepika look special and sugary.
Try this look for functions, brunch party with your girls and see how all your girls will appreciate your look.
Royal braided bun:
During the trailer launch of Bajirao Mastani, Deepika stole our hearts with her amazing style sense. Along with her queenly dressing, we loved her royal hairstyle. She beautifully crafted her hair into a sleek bun and the soft braids added a charm to her look.
She had a vintage look which is truly worth trying for your wedding reception, or if you are the host of a party then you can try this voguish hairdo. This look would blend with your Indian clothes and we bet you would be complimented for your amazing taste.
Messy hair bun:
Having a bad hair day? Then we suggest the glamorous which you can get by stealing the messy hair bun look of Mastani. She looks endearing and inspiring.
This hairstyle would bring an informal look so we recommend you to try this hairdo with casual outfits. Complete the look by wearing chandelier earrings with this hairstyle and look like a star wherever you go.
Puff tresses:
Doesn't she look like an elegant beauty in this hairstyle? This hairdo is simple yet brings a ladylike look. The highlight of this hairstyle is the puff and the soft curls at the end of her tresses. When in a hurry and no hairstyle hits your brain, then this hairstyle would be your savior.
You can look sophisticated lady in no time and the best thing is that you can doll up in any outfit, this hairstyle would look great on any outfit. From parties to date night this hairdo would be your all-weather friend.
Pouf with ponytail: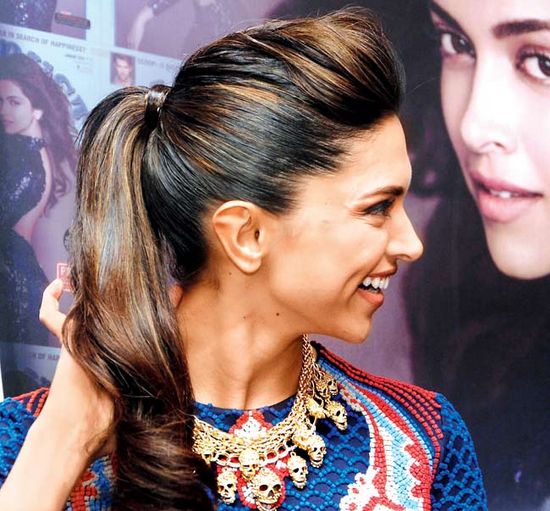 Look business-like yet fashionable like Deepika in this hairstyle. She looks savvy and modish in this hairstyle and we recommend all working professionals to try this look. While she has tied her pony with her own hair, you could use bands and look perfect for your office.
Don't forget to elevate your hairstyle with the Deepika's signature hairstyle the pouf look. This hairdo would be uber-cool even for the college going girls, busy moms. A quick ponytail with pouf would look neat and classy at the same time.
Long layered hairstyle:
We guess that Deepika is in love with this hairstyle. The mid partition hairstyle with waves. Though we are bored of this look, yet it is a quick hairdo for ladies who are running out of time. If you have wavy hairstyle then this hairstyle is just made for you, else bring waves to your hair and add a style quotient to your complete look. Glam up yourself in this look at parties, functions, festivals or even date nights and be ready to steal the show.
Pouf hair bun:
Her signature hairstyle which is every woman's fascination- the pouf hair bun. Actually, the hairstyle suits her face and makes her look graceful. So if you have an oval face like her, then try this hairdo we bet you would look as impressive as Deepika.
Also for girls with thin hair texture can add volume to their hair with this hairstyle. You would look, regal queen when you drape a sexy saree and style your hair in the pouf hair bun hairdo. Make sure you wear ethnic jhumkas to complete the look.
Bohemian fishtail braid:
This is one of the famous looks of Deepika that was a rage amongst her female fan followers. The messy fishtail braid makes her look charming and a must try for the college going girls. If you don't like the messy hair, you can go for the sleek fishtail braid which would look stunning, especially during the summers. So look ultra cool and stylish in this braid hairstyle which you can style upon your western clothes.
Fashionable top knot:
This look is just right for the hot, scorching summer. When the heat is unbearable and you are just not in the mood to let your hair down, then try the Deepika top knot hairstyle. It looks Boho, trendy and fabulous.
You can try this for the beach parties and look dazzling. If you notice the top knot is not like the normal topknot and has a stylish braid which forms a sexy top knot. Style this look with a sari, salwar suit or even with your boyfriend jeans and look wow.
Share with us which of these Deepika's hairstyle is your favorite and do share in tricks and ideas to get any of these top hairstyles.
Read More Trending Stories –