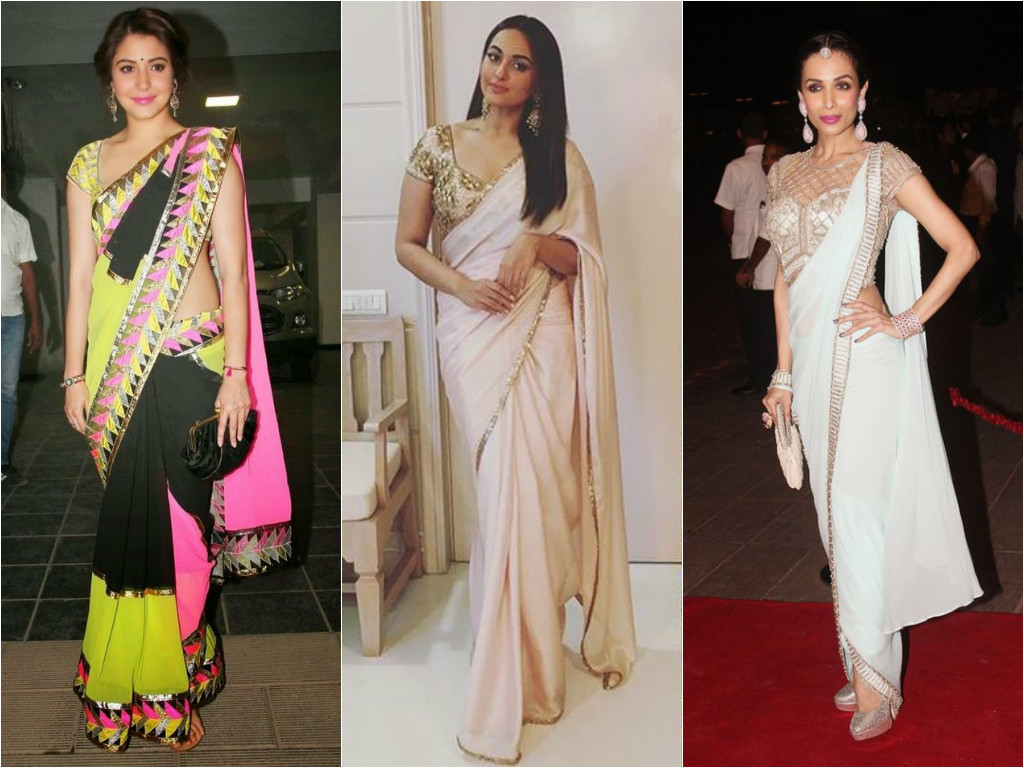 Have you encountered such a situation- 'After being all dolled up in a sexy saree for your BFF's wedding, you check out yourself in the mirror and find out something is wrong, makeup seems perfect, accessories are right, then what could go wrong?'
If you have found yourself in this state, then we would like you to know that dearie, you ain't the only one who is puzzled by the question- What's wrong?
From hair, makeup to accessories when everything looks perfect, what could possibly go wrong. Let me share with you, your saree could make you look odd. Saree is an eternal six yards beauty that looks perfect on anyone, but if you pick it according to your body shape then you might be the star of the evening.
It is essential to dress up according to your body shape else instead of looking fab you might turn drab. We have quick tips and ideas on how you can pick a saree that would make you look terrific for the evening.
Apple Shape Lovelies:
How to know if you are apple shape? If your upper body is heavier than your hips and legs, then you are an apple shape lovely. Celebrity such as Sonakshi Sinha belongs to this group (so be happy of your shape).
What to pick: Opt for georgette, silk sarees which have heavy embroidery. Also either go for the traditional seedha pallu or single pleat that would hide all the flaws behind a beautiful saree. Go for a full length, quarter sleeve blouses which would enhance your beauty. To complete the look wear jhumkas, chandelier earrings with a cocktail ring and peep toe heels.
What not to pick: Avoid net or satin fabrics that would draw attention to your upper bodice.
2. Pear Shape Dazzlers:

You are a pear shape dazzling queen if you have fat concentrated on your lower body (hips, legs) whereas your upper body is slimmer. Sonam Kapoor, Parineeti Chopra, Malaika Arora fall in this body shape (lucky you).
What to pick: We suggest you pick georgette, chiffon fabric sarees with rich border work. Even printed, vibrant shades sarees would look fabulous. The perfect blouse for pear shape body would be the halter neck, V-neck or sweetheart neckline. If you want to to draw the attention towards your upper body, wear bold, choker style neckpiece. Finish the look with stilettos.
Also Read – How to drape a Saree in 5 ways?
What to avoid: Make sure you avoid fabrics such as tissue, tussar silk or any fabric that is stiff and would highlight your flaws. While draping, make sure that you avoid the Mumtaz style of draping that would accentuate your lower body.
3. Hourglass Lass:

Congratulations for a splendid body if you have an hourglass figure. Lasses with hourglass body shape have a proportionate body and can flaunt their curves in any saree. Priyanka Chopra, Shilpa Shetty come in this type of body shape.
What to pick: Go for any fabric and we bet you would look sensual. From chiffon, net, georgette to silk, crepe you can pick anything and you are sure to flaunt your curves. Opt darker shades with embroidery border and if you want to show off your cummerbund, then go for pleated pallu.
You can drape the Nivi style of draping and look hotter. Wear light makeup, hair bun and high heels, which will elevate the look.
4. Straight Shape Babes: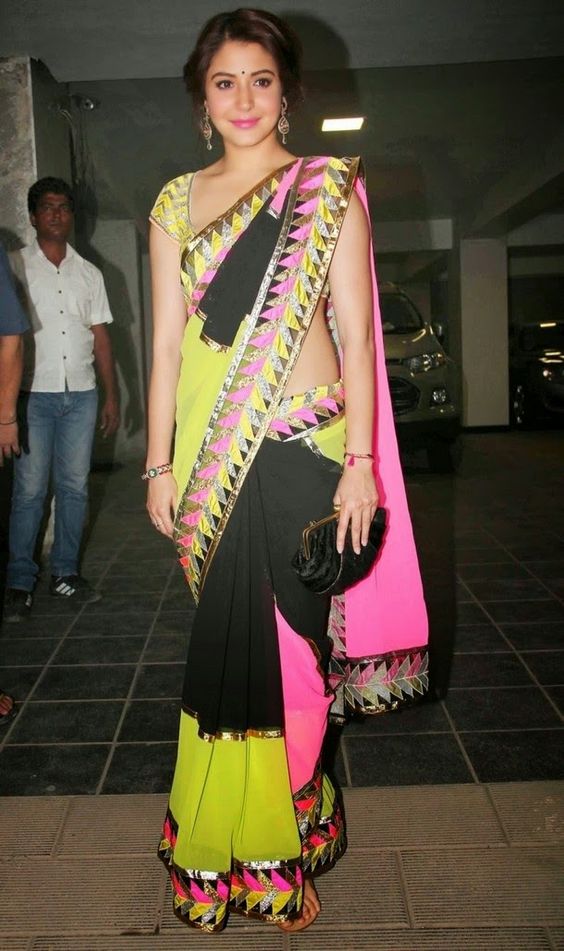 Ruler or straight shape babes have bodies similar to hourglass but with no curves. So if you come under this then you share this body shape with Deepika Padukone, Anushka Sharma, Kareena Kapoor.
What to pick: Women of ruler shape can add grace by picking sarees of organza, handloom cotton, tissue, brocade, viscose fabrics. If you want a dramatic look then go for vivacious prints and patterns such as dots, stripes. A heavy embroidery blouse would elevate the look of the saree.
Tailor your blouses as sleeveless so that you can show off your toned arms and look smoking hot. You can definitely go for heavy embroidery saree that would add a graceful look. A stylish hairdo, chic accessories, and pumps is a must with this outfit.
5. Voluptuous Ladies:

We would say a fuller version of an hourglass is what voluptuous women are. Women like Huma Qureshi, Vidya Balan belong to this body shape.
What to pick: We ask you pick thin fabrics that would add weight to your body. Chiffon, net, soft silk fabrics is just for you. Dark shades give an illusion of a size less, so opt for darker shades such as black, maroon, emerald with small prints and motifs. Wear strap heels to look taller and slimmer and voila, you would look like a stunning beauty.
What not to pick: We even recommend you to leave behind organza, tussar silk which has a stiff texture.
6. Petite Beauties:

Woman with a dainty but attractive frame belong to this body frame. Celebrities like Alia Bhatt, Rani Mukherjee, Minissha Lamba are petite yet beautiful.
What to pick: If you have a petite frame, then wear sarees with a thin border and small prints. Go for half and half sarees or lehenga sarees that would give an illusion of a taller frame. Also, pick fabrics such as crepe, dupion, art silk, which would enhance your curves. Drag the attention by wearing sumptuous blouses such as backless blouse. And the best way to complete the look is to wear chandelier earrings, high heels.
What not to pick: Don't pick plain solid shade sarees that would make you look shorter.
Sarees make every woman look gorgeous. So next time to pick a saree remember these tips and look like a diva.
Image source: pinterest.com, Instagram
Thanks for checking this amazing post, Love. Do your views for the read and your body type with us.
Read More Articles-