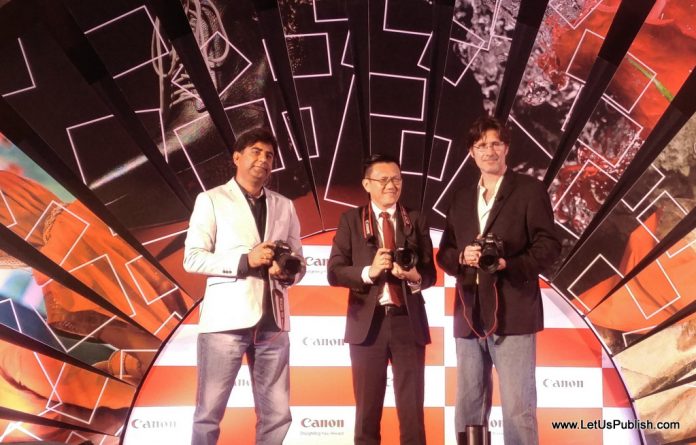 When we think of high-end full-fledged DSLR cameras, the first name that comes to mind is none other than Canon. The imaging leader has recently announced the big brother of company's popular product Mark III- the EOS 5D Mark IV.
The highly anticipated DSLR camera is equipped with a 30.4 MP Full Frame CMOS sensor and is designed to offer professional photographers and filmmakers a stellar and full-frame performance, without compromising on speed to deliver captivating narratives in both still and video formats. Besides, it packs in plenty of features to create the ultimate shooting experience for users.
Read out why Canon EOS 5D Mark IV is the ultimate imaging weapon for professionals and hobbyists.  

Powerful 30.4 Megapixel Sensor with Dual Pixel RAW (DPRAW) technology
Canon EOS 5D Mark IV is built upon the capabilities of the EOS 5D Mark III and features the latest imaging technologies and the best attributes from premium EOS models like the flagship EOS-1D X Mark II. The camera comes equipped with a powerful 30.4 megapixel full-frame high-sensitivity sensor and Dual Pixel CMOS AF for rapid focusing speed, resulting in exceptional performance in both stills and video shooting.
5D is the first EOS camera that utilises the Dual Pixel RAW (DPRAW) technology. The feature enables adjustments to be made to images after a photo is taken. This new version of RAW image data contains Dual Pixel information that allows precise adjustments to be made in post-production via DPP, providing professional photographers an edge in terms of precision enhancements.
With this feature, users can make micro adjustments to the position of maximum sharpness and resolution based on the depth of subject, horizontally shift the foreground bokeh to reposition the focus of the viewpoint, as well as reduce ghosting and flare effects in images.
Stunning low-light photography
The camera comes with standard ISO setting of 100-32000, which is further expandable to ISO 50-102,400. It is powered by a DIGIC 6+ image processor and an enhanced noise processing algorithm, which delivers amazing results in low-light scenes. Users of the EOS 5D Mark IV can be assured of improved noise performance and image quality across the ISO speed range.
The 5D's processor now features an in-camera Digital Lens Optimizer (DLO), which allows photographers to process and optimize JPEG files for chromatic aberration, peripheral illumination, and diffraction correction. This enhancement empowers users to quickly and easily correct JPEG files in-camera instead of via Digital Photo Professional (DPP), thus shortening the workflow for photographers.
New additions
The camera also includes new features such as support for Dual Pixel Raw (DPRAW) format and 4K frame-grabs will empower photographers with greater control when creating and capturing their shots. The EOS 5D Mark IV Dual Pixel CMOS AF also allows for the same high-speed, smooth phrase-difference detection AF system found on the EOS-1D X Mark II.
Users can focus on subjects with a quick tap on the touch screen LCD, while the Movie Servo AF will automatically track the subject throughout. Focus adjustment speeds and sensitivity can also be customised to suit users' preferences. Finally, the Dual Pixel CMOS AF technology coupled with an STM lens allows for smoother focusing during video recording.
The camera also gets a speed bump in terms of shooting with 7fps continuous shooting speed.
 Best suited to Professionals  
At the heart of the EOS 5D Mark IV is a formidable 35mm full-frame CMOS sensor that delivers a resolution of up to 30.4 megapixels. This caters to the need for images shot in richer resolutions and quality that is essential when producing large format prints for commercial use. Professional users can also preserve image quality even through extensive cropping of their photos. The enhanced sensitivity (ISO speed of 100 to 32000, expandable to 102400) of the EOS 5D Mark IV also ensures pristine image quality even when shooting at high ISO speeds.
Never miss a shot
While Canon EOS 5D is just perfect for still photography, it also performs when you are shooting fast paced subjects, making it a treat for street photographers. The EOS 5D Mark IV is capable of shooting dynamic and fast moving subjects and scenes with a high speed continuous shooting at 7 frames per second (fps).
 Similar to the EOS-1D X Mark II, the EOS 5D Mark IV is equipped with the EOS iTR AF (Intelligent Tracking and Recognition Auto Focus) and 150,000 pixels RGB+IR metering sensor, which utilises face recognition and colour tracking algorithm, allowing users to accurately track a moving subject across all 61 AF points.
 A treat for Wildlife photographers
 The sensor is Coupled with its 61-point, (all points selectable), reticular AF system, 41-point cross type AF, which covers a wider focusing area and an extended vertical coverage of approximately 24 percent at the sides and approximately 8.6% at centre. With this larger coverage area, users will have greater flexibility in composing and creating their shots.
 All 61 points of the reticular AF system are compatible to effective aperture of f/8 or faster, hence autofocusing is possible when teleconverters are used with super telephoto lenses, well suited for wildlife and sports photographers.
Works in all lighting conditions
 The camera can sense flickering artificial lights with its flicker detection technology, and subsequently suppress any negative impact on exposure and white balance. In addition, it is capable of focusing down to a low intensity limit of EV-4 during live view mode, with an effective image area of approximately 80 percent of the screen. This allows photographers to achieve consistent focusing performance even under extremely challenging lighting conditions.
Professional 4K movie and image quality
The EOS 5D series is known for its impeccable video capabilities. The EOS 5D Mark IV takes this to the next level with its ability to shoot Digital Cinema Initiatives (DCI) 4K movies, providing users a more accessible camera equipped with some of the key features that the flagship EOS-1D X Mark II is well-loved for.
 You can shoot 4K movies at a smooth frame rate of 30p, with resolutions of up to 4096 x 2160 and an aspect ratio of 17:9 that matches cinema screens. The camera can also shoot in Full HD quality at 60p, and up to 120p for HD quality videos. Footage shot in DCI 4K format can be used for various commercial purposes such as in cinema, or broadcasting.
 Never worry about Image and Video formats
Canon EOS 5D takes care of image and video formatting. Users will have the flexibility to shoot videos in MOV format for movie productions, or MP4 format which supports a wide range of usage scenarios, including uploading onto social media sites. In addition, the EOS 5D Mark IV is able to transmit, play and channel video files at uncompressed full HD quality when connected through a HDMI interface.
With the EOS 5D Mark IV the ability to shoot smooth 4K videos at 30fps, picture-perfect moments from a video can be extracted as a JPEG image at a resolution of approximately 8.8 megapixels using the camera's in-built 4K frame grab feature, suitable for creating A3 sized prints.
Intelligent controls
The EOS 5D Mark IV also comes equipped with a touch shutter function that allows users to snap a photo simply by tapping the LCD screen to focus and shoot.
Intelligent Viewfinder
With the Intelligent Viewfinder II, users will be able to check and adjust shooting functions without taking their eyes off the subject. They can also customise the display to include an electronic level and other functions. With the electronic level displayed, users can view the current tilt and rotation of the camera, which makes it easier to compose their shots.
Touch-Enabled Panel
The EOS 5D Mark IV LCD monitor also features customisable touch panel functions, allowing users to quickly navigate menus and adjust settings such as shutter speeds, ISO speeds, and AF and AE functions. Touch panel sensitivity can also be adjusted, or deactivated altogether. With its Touch AF capability, live-view shooting will be more intuitive and comfortable for users.
Effective HDR and Time-Lapse modes
The HDR movie function allows users can capture beautiful 30p videos in a brightly-lit environment without risking overexposure. In addition, the Time-lapse movie feature allows users to create time-lapse movies by gathering and connecting photos shot at regular intervals1.
Wi-Fi/ NFC connectivity and in-built GPS
The EOS 5D Mark IV is a new age imaging device and does not compromise on connectivity. The camera is designed with in-built Wi-Fi and Near Field Communications (NFC) capabilities that enables users to easily transfer videos and images to external devices via FTP or FTPS service, via the Camera Connect app, or uploads them directly on to social media sites. This potentially improves the workflow for many photographers, especially those in the field.
Remote shooting can be activated via the Camera Connect app, so users will have the flexibility to take photos or record videos from a distance using their smartphones. NFC enables quicker connection between the EOS 5D Mark IV and most NFC-enabled devices and can be set up simply by tapping them together.
In-built GPS
 Moreover, the camera also comes equipped with an in-built GPS that can record location data of images into EXIF data without requiring an external GPS unit. The ability to automatically record location details of where photos were taken would be especially useful for photographers who work on-the-go.
 No compromise on Durability
You do not have to think of shooting conditions when you are carrying EOS 5D. The camera is built for durability and is designed for enhanced dust and water resistant performance, for use in challenging environments. The exterior body of the camera is protected and sealed with an outer rubber coating or dust / water-resistant sealing material at all of its joint areas2.
New lens and accessory to complement performance
The highly reputed EF24-105mm f/4L IS USM lens, which was originally released as a kit lens for the EOS 5D in 2005, has now been updated with the latest L series enhancements to match the rendering power of EOS 5D line. These results in The EF24-105mm f/4L IS II USM's zoom range covers everything from wide-angle to mid-telephoto shots, to complement the versatility attainable with the EOS 5D Mark IV.
Also new to the EOS range of accessories is the optional BG-E20 battery grip. Designed to prolong the battery life and handling, the EOS 5D Mark IV will now be able to accommodate longer hours when shooting movies, and especially in portrait orientation. In addition, the grip is assembled with the same build quality as the EOS 5D Mark IV, a dust/water resistant design, to deliver the same level of durability.
Pricing and Availability
EOS 5D Mark IV Body: Rs.254 995.00/U
EOS 5D Mark IV (w/EF 24-105mm f/4L IS II USM): Rs.324 995.00/U
EOS 5D Mark IV (w/EF 24-70 mm f/4L IS USM): Rs.306 995.00/U
Product Specifications –  EOS 5D MARK IV
Dimensions (W X H X D):  Approx. 150.7 x 116.4 x 75.9 mm
Weight:  Approx. 800g (Body only)
Imaging Sensor:  30.4 mega-pixel 35mm Full-Frame CMOS sensor with Dual Pixel
CMOS AF Image Processor:  DIGIC 6+
ISO Speed: 100 – 32,000 (expandable to 50 and 102,400)
 Continuous Shooting Speed:   Approx. 7 fps
AF Points: Max. 61 points (Max. 41 points Cross type AF f/8 support for all 61 points)
Movie: 4K Motion Jpeg
Movie Recording Format:   MOV, MP4
Wi-Fi/ NFC/ GPS:  Yes
Storage Media:  CF + SD
LCD Monitor:  3.2" /8.12 cm (approx. 1.62 million dots) touch screen
L270 lens Specs

Focal length: 24 – 105mm
Maximum aperture:  f/4
Minimum focusing distance:  0.45m
Maximum magnification: 0.24x
Lens Construction: 17 elements in 12 groups
Filter Size Dimension:  77mm
Aperture blades:  10
Dimensions: 118mm length, 83.5mm diameter
Weight: Approx. 795g
Read More-