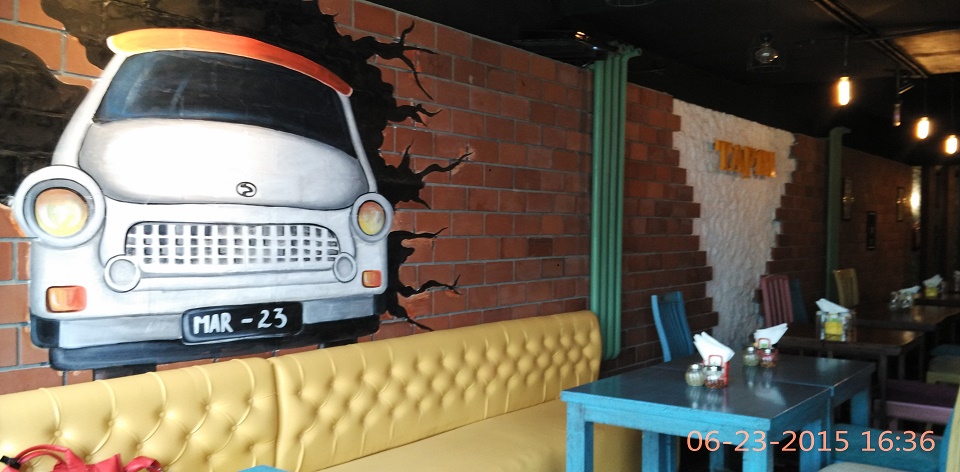 Hey Foodies, here I am with the review of an awesome place to hangout in Sec-14 Market Gurgaon. The place is known with the name Café Tafri and it is in the same row where 'Om Sweets' is situated.
I digged this place from the data of AskMe.com and it is all because of the AskMe.com banner I found on a food blog Mystic Foodie Mantra.
Let me tell you my story with Café Tafri – I visited it to take a coffee break after working hours. This café is a thematic café and as the name tells as, the theme is 'Tafri' that comes with the synonym Fukrapanti.
I am sure being a NCR person; you are aware with these terms very well 🙂
So this one is the first thematic cafe that I found here in Gurgaon.  The place is so colorful and it is very simple yet attractive to be in.  You should check these pictures I clicked there –
Let's now talk about the Food or Drinks – Though I already had my lunch near about 2 there was no point to  order something heavy. I ordered a cold coffee with ice-cream and the friend ordered hot coffee with Potato Fries. The coffee was served in a cute mug and the picture is below –
At that time I was so obsessed with my coffee and I literally ignored fries and hot coffee, else I would have been sharing more pictures with you guys. Mine cold coffee was awesome and the other one as well. Fries were crispy and I found them better than the fries Mac-D serve. Also I found this place is very reasonable so you can go more frequently without even worrying for bills.
And the conclusion-
I found this place an awesome place to hangout for coffee and tea.
You can have your meeting their, the place is so calm and composed.
For coffee lovers it can be the great hangout adda, I am sure.
The place will cost near about 350 bucks for coffee of two.
The opening hours are 11 AM to 11 PM.

If you ever visit the place don't forgot to visit the restroom.  You are going to find a cycle washbasin there in restroom 🙂
I am soon gonna come up with more pictures of this place. So keep coming here. Do share your reviews and doubts with us regarding Tafri.
Read these reviews too –
Save