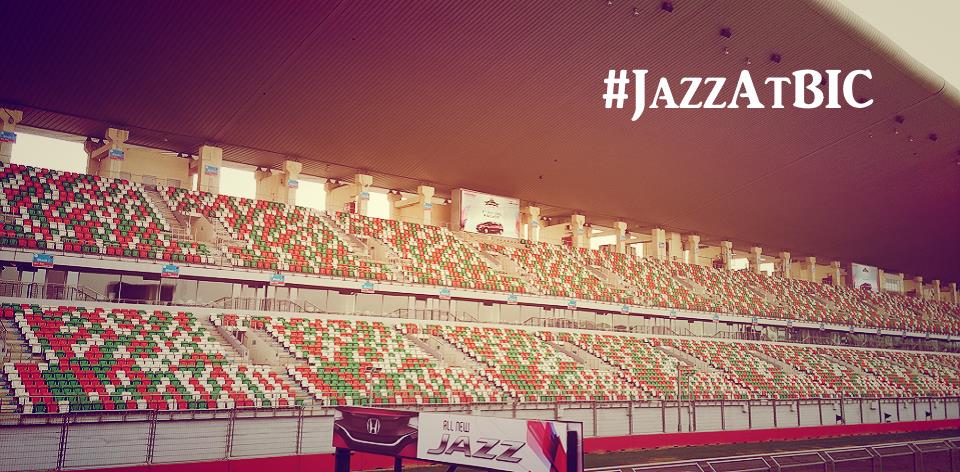 Hey Readers,
Here I am with another superb experience. This time I got a chance to drive the all new Honda Jazz at Formula 1 track. Yeah, you are hearing me right. And sadly I could not 🙁 drive because of the silly reason that I don't know 'How to drive?', but the game was not ended here. After many requests I convinced my younger bro to drive the car for me so that I can at-least enjoy the ride.
Honda the Japanese Car Company invited to all the top bloggers and tweepes from the country, just to showcase the all new Jazz and to share the feel good factor of new Jazz. The new Jazz is officially launched on 8th July. For the event all the bloggers and social influences reached to Radisson Blu, Greater Noida on 4th July 2015.
Honda Team not only invited the bloggers from the Delhi NCR but also they called the best bloggers and social influencers from cites like Bangalore, Mumbai, Chennai, Pune and so on. We all enjoyed the lunch and pictures session till 2:30 pm and then we all moved to Buddh International Circuit, India's only F1 racing circuit.  Here is the photo session I enjoyed there in my White & black maxi dress.
At BIC, after the healthy presentation about the #AllNewJezz by Honda India CEO and other team members, bloggers went for the final registration in color groups. I was in green Group and my group was the first one. Registered bloggers were going to Race Control Room where we were briefed about the F1 racing track and driving rules and regulations.
Once we were done with the briefing, we all wore the helmets to drive and to even ride in the car, though safety was the main concern of Honda team. I was in car no 6 and bro was the driver like any other time. He drove the car gracefully for the first time.
From the back seat I was clicking the pictures of beautiful F1 track; this track was reminding me the Indian flag in every passing second. I really loved those two laps of F1 track we covered in 20 minutes. One lap is of 5.1 Km, below  I am unfolding all those pictures –

After this ride in Honda Jazz, I explored more of it and what I found is –
1.    Honda Jazz is a spacious car in its class with ample head, leg and shoulder room for five travelers.
2.    The top model Jazz will offer the you 'Magic Seats' those can be split, fold flat and flip upwards to make space for all shapes and sizes of load. The four moods are Tall, Utility, Refresh and Long
3.    It's a sporty look car available in 7 colors – Rallye Red (Flat), Vivid Sky Blue (Metallic), Crystal Black (Metallic), Attract Yellow (Metallic), Modern Steel (Metallic), White Orchid (Pearlescent) and Alabaster Silver (Metallic)
4.    This all new Jazz comes with a 1.2-liter i-VTEC petrol engine & a 1.5-liter i-DTEC diesel engine, the latter paired only to a 6-speed manual gearbox. The petrol jazz gets two transmission options – a 5-speed manual and a CVT. The car promises 27.3 km/l fuel efficiency to the buyers.
5.    When we talk about safety, Jazz is up with dual front airbags, ABS, EBD and a reverse camera.
6.    Auto AC with touchscreen Control Panel is amazing for the technology lovers.
7.    The high Jazz not only offers you the magic seats but also the alloy wheels, a rear spoiler, a 6.2-inch touchscreen AVN system with DVD capability and integrated navigation, and black seat upholstery and roof lining.
8.    This Jazz is coming with 9 cup holders for the coke lover friends who love to drink coke a lot while they travel in car. Visit https://www.hondacarindia.com/allnewjazz/ to know more about Honda Jazz.
I studied more about Jazz just after my ride and realized above specs are pretty cool in front of price.  Now I think Jazz will be my next first choice. Below is the price chart for you Delhi People-
This beautiful event ended with drinks and dinner with some live music. Share your thoughts about the #AllNewJazz, I will love to hear you.
You may also enjoy –
Save