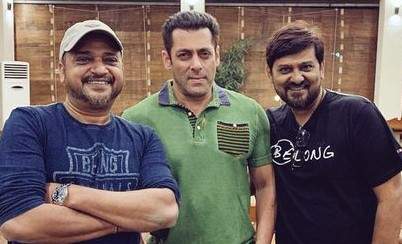 This monday we registered a heart wrenching plus shocking news as the whole Bollywood is mourning along. You must be thinking why, let me tell you Wajid Khan passed away because of COVID-19, this pandemic is been so crucial so far.
First Irrfan Khan then Rishi Kapoor and now Wajid Khan. Sajid- Wajid duo has been a hit in Bollywood industry. Wajid was at 42 in Surana Hospital which is in Chembur, Mumbai. He was having complications which was caused by a kidney infection. Not to forget he was also suffering from COVID-19.
As this duo was a great friend to Salman Khan, he has shown his grief by taking the social media platform
Sajid- Wajid duo has given Bollywood bunch of hits using their talent. This journey started with Pyaar Kiya To Darna Kya in the year 1998 to Recent song of Salman Khan which is Bhai Bhai.
Sajid-Wajid duo has ruled the bollywood with Salman Khan from a long time. Wajid started as a composer but later turned into a Singer.
List of chartbusters of Salman Khan with Sajid-Wajid –
1- Pyaar Kiya to Darna Kya
You can say this movie was a debut of Sajid-Wajid for their composition. They composed the song which was picturised on Arbaaz Khan, the song name is Teri Jawaani. Their friendship bond started from here.
2- Tere Naam
Tone of the hit movies of 2003, which is Tere Naam. This movie has a song that was composed by Sajid- Wajid which is Tune Saath jo mera chhoda. This song set a new level of sad song and it abruptly got extremely popular.
3- Mujhse Shaadi Karogi
The next year which was 2004 came as good phase in both of their life. This movie was a game changer in Salman Khan's career because Sajid-Wajid duo and Salman Khan bond got worked up to impress audience. Hit songs from this movie are named as Rab Kare, Mujhse Shaadi Karogi, aaja soniye and of course Laal dupatta. They also included Anu malik for this composition.
4- Partner
Haven't you ever started grooving over Do you wanna partner, oh partner? Or Dupatta Tera 9 rang da. Yes the hail goes to Sajid- Wajid. This time they composes music of this movie solo. All of the songs from this movie became chartbuster.
5- Wanted
After the Partner movie's worked for this duo. They never had to look back, isn't it beautiful? By this time industry has realized that Sajid-Wajid duo and Salman Khan can be a big hit. Wanted, movie that rolled out to be another ruling movie of everyone's heart.
6- Dabangg 3
Last year, Sajid Wajid created Hud Hud dabangg, Munna Badnaam Hua for Dabangg 3. You can't deny it has became an everlasting song. It is a brand now. Nobody could have done this much better, other than Sajid Wajid.
This Eid, Salman Khan released a song titled as Bhai Bhai. Guess the composer, Sajid Wajid. As fast as this song got famed it made it way to our heart. There is non stopping list of Salman Khan and Sajid Wajid duo work.
We are really shocked with the news but at the same time, we pray that his soul rest in peace.
We will miss one of the solid and best composer and singer of Bollywood Sajid Khan. It will take a while to register this loss.