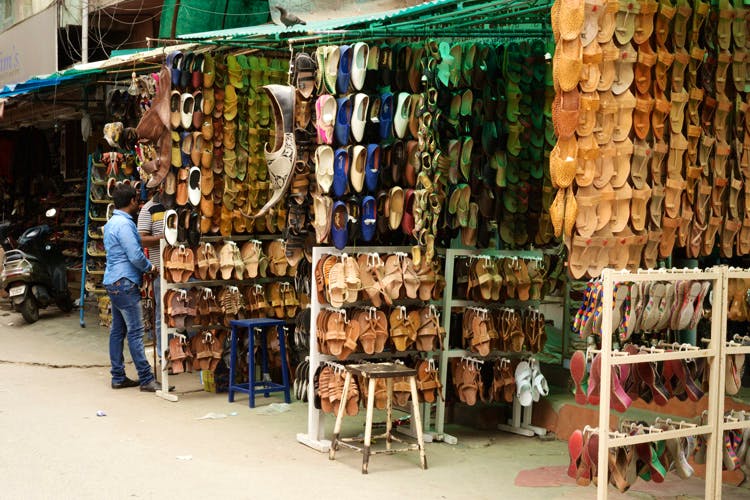 Shopping is a passion for all the ladies out there and Bangalore is a glittering city that is a shopping paradise and executive hub. If you are looking for best places to do street shopping in Bangalore then here we have listed them all for you.
If you are fond of shopping then these places are just meant for you. From clothing to home décor, you will find places to shop these products at affordable prices in this article. I just love these places and so will you.
Brigade Road near MG Road, Bangalore
The first place that comes in the list is Brigade Road which is located near MG road in Bangalore. This is one of the best places for street shopping in Bangalore where you can find affordable items with a long lasting life and good quality. You will find Brigade road in the heart of CBD after exploring the place a little. You can easily find peddle export surplus clothing, affordable shoes and trendy jewelry. Be careful with the pricing as they can easily fool you by telling high prices, so use your bargaining skills to get items at reasonable price. The place has many quick eating places like Starbucks or KFC where you can go to eat after shopping.
Where: Shanthala Nagar, Ashok Nagar, Bengaluru
When: 10.00 am – 9.00 pm
What: Great bargains on apparel and accessories
2. Commercial Street, Bangalore
If you want to find everything from embroidered bridal blouses, gowns and dress material to stylish western wear, jewelry, books and shoes on the adjacent Shoe Lane, then Commercial Street is the best place for you. The place is also known as 'Comm Street'.
Where: Tasker Town, Shivaji Nagar, Bengaluru
When: 10.30 am – 8.00 pm
What: Apparel, unstitched fabric, jewelry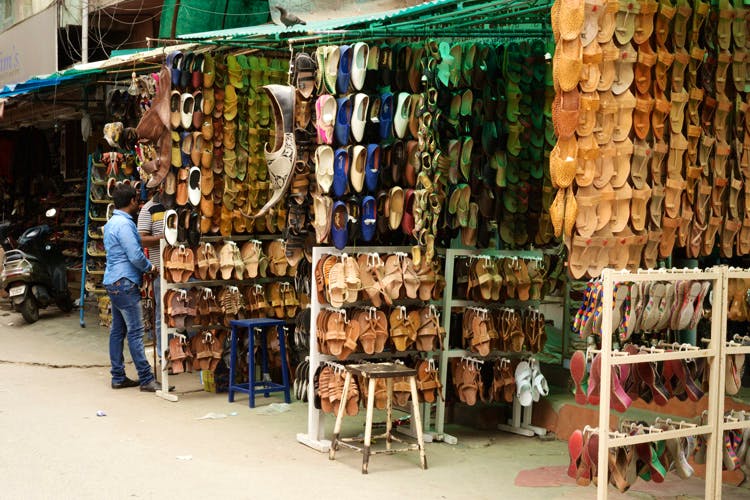 3. Jayanagar 4th Block, Bangalore
Jayanagar's 4th Block Market is for people who want to change their wardrobe by keeping most of the money. This is one of great places for garments shopping. You will find large heap of clothes outside the market complex's building for as little as Rs. 100 in most of the cases. This place is one of the oldest markets in Bangalore for stylish season-ready apparel and a huge array of shoes; sliders, juttis or strappy sandals. All kinds of funky jewelry, pottery and artwork are well renowned in this market.
Where: 4th Block, Jayanagar, Bengaluru
When: 10 am – 1.30 pm, 4.00 pm – 8.30 pm
What: Clothing and shoes
4. JyotiNivas College, Bangalore
You will find every type of cloth shops, gift shops, shoe stalls in this market. This market is mainly famous among college girls. Look out for cotton kurtis at Scintilla, the chic-est outfits, usually one-of-a-kind, at Uniquera and casual fashions at Two Monks Studio.  If you are fond of Boho Chic clothing then head on to Pysbaba.
Where: JyotiNivas College Road, 5th Block, Koramangala, Bengaluru
When: 10.00 am – 10.00 pm
What: Apparel, jewelry, footwear
5. Chickpet Market, Bangalore
Chickpet is the oldest shopping area in Bangalore and it is a 400 year old market. This place is very famous for sarees, opulent Kanjeevarams, Mysore silks, Benarsis, tussars and even breezy crepes and chiffons. If any wedding or special occasion is coming up then you can go here with your family for shopping. The place is well known for pre-stitched anarkalis, designer lehengas and rich dress material.
Where: Chickpet
When: 10.00am – 9.00 pm
What: Sarees, festive outfits
6. Avenue Street, Bangalore
To delight all the bookworms, there is a place called avenue market where you can find endless number of books. All genre and languages of books are available here in street-side bookstalls and bookshops.
Where: Avenue Road, Bengaluru
When: Morning till evening
What: Old books, Xeroxed college notes (bet you didn't know that!)
Image Source – treebo
7. Residency Road, Bangalore
If you are fond of exquisite handicrafts, Hand-carved wood artifacts, traditional jewelry, brass-ware for your home, then this place is made just for you. The wares at Residency Market will amaze you. You can also look out Utkalika emporium for precious work from Orissa.
Where: Ashok Nagar, Bengaluru
When: 10.00 am – 10.00 pm
What: Handcrafted products
Indiranagar Market
If you wish to see real nightlife of Bangalore then you must visit Indrinagar Market as this shopping hub is open both during day and night. You can buy fashionable party clothes. This place is a home to various fashion stores with international and indie labels.
Location: East Bangalore
Timing: 11 AM to 11 PM
Happy shopping peers! These are great places to street shop and hop.