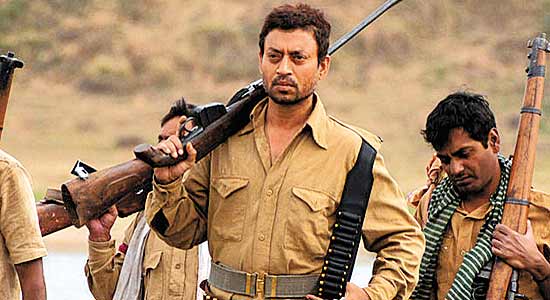 This morning definitely was morning filled with sadness, nation got the news that Irrfan Khan is no more. And his last words were – Amma has come to take me !!
On Tuesday evening, the Actor Irrfan Khan has admitted to the ICU ward of Kokilaben Dhirubhai Ambani Hospital because of colon infection.
Irrfan had already got the message that universe wanted to send him which is why he expressed his feeling in the note as "I trust, i have surrendered" when he got the news about his disease.
Irrfan has always created this charismatic aura on the screen with his deep eyes, silent expressions and limited but solid words. It is a very heartfelt news of that we don't have him anymore.
But we can always find him in his beautiful crafted movies. Here are some names of movies that Irrfan Khan has worked in. Here we go,
1-  Talvar
Based on Real life events, this movie revolves around the murder of a girl. Who has been murdered by her own parents. Irrfan has played the role to unfold all the secrets in front of the court.
2- Paan Singh Tomar
Another great movie from Irrfan Khan which is Paan Singh Tomar. Plotted after the kannada movie Sipayi Ramu. Irrfan played the role of a dacoit, an athlete and as an husband. He has created the great thrill with his skills.
3- Piku
Irfan has paired up with Deepika Padukone along with Amitabh Bachchan. Movie was crafted to show the struggle of a girl who balance her work and looks after his father without any complaints. Irrfan has played the role of an owner of a cab agency cum cab driver for Piku.
5- Slumdog Millionaire
Another of the biggest hit movie of Irrfan Khan, which Slumdog Millionaire. Movie reflected the lifes of Mumbaikar living in slum area. In which a boy gets to play quiz game and wins 1 Crore. Which creates buzz among all.
6 – Lunch box
Content oriented movie, Lunch box. Where Irrfan Khan played the role of official employee and receive a lunch box daily. Along with lunch box he gets a letter which he reads by the time of lunch. It's a cute pinch of love story.
7- Hindi Medium
A mind blasting movie from the legend, Irrfan Khan. Hindi medium was based on the story of parents who wants their daughter to get admission in a high-end school. They get into the disguise of poor family, then rich family but get settle to send their kid in a govt school.
8 – Billu Barber
Movie depicts the story about poor family who struggles to get a better living in the village. Where Irrfan Khan (Billu who is a barber) gets the information that his childhood friend who is a successful actor (Shah Rukh Khan) coming to the village. Then the friend showers him with all the love.
9- Gunday
A multi starer movie with Priyanka Chopra, Arjun Kapoor and Ranveer Singh and Irrfan Khan. Where Irrfan Khan has played the role of cop, where he shuts down the illegal workshops own by Ranveer and Arjun.
10- Angrezi Medium
Well the last movie by the legend itself, Angrezi Medium. Released in the year 2020, where a girl wants to get her graduation degree in the abroad. Which her father fulfills and the father was none other than Irrfan Khan himself.
These were some of the great movies by Irrfan Khan where he has played the crucial role for the movie to make it stand apart. Now, we only have these gems from the great legend. Irrfan sir you will always rule our heart.
Rest in peace