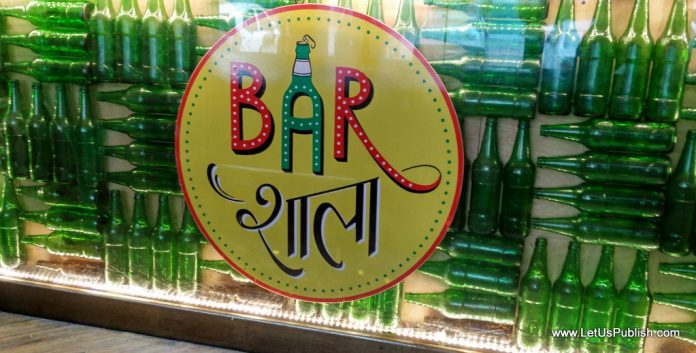 "Beer is proof that God loves us and wants us to be happy.'' And most of us will agree with Benjamin Franklin.
Many of us cannot afford luxurious places to drink as they come up with the very high cost of drinks and food excluded from a number of taxes. Also, everyone goes through the phase when their bank account dips low, especially at the month end but they have the craving for drinks.
BarShala has solved this problem and they came up with the solution i.e. BARSHALA – peene walon ka paradise (Paradise for the drinkers). BarShala is India's fastest growing chain of "pocket friendly neighbourhood drinking bars".  So pocket-friendly that I am sure it will not drill a hole in your pocket. They will make sure that you enjoy your day without paying the hefty bills in the end…
Branches – BarShala now has four branches of Barshala in Delhi including Janakpuri, East Of Kailash, Karkardooma & Ajmeri Gate with the latest one launching soon at Bunglow Road.
Ambience – I recently visited BarShala, East of Kailash. The environment and the crowd compliment with the name of the place. As you enter the restaurant, are catchy posters and taglines all around. Good music surely lifts up your mood.
Drinks Menu – Now coming to the menu, I can bet you won't find such reasonably priced drinks anywhere else in Delhi. They offer a variety of beer, vodka and whisky.
However, there are no mocktails or cocktails in the menu.
Food – Food was a little below par than expected. While the menu has catchy food names and a rich variety, dishes themselves are very basic. I tried Chicken Nuggets, Chicken Fingers, Fish Fingers, Mutton Seekh Kebab, Chicken Seekh Kebab, Chicken Chaat, Shami Kebab from non- veg section & Aloo Chaat from the veg section. Chicken Nuggets and Fish Fingers are worth tasting, also you can try Chicken Salami.
Other Notable Stuff – The staff and the service they offer is really good. I must say that this is definitely a place where the youngsters can hangout; else you can go there in groups.
However you should avoid taking your family and closed ones.
LUP Ratings –
Drinks – 3.5 (No mocktails & cocktails)
Ambience – 3
Food – 3
Affordable- 4
Do Note – This review is submitted by Saurabh Nirmal.
You also also enjoy reading –
Save
Save
Save
Save