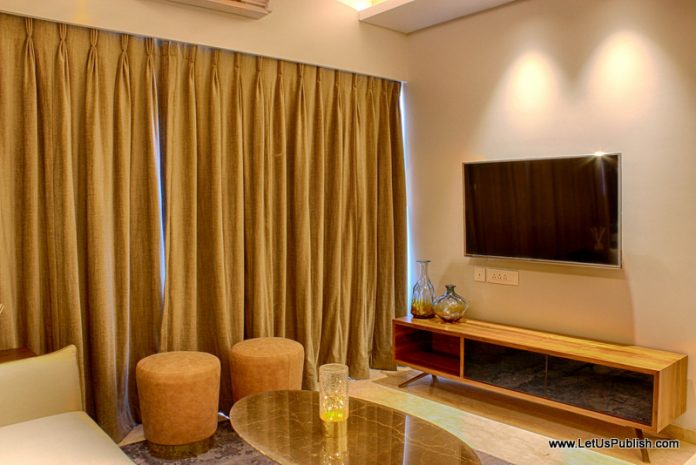 Mumbai defines the fast paced life like no other city in India. Like the dynamics of the country's business capital changes fast, the city's real estate market does too. With a huge population lying on the younger spectrum there always is a huge demand from first time buyers as well as from the ones who want to upgrade.
A rather big class of these buyers have high disposable incomes but are low on time, thus, 'ready-to-move-in' homes are the flavor of these times. Among the developers vying for this market place, one of Mumbai's ace developers – Omkar Realtors & Developers, is spearheading the trend. Omkar is bringing classic and contemporary ready-to-move-in apartments in its project 'Ananta' by Omkar, a in its 32-storey high-rise at Goregaon (East).
'OmkarAnanta' at Goregaon (East), Mumbai:
'OmkarAnanta', located at the bustling suburb of western Mumbai Known takes Omkar Realtors & Developers image of a builder of exceptionally designed world-class realty projects further. 'Ananta' promises to bring a life experience defiend by 'limitless'. A project that spreads over five acres, nestled in the lush-green hillocks of its vicinity, offers limitless opportunities in plethora of parameters such as luxury, style, convenience and connectivity.
The project is also high on world class comfort, amenities and even work options. 'Ananta' offers 2BHK apartments in a choice of two sizes – 1064 sq. ft. to 1242 sq. ft.
'Ready-to-move-in' Apartments:
What better an option to buy a home that saves you from a dual burden of high EMI's and rents at the same time. As a majority of inventory is sold close to completion, these 'Ready-to-move-in' homes are witnessing an increased interest from homebuyers. With ease of decision making in finalizing the project and shifting in real time, there is a upward trend which Omkar Realtors are serving at a right time.
Bustling Goregaon (East):
Likes of Knight Frank and JLL have ranked Goregaon (East) amongst the top investment opportunity across India in 2015. Most of it arises from the desire of a large number of people wanting a home near their workplaces and major offices of Mumbai being in Goregaon.
Experts are expecting up to 40 to 60 percent capital appreciation in the next four to five years for residential properties in this belt, with values touching INR 20,000psf mark soon. Moreover, the entire region has a sound infrastructure for connectivity, quality education, health and retail and is improving as well.
A: Connectivity:
Goregaon (East) has great accessibility and is well connected by the Western Line of the suburban train services, Metro rail, buses, private autos and taxis. NH 8 Western Express Highway, Aarey Road, JogeshwariVikhroli Link Road (JVLR), Film City Road and GoregaonMulund Link Road pass through the area.
Within 10km one can reach the Mumbai International Airport while Andheri  Metro station is just 7.5kms away. Moreover, micro markets like Andheri, Mulund, Malad, Kandivali, Borivali and Versova surround the region as well.
B: Improved Connectivity in near future:
The Harbour Line rail connectivity from CST to Goregaon is under construction while a flyover along the Goregaon-Mulund Link Road is in plan.  This will connect Link Road on the west and Goregaon East on the other side. Metro line is being constructed from Andheri to Dahisar connecting Goregaon on the WEH as well.
C: Social and Physical Infrastructure:
The locality has the Western Express Highway on one side. This is where the picturesque Aarey Milk Colony, a 3,160 acres no-development green zone, brings forested charm to the region. With a mix of both mid and high income group, Goregaon (East) has almost 100 projects, with 25% under construction stage while 70% being ready to occupy.
D: Convenience:
More than 20 schools surround the project, such as Oberoi International, Ryan International, Vibgyor High School, etc. The Oberoi Mall, Hub Mall, Inorbit and Hypercity take care of entertainment, food and retail while large banks ensure ease in business.
E: Green Spaces:
With the likes Aarey Colony and Sanjay Gandhi National Park green zones in th vicinity any development is undertaken with ecological imperatives.
F: 'Walk-to-Work' Culture:
With major office establishments like Nirlon Knowledge Park, Westin Corporate Park, Infinity IT Park and NESCO, one can reach their office in a few minutes only maintaining work-life balance.
Limitless Luxury with finest designs:
'Ananta' boasts of incredible design and aesthetics with finest Italian marble, spacious living rooms that offer mesmerizing views of the green belt in the region from high rise towers.
Best of Amenities for a 'king – sized' living:
'Ananta' offers 'king-sized life' to it occupant, with likes of a swimming pool, a fitness centre, a landscape garden, a jogging track, a grand Children's Play area, and even an Accu-Therapy Walkway.
Fastest Project Delivery with the modern Technology:
With use of the best of construction technologies, the project is built with strong and quality structures 25% less time.
5: Special Loan Scheme:
Omkar Realtors to top its incredible well built 'Ananta' has unveiled a unique move by offering a special interest rate of 4 percent for its buyers. In the offered scheme by Omkar Realtors, the homebuyers will bear about 4% of the interest rate out of the total interest component. The rest of the component will be borne by Omkar Realtors.
This scheme promises to offer great savings for the customer with very less outgoings and for a home amidst the lush green beauty and premium locality of Goregaon (East).
You may also enjoy –
Save