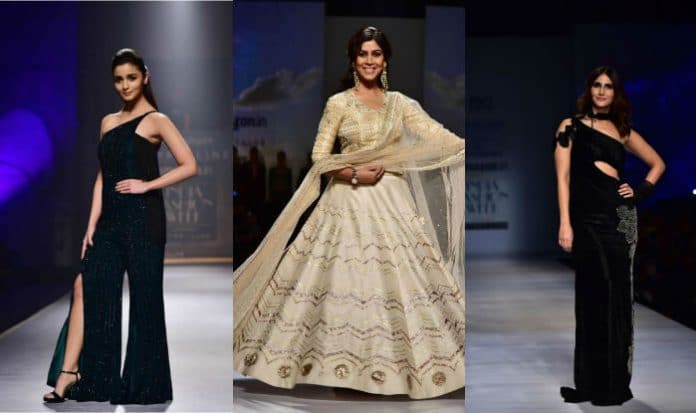 Fashion shows and Ramp Walks have been one of the attractions not just due to the uncurtaining of the season trends but the celebrities- sportsperson or Bollywood stars walking the ramp for specific designers.
Like every year, this year too Amazon Fashion Week had the perfect amalgamation of celebrities and trends.
And if you want to know about "Who walked for whom" question to be answered. Below we provide you a peek-a-boo on them!
Alia Bhatt:
One of the most favorite and popular actresses who is a fashion icon among the youngsters was one who had everyone's eyes on her! She walked the ramp for Namrata Joshipura. Her show was sponsored by Maybelline and being the face of Maybelline India, Alia Bhatt did great justice with her showstopper confident walk in a green embellished outfit.
Dino Morea:
The Raaz actor, Dino Morea who was a supermodel before he turned an actor and entered Bollywood. He was amazing with his walk wearing Sahil Aneja Label.
He looked dapper wear a black and white suit and completing his ensemble with white sneakers.
Richa Chadha:
One of the effortless actors we have in B'town, Richa Chadha walked the ramp for Rohit Kamra. She was wearing black and metallic striped pants paired with a small jacket top. She was amazing with her walk!
Prateik Babbar:
The Hosanna boy- Prateik Babbar had each one's eyes upon him when walked the ramp in a white formal jacket which was paired up with black Jodhpuri pants. Indeed, the actor looked amazing with his outfit. He walked the ramp for the duo Komal and Ratul Sood.
Vaani Kapoor:
With her latest music video, out "Main yaar manana ni" girl, Vaani Kapoor looked sexy in her all-black outfit.
She wore a single shoulder velvet gown with a choker when walked the ramp walk as a showstopper for designer Rina Dhaka. She was definitely the one who made the fashion show all decked and glammed up!
Sakshi Tanwar:
Definitely a surprise element to see, Sakshi Tanwar walking the ramp on Amazon Fashion Week. Sakshi with her glittery beige ethnic outfit reminded of the actress of the late 60's.
She walked the ramp for Anju Modi and looked mesmerizing in her outfit. She was last seen in Aamir Khan's Dangal.
Sangram Singh:
Completing the "sportsman walking the ramp trend", Sangram Singh, Indian Wrestler walked the ramp for Dhruv Vaish.
He wore a checked waistcoat with matching trousers and white shirt. He accessorized his look with a hat.
Nora Fatehi:
The "Bigg Boss" and "Teri To Teri Ta" fame girl Nora Fatehi, walked the ramp at the Amazon Fashion week for designer Pawan Sachdeva. Dressed up in an asymmetrical skirt with a black jacket that had Indian motif designed on it.
This was all about the "Celebrities who walked the Ramp at the Amazon Fashion Week." For more such updates keep checking at this space!
You would also like to read: