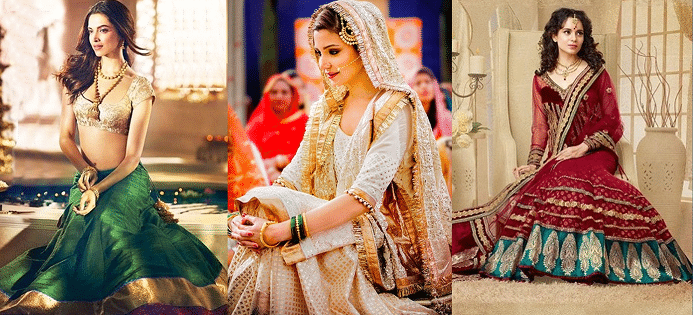 No girl wants to get married but every girl wants to become a bride. Surprised? Don't be, it's not the man of the life that attracts them, it is an opportunity to look the most gorgeous lady on the earth on the given day infuses an enthusiasm that is paramount. Weddings are a fancy business in India. Everything is on a scale of grandeur.
From the decorations to the dresses we can see how ostentatious these weddings are. However, there is someone whom every eye of that evening shall be seeking to have a glance upon. The bride, off course.
A bride is the center of attraction at a wedding. In Indian weddings, she is heavily adorned with jewels and stones and is dressed to stand out from the rest of the commoners. Here we shall discuss some of the looks a bride can try for her wedding night.
Traditional red saree:
Bollywood has endorsed red sarees as a mandatory wedding outfit for centuries so much so that now no wedding seems complete without seeing a bride in red.
Shilpa Shetty wore this hit number on her own real wedding that went viral among fashionista.
Lehenga choli
Lehenga cholis are fast becoming an alternative to wearing a saree at wedding as these are less heavy than a traditional saree.
Every girl dreams of wearing a classy bridal lehenga choli for her wedding. Like You can see Deepika Padukone flashed hers in Bajirao Mastani.
Anarkali suits
Anarkali suits blend in the magic of churidar pajama and the eccentric look of the Mughals. These are the attires based on the 16th-century style of dressing full of royalty and fit for a wedding night.
As you can see gorgeous Aishwarya Rai Bachchan in this cream embroidered Anarkali suit throbbed many hearts.
Anarkali lehnga
These lehengas are a little different from the traditional Indian lehenga cholis and are a blend of anarkali suits and lehenga cholis.
These have a more widened base and have the upper portion of the dress of a anarkali suit. Kangana Ranaut in Queen displays what authenticity the ethnics can establish.
Lehenga saree
Again this is also a contemporary designer look for a bride wherein a lehenga is worn down the waist and upper portion of the dress is held up like a saree.
Madhuri Dixit unveiled her oomph in Yeh jawani Hai Diwani special appearance song that made many dizzy in their dreams.
Salwar suits
In Muslim weddings, we can see the bride wearing heavy salwar suits embroidered with stones and other bright objects.
Many couldn't believe Anushka Sharma in Ae Dil hai Mushkil. Her Salwar Suit Wedding Dress became the talk of the town even when the movie did do well at the box office.
Bordered Bengali sarees
Bordered sarees with golden strips are a common wedding dress for bride in West Bengal and in the neighboring regions.
Her look, her acts, her expression and her attire, all looked so real in a Thriller, which had her character in disguise. Vidya Balan in Kahaani stunned everyone around with her climax look.
Drapes:
Instead of wearing the usual traditional and sophisticated sarees, one can amazingly don the fashionable and trendy looks with drapes. Just like Aishwarya Rai Bachchan did it on her D-day. She wore a Neeta Lulla designer creation and you can try out something similar getting inspired from it.
Also, Sonam Kapoor wore a white embellished saree for a party. It isn't always necessary to wear it on your wedding, but can also try it for engagement or sangeet too!
Fusion:
Fusion wears have not only taken the everyday college look but have stepped up their game in wedding outfits as well. Deepika Padukone looked stunning in a golden jacket and combining it with a blue attire. This could be your sangeet look and make you look seamlessly gorgeous!
Keep It Simple Yet Stylish:

Wearing too heavy attire and stuffing with jewelry is not the only solution for the bride. However, a bride is allowed to have her space and be flowy. Taking inspiration from Sonam Kapoor's attire one can very easily wear this outfit for a Roka or some low-ceremony look.
We hope you liked our little help in this wedding season by offering you this inspirational look from your favorite Bollywood divas!
You would also like to read: