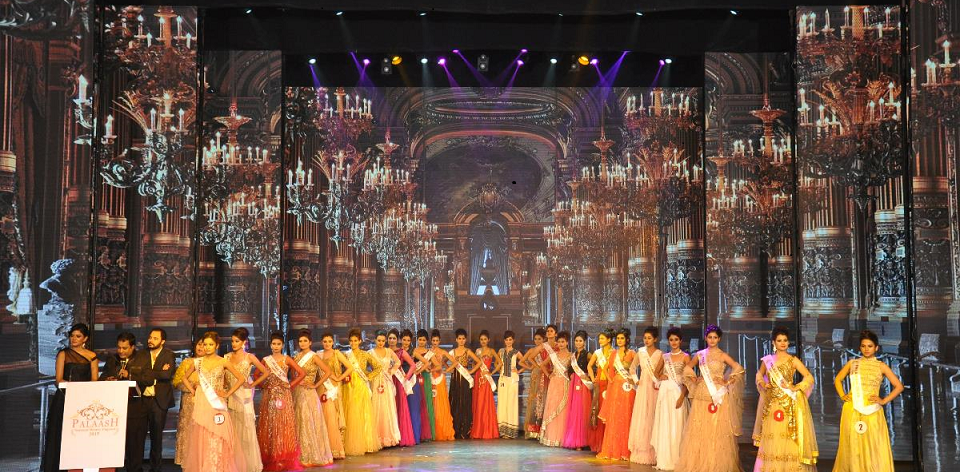 To be the 'Miss Palaash' is dream for thousands but only 1 select candidate get the honor to be one. This time 19Yr old Aittal Khosla a girl from Chandigarh got the crown of Palaash Miss India.  The girl is selected from 26 more across India finalists. The grand finale took place at Kingdom of Dreams in Gurgaon on 9th of Sep.
Other winners are –
First Runner up – Ms. Niharika Dholua from Guwahati
Second Runner up – Neha Dabar from Chandigarh
The winners were crowned by the beautiful Gorgeous Actress Mugdha Godse who shared the stage with the senior management of Panache Global Pvt Ltd, the parent company behind the Miss Palaash event. The event was attended by some of the most famous names in the world of fashion, cinema and business.
Some of the noted attendees were Shree Gopal Krishna Agarwal (National Spoke's Person for Economic Issues) BJP, Mrs Ruby Yadav (Mrs. Universe West Asia 2015-16 & Mrs India Queen), Mr. Ayaan Rathi (Super Model), Mr. Sandeep Marwah (President of Asian academy of Film and Television & President of International Chamber of Media & Entertainment Industry), Mr. Amit Mishra (Indian team Cricketer), Ms. Anjana Patyala (Celebrity Painter), Ms. Babita Saxena ( Chair Person Media & Entertainment Industry), Ms. Shalini Vig Wadhwa (Social Activist & Judge), Ms. Bhawna Rajpal (Social Activist & Judge) and Mr. Pankaj Gupta (Chief Coordinato, IECEN Milano Represent Politechnico di Milano, Faculty for design in Milan, Designed clothes for Will Smith and Valentino).
Stay tuned for more updates, meanwhile don't forget to share this post on your social profiles.
Save