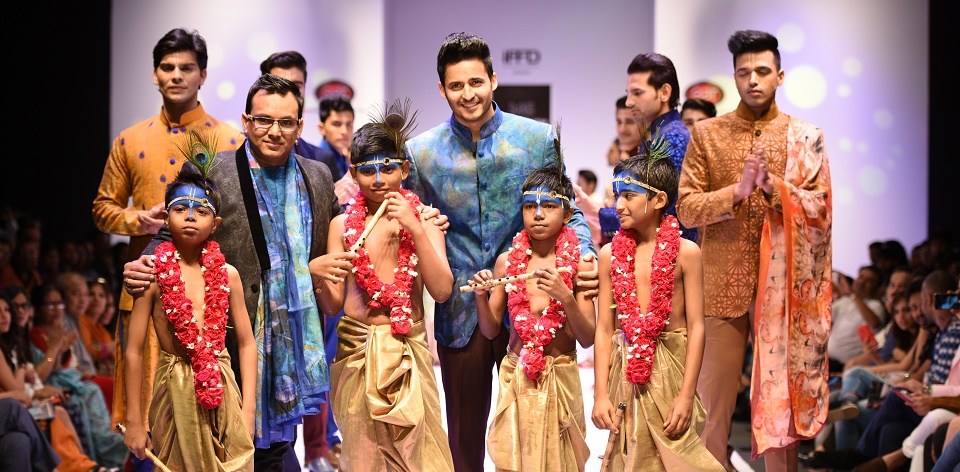 Hey Crazy Fashion Followers, Finally we are here with coverage on much talked about fashion extravaganza 'India Runway Week, Winter/ Festive 2015' that was organized by Indian Federation for Fashion Development (IFFD). The show was scheduled for 4-6th September in the TalKatora Stadium, New Delhi.
A blend of good music and trendy winters and bridal collections summed up the event. The event showcased collections of around 35 ace designers and budding designers.
The show got the grand opening with the 'Royal Heritage Collection' of ace designer Himmat Singh. Singer Mika Singh and actor Darshan Kumar walked the ramp for the designer.
Darshan Kumar, who is much appreciated for his roles in 'Mary Kom' and 'NH10' shared his personal style mantra & favorite color with his fans and media during the interview.
Actor mentioned on his personal style "Whatever you wear you should feel comfortable, even if you're in shorts and a vest, you should be able to walk on the road".
Actor mentioned on his favorite color "Yellow is my favorite and color and black comes after yellow".
"In India, I would love to walk for Manish Malhotra," the actor said when someone from media asked him about his favorite designer.
Darshan also revealed that he will next be seen on the silver screen in April 2016.
The grand opening was followed by the showcase of designs of various budding designers. Few of the names are –
Gauri Couture by Nikheil
Mastaani by Rivendra and Twinkle
Boho Rani collection by Hetal Shah's
Biba Kohli, Neetu Singh, Anupam Kumar, Akshay Wadwa, Megha and Jigar, Aliahmed Shaikh and Ashfaque.
More pics from Day 1 at Runway Fashion Week
Day 2nd at India Runway Week
The second day witnessed the gorgeous bollywood Gauahar Khan turning as showstopper for jewellery designer Akassh K Aggarwal. With the use of flora and fauna motifs, the exotic Indian 'Boudoir Celebration Collection' involved versatile options and combinations of diamonds, emeralds, pearls and sapphires and other semi precious stones.
Designers who showed their work on 2nd day are Rishi & soujit, Akassh K Aggarwal, Kanika and Sugandh, Bani Pasricha, Divya Shah & Lipsa Jain, Ojasvita Mahendru, Pallavi A. Agarwal, Purvi, Urvashi & Sukanya, Preyal and Amisha and Nidhi Kejriwal.
Day 3rd at India Runway Week
The final day began with the magnificent collection by talented designers Manish Gupta and Shravan Kumar Ramaswamy. TV actor Mohit Malhotra walked ramp for Manish Gupta. Manish's collections was inspired by Vrindavan. The designer won the hearts of the audience with small children from an orphanage 'Udayan Ghar' walking the stage for him.
The day ended with the young designers collection including Ekta Goel, Kinjal Khimasia, Pankaj Singh, Karan Sanger, Garima Sharma, Liz Paul and Satya Mishra, Tanya Patni, Priyanka Shenoy, Akanksha and Dhruv, Rohini Gugnani and Roop Vatika.
You may also like –
Save
Save