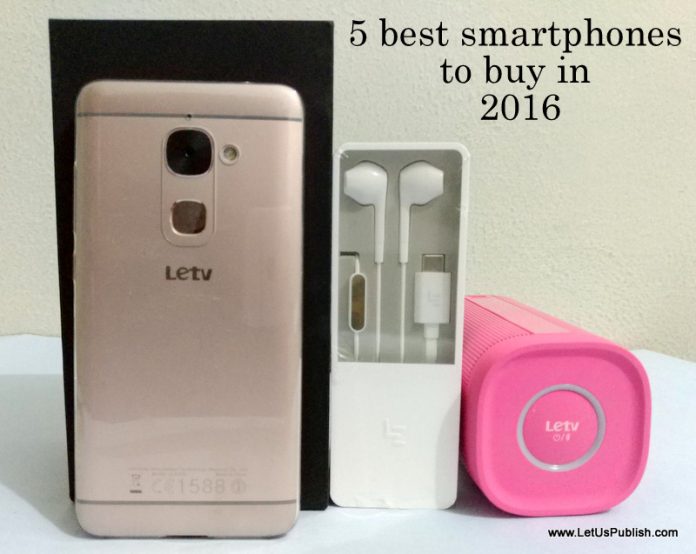 Are you looking for the best smartphones list? Buying a smartphone is quite confusing these days because of so many alternatives available in the market.
That's why we compiled a list of 5 best smartphones in 2016 from high to mid range to save your valuable time.
How to select a best smartphone without too much trouble? Let's find the answer without further ado. Shall we?
Google Nexus 6P
Google Nexus 6P is the latest flagship phone from Nexus series. It built with 5.7-inch QHD AMOLED display along with Snapdragon 810 64-bit Octa core Processor. It comes with Android v6 (Marshmallow OS) along with 3 GB RAM.
Google Nexus 6P is offers a great photography experience to users. You will find 12.3 MP rear camera and 8 MP front camera. But is it good enough for you? The phone comes under the list of costly smartphones launched in India. So, think carefully before taking any decision.
Price: Rs 39,999
Samsung Galaxy Note 5
Samsung Galaxy Note 5 is the latest flagship series. This phablet phone offers 5.7-inch QHD super AMOLED screen. It runs on Exynos 7420 64-bit Octa-core processor, 4 GB RAM.
It slotted in a 16 MP rear camera. Also, you will get a stylus S Pen in the package along with inbuilt software to use it.
It is another costly device around the globe and so India. But if you prefer Samsung, then it is the best Samsung smartphone that you can get right now.
Price: Rs. 39,999
LeEco 2
LeEco Le 2 is the most affordable smartphone if you want to buy a smartphone within Rs. 15,000. Metal design is totally stunning along Le Touch Painted Fingerprint technology for security measure.
LeEco 2 built with 5.5-inch full HD screen display. It runs on Qualcomm Snapdragon 652 SoC (1.8 GHz) along with 3 GB RAM and 32 GB ROM.
LeEco Le 2 powered by 3000mAH battery with a quick-type charger. The LeEco device offers a smooth 16MP rear camera and 8MP front camera. It supports the latest Android OS Marshmallow and dual 4G SIM and standby mode. Is it the best smartphone in 2016 according to budget? Decide yourself.
Price: Rs. 11,999
Xiaomi Redmi Note 3
Xiaomi Redmi Note 3 is another spectacular choice if you are looking for a budget friendly smartphone because it falls under Rs 15,000 (just like LeEco 2).
Redmi Note 3 has 5.5-inch full HD display, powered by 1.8 GHz Qualcomm Snapdragon 650 Processor.
You can install Android 5.1 OS MiUi7 with 3 GB RAM and 32 GB ROM.
You'll get I6 MP primary camera and 5 MP secondary camera. It isn't too bad after all (by looking at the price). 4000 mAH battery can last almost a day.
Price: Rs. 11,999
Read more about RedMi Note 3 here.
Moto X Play
Moto X Play is the latest flagship model from Motorola. It is a 5.5-inch touchscreen phablet at Rs. 15,999. Moto X Play  is packed with Snapdragon 808 64-bit hexa-core Processor. It features 3 GB RAM and expandable up to 128 GB.
You've 21 MP rear camera for shooting stunning pictures and videos. 5 MP camera isn't so unfit for front camera. What do you say?
Also we are not so confident with 3630 mAh battery backup. But it's better than 3000mAH powered phones for sure.
Price: Rs. 15,499
Final Thoughts – We have shown you the best smartphones list from 2016. But what is your favorite smartphone? Our pick will be either Xiaomi Redmi Note 3 or Samsung Galaxy Note 5. Let us know about your opinion as well..
Must Check from DreamTechie-
More Trending Blogs –
ClearTrip App Review – Must Have App For Travelers
How to Download Bollywood Songs?
How To Book Tatkal Ticket Fast Online in 2016