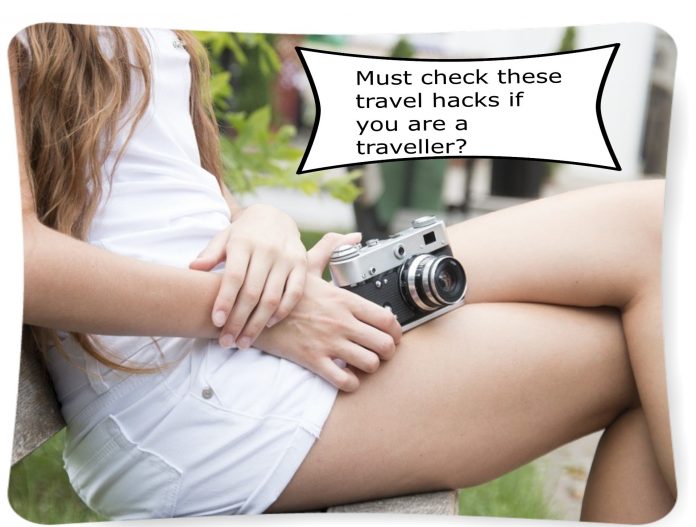 Hey people!
I've been trotting the globe since a very long time as I'm very much fond of traveling and this has taught me certain things that should be kept in mind while traveling.
So, today I'll be sharing some very useful travel hacks which will help you to travel comfortably.
Do Versatile Packing    
If you love traveling but hate carrying extra burden of luggage then pack only those clothes which are versatile in nature and occupy less space. This trick will not only ease your journey but will also help to utilize your space more effectively.
Carry Extra Cash
One should always carry extra cash. When it comes to cash, don't be stingy as future is uncertain, misfortune never comes with an invitation. Keep your extra cash at different places in your luggage.
Never End Your Journey without Clicking Pictures

The best part about today's generation is amazing technology and now your Smartphone can capture amazing memories within few seconds, so use your photography skills and capture all those beautiful travel moments you are going to miss in coming future.
Your journey will be incomplete without pictures if you think you never look nice from the eye of the lens then don't mind because everyone is beautiful in his or her own way. If you love traveling then stop feeling the camera shy and make it your best friend.
Street Food, a Source of Cultural Connection and Immense Pleasure
If you want to see the culture of a particular destination then don't waste money on expensive restaurants and international cuisines rather prefer to eat the yummy street food, this will give you immense pleasure.
Carry Faces Wipes
Water is not always available everywhere, no matter where ever you go you always need wipes to clean your face urgently. Wipes are easy to carry and after using it you will feel more energetic and fresh on tour.
Keep an Additional Bag for Your Dirty Clothes
Never ever mix up your dirty clothes with your clean clothes instead carry an additional bag with you because mixing the clean clothes with the dirty ones will result in stinking. By keeping dirty cloths in another bag you can make your packing mess-free.
Download Travelling Apps
Traveling in India is now easier than ever. If you are traveling for the first time you can simply book your stay, bus, train or air tickets and plan your trip while sitting at home in a few swaps with amazing deals offered by them.
These apps also show you the best of hotels be it a budget-friendly Ibis hotel or a high-end Taj property with the best prices and availability.
Check Out the Present Condition of the Place
If you are traveling to another country, you must be aware of weather conditions, present law, and economic conditions so that you travel freely without any disturbance.
You may also enjoy reading –