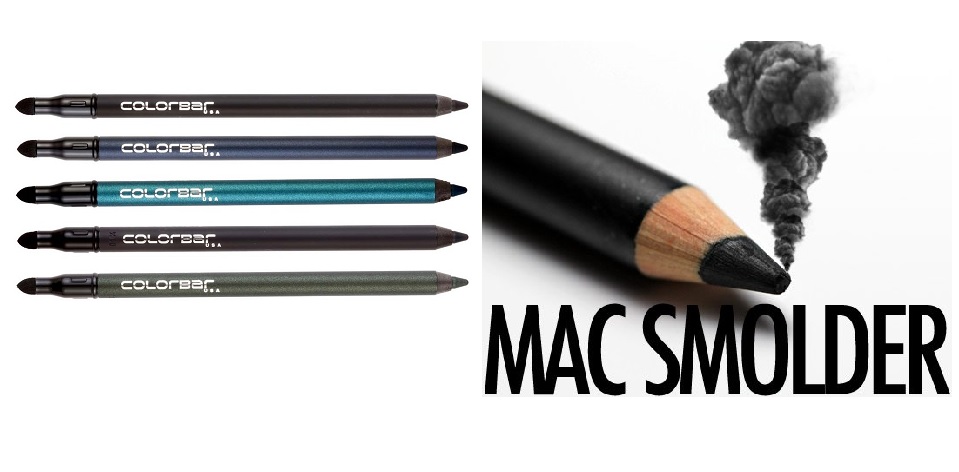 Beauty in Indian origin talks about Solah Shringar or the sixteen commandments of makeup. One of them called "kajal" or "kohl" is widely used in India since ancient times . A beautiful pair of kohl rimmed Eyes is quite a delight for the onlooker .
Eyes are accentuated with Anjana or Kohl or Kajal, which is applied on the edges of the eyelids to make the eyes look attractive. Earlier, Kajal was prepared by collecting the soot of an earthen lamp by lighting a wick in clarified butter or ghee. However, the modern Indian bride uses strong black eyeliner to achieve the Kohl eye look.
Lets take a look at the top ten kajal brands ruling the Indian market these days and captivating many hearts. Given the fact that few people like the plain Jane or few the decked up look , kajal as a necessity cannot be overlooked.
1. Maybelline Colossal Kajal
The product comes in a glider stick which makes it easier to apply and comes out nice as a finish. Comes in a smart yellow colour neon packing , priced at Rs. 150.
2.Himalaya Kajal
It comes in a green plastic roll on type pack The tip of the kajal is pointed and it is light to carry. Kajal is dark black and pigmented as same as home-made kajals. It is smooth and spreads easily onto the lash line, a single stroke is enough  Fragrance is not that much strong, but it has a herbal fragrance. Priced at Rs. 110.
3. Colorbar Smoky Kajal
This long-wearing pencil will do justice to your affection with Smokey eye look. Comes in five super-saturated shades that glides and blend quickly with built-in smudger for shadowing effect. Smoky eye make up is less of a hassle with this one.
Matte and smoky finish and soft texture makes it a good pick .Can be used as eyeliner/kajal/eye shadow and is easy to blend. Comes at a cost of Rs. 650
4. Lakme eyeconic Kajal
first thing that I noticed was that the Lakme Eyeconic Kajal is that it is indeed black but it is not a deep rich black colour. I feel its dark black with a bit of cool undertones. It has good pigmentation, but for a perfect black look you need to apply minimum of two swipes.
It is soft, creamy and smudge proof and waterproof as well. Priced at Rs. 180.
Also Read – 7 MUST HAVE MAYBELLINE BEAUTY PRODUCTS
5. Inglot Kohl Pencil
Inglot's Kohl Pencil comes in eight different shades. A pencil that is highly pigmented and defines the eyes really well, it gives your eyes a beautiful velvety appearance. The application is easy as it glides smoothly. It is waterproof, smudge proof, and transfer proof as well. The product wins extra brownie points for providing a moisturising effect. Cost Rs 850.
6. Loreal Paris Magique
L'Oreal Paris Magique is extremely black and can be used as a darker-than-night eyeliner. It is enriched with vitamin E, Cocoa butter, and ingredients with the goodness of Vitamin C, which provide exceptional care to the eyes. The mineral pigments formula gives a deep intense colour pay off
The formula makes the application effortless and smooth. The kajal stays put for up to eight hours and the colour pay-off is excellent. It's waterproof and preservative free.
7. Faces long wear eye pencil
Faces Long Wear Eye Pencil is an extremely soft kajal pencil. The formula makes the application effortless and smooth. The kajal stays put for up to eight hours and the colour pay-off is excellent. It's waterproof and preservative free. Buy Faces Long Wear Eye Pencil For ₹ 297.00 .
8.  Mac smolder eye kohl
Mac Smolder Eye Kohl is a matte pearl-finish eye pencil. It is very creamy and can be applied easily. It provides a rich, opaque color. The perfect pencil priced at rs 1870.
9. Revlon Kohl eyeliner pencil
It's a  standard wooden pencil that has Revlon's trademark black background with gold lettering. Easy to secure packing is spill proof. One aspect that I really like is that the expiry date in printed on the body of pencil no. fragrance with a shade of black and rich texture priced at rs 199
Also check – DO IT YOURSELF: SMOKEY EYE MAKEUP FOR DAYTIME (TUTORIAL)
10. In colour dynamic liquid kajal
It saves you the drying up hassle as well . The stick looks like a sketch pen and is smooth when applied . Even with extremely nervous rough hands it gives the desired  " winged " look . The finish up looks just perfect effortless to use as well . A must have in your vanity kit , priced at Rs 250 this product is total value for money. Buy it and flaunt it to feel it.
Check review of Maybelline Eyestudio Lasting Drama Gel Eyeliner  at FashionandBeautyBlogger.com
Hope the kohl rimmed face goes places and travels a far. Happy eyes happy face happy soul happier you…stay rocking !!!
Read More Articles-