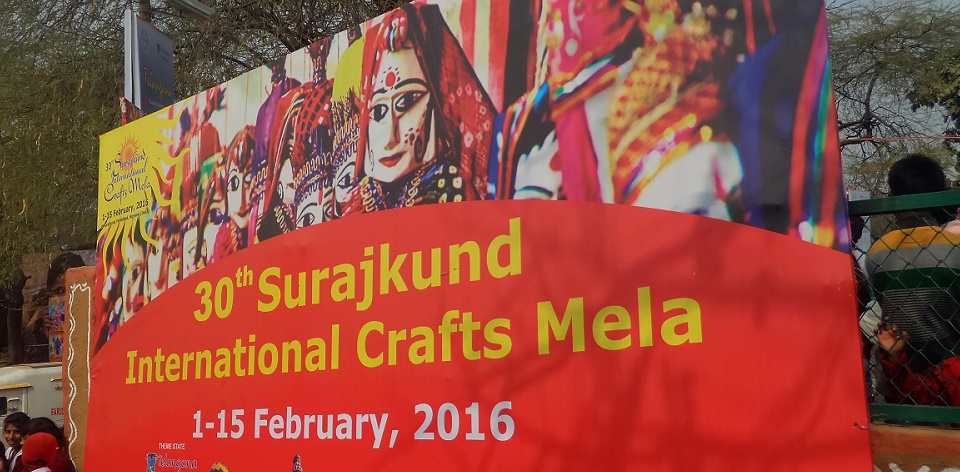 SurajKund Fair (Mela) is the very famous handicrafts fair organized yearly in Faridabad in February by Surajkund Mela Authority &  Haryana Tourism Department to promote handicrafts items from different parts of India.
Many talented artists come from different states of India and across the World to showcase their handlooms &  handicrafts items of their respective states.
For the 30thSurajkund International Crafts Mela-2016 that ended up today 'Youngest State – Telangana' has been chosen to be the Theme. Around 20 countries & all the states of India participated in this grand crafts fair.
This fair becomes the talk of capital for splash of colours, rhythm of drum beats and joy de-vivre merge at Surajkund in Faridabad, Haryana during the first fortnight of each February.
Surajkund Crafts fair celebrates the unique diversity of Indian traditions and culture in a ambience, created to represent the ethos of rural India. Apart from handlooms and handicrafts of India, this fair also comes with handmade fabrics soaked in ethnic colours, toys, jewels & more for the buyers.
For visitors & tourists Surajkund crafts mela offer variety of cuisines to try for. For kids & youngsters the place offer adventure sports and joy rides.
If you ask us why we visited it ?  then here are the 5 reasons to visit Surajkund crafts mela –
Surajkund fair is an excellent place to explore art, for art lovers.
Excellent place to experience colorful photography.
Want to enjoy lots of rides & food cuisines at one place then Surajkund Mela is one such perfect place, though you can get disappointed from food quality, at times.
Antics shopping for home and office from furniture to Mats.
Best place to hangout in groups.
For LetUsPublish readers, here we have best of Surajkund International Crafts Mela pictures. Here you go –
Thanks for giving us your precious time, do share your love for the travel log, and keep sharing our posts over social media.

Read More Articles-