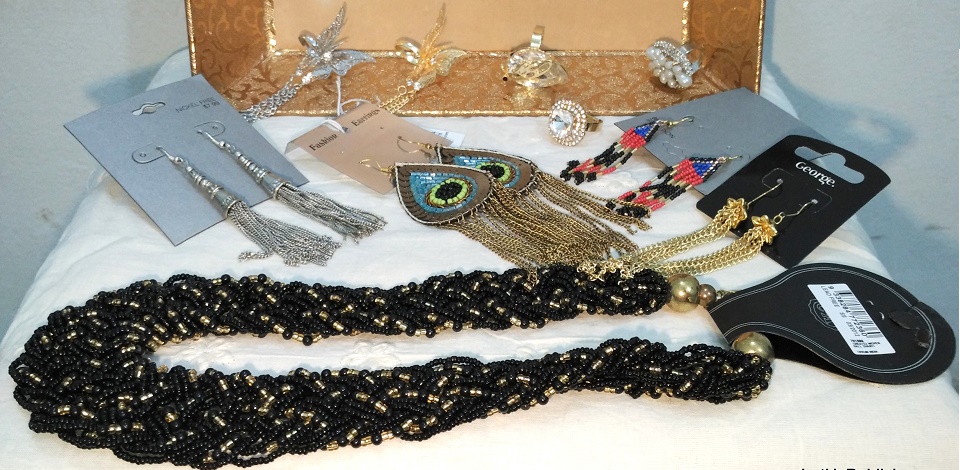 All my near and dear ones know how bubbly and zestful woman I am, and it so happened that someone asked me, "Yogita, we hardly see you getting stressed, what do you do?". Now the question happens to surprise me and I laughed and gave a reply, which all you lovelies would agree with me- "When I am in stress i go for shopping! Shopping is something that i can do anytime. In case if I can't go out for shopping, I shop online :P" And my answer got a laugh, but isn't that true, when stress or anxiety engulfs you- go for shopping?
Like Rebecca of Confession of A Shopaholic, when I shop, the world gets better and I get back to my exuberant side.
And that's how my amazing shopping happened from the Lajpat Nagar. I started on a mission related to my work, but the temptation and shopaholic nature of mine dragged me to the streets of Lajpat Nagar and I splurged elegantly on accessories which would complement my western and ethnic outfits.
The shopping inspired me to share my lovely possessions, which might me the celebration of the Spring season. Get inspired and I have a feeling that you might be catching the next metro to everyone's favorite shopping destination- Lajpat Nagar.
Sonam Kapoor inspired earrings:
During the promotions of Neerja, Sonam Kapoor hooked all of us with her aristocratic and high-end style of dressing. Thus, her stylish fringe earrings with maroon ethnic wear urged me to buy these silver fringe earrings.
Aren't they beautiful?
Taking cues from the earrings, I found butterfly rings that caught my interest. Couldn't resist buying them, and got a touch of bling and silver rings.
My ardent love for dangling earrings:
Who doesn't love stylish dangling earrings? These are my favorites and I am waiting to wear them. Especially the silver chunk earrings, what is your say?
The peacock feather color danglers were my no-second-thoughts pick, it was worth buying. I just love the long metal beads hanging.
Bead Love:
Beads are always a girl's favorite. I love beads, be it as a decoration on clothes or accessories. My love for beads made me buy this multicolor beaded earring, which would look amazing on a white blouse and denim jeans.
And this long necklace with black bead and soft touch of gold beads is a statement jewelry. The best thing about this necklace is that I can wear it with chic sarees or even with western outfits.
Appealing Stelatoes:
My hunt was for a pair of round toe heels, but instead I binged on jewelry :). However I found my voguish black heels at Stelatoes.
To complete the modish heels, I pampered myself with a classy and chic black clutch with golden straps. A perfect accessory on LBD or evening dresses- compact to keep makeup, accessories and of course the breath of my life- my mobile.
The fashion trend of fringe craved my heart to buy this fringe bag in the loving beige shade.
With my hands full with shopping bags, I came to the end of my self-pampering shopping and all of this costed me just 3000INR. Surprised? And yes, I felt the world & my wardrobe got better 🙂
For now I am signing off, will soon share my next shopping saga, till then Sayonara and happy weekend shopping. Don't miss to share your love for my shopping though comment section. Much Love …. Yogita
You may also like-