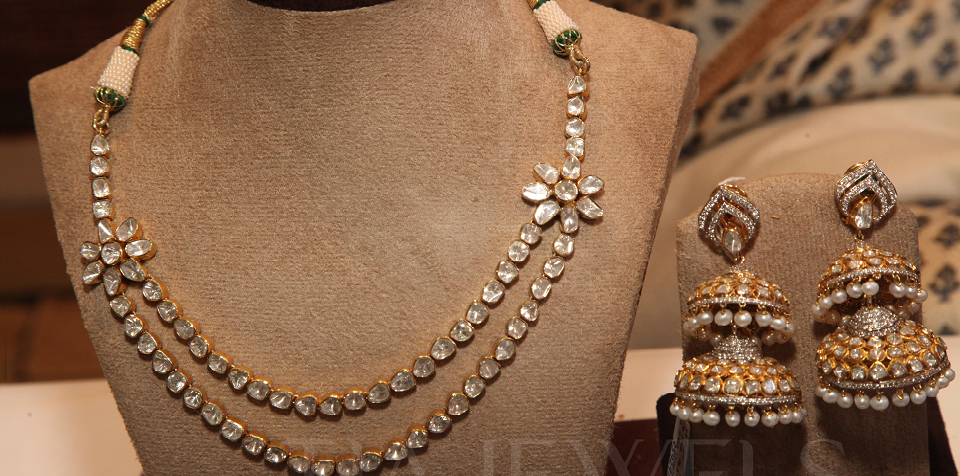 Finding exclusive designer jewelry that fits your budget and looks marvelous sounds like a castle in the air, right? Well that isn't the case anymore. Last Saturday Gurgaon witnessed the launch of a new brand in the sphere of fashion, jewelry and lifestyle named Tia Jewels by Shallu Jain at the Orchids Garden Club hall.
Tia Jewels is one of the rare fashion labels in the market who wish to provide you with exquisite ornaments without burning a hole in your or the husband's pocket.
This label is all about exceptional diamond and polki jewelry along with other precious and semi precious gemstones with international standards such as GH color and cent percent certified Hallmark at suitable and satisfactory prices for the first time in Delhi-NCR.
The idea of a jewelry collection that is both practical and elegant dawned upon Shalu's mind while thinking of the women for whom fashion and style remain a mere thought amidst their busy lives.
Another striking feature of this event apart from its brilliant collection of jewels at mind boggling prices was the guest list comprising of not even a single celebrity but some exemplary women such as prominent Dental Surgeon, Dr Kriti Akroili, famous Pediatrician Dr Shaguna Mahajan, Shivani Gupta (Principal of Bal Bhawan Play School) and Leena Thukral ( Principal of Leens Nestling), Neha (manager at Genpact), Anju Anand owner of Bella Vita (Makeup salon and studio). Accomplished artists like Vaneeta Rellan and Honey Gupta also graced the occasion.
Tia Jewels Collection
"The two most important factors distinguishing our products from the rest are its outright pricing and the second the exclusive and distinct identity that each piece of jewelry carries. We have tried to cater to a large section of women buyers by providing traditional and contemporary designs at affordable prices." explained the founder Shallu Jain. Tia Jewels is also said to be the choice of modern women who are passionate about jewelry and fashion yet posses individualistic style sense.
Along with the admirable collection and the eminent personalities present the event also saw the most creative way of choosing the brand ambassador for itself via a photo contest on social networking sites. One picture of a guest wearing the pieces from the collection getting the most number of likes on the brand's social networking pages will be chosen as the face of the brand. It is thus proved that Tia Jewels is truly a brand dedicated to real women of substance. The brand was made public by Director of Cloud Nine Hospital, Senior gynecologist Dr. Witty Raina.
About Tia Jewels
Tia Jewels is an exquisite jewelry brand, founded by young entrepreneur and fashion enthusiast Shallu Jain, offering latest designer jewelry to women at modest prices. Featuring an impeccable collection of Diamond, Kundan and Polki jewelry in traditional and contemporary styles Tia Jewels is bound to become Indian women's favourite choice as soon as they lay their eyes on it.
Thanks for reading us 🙂 Do share your love for the Tia Jewels collection, you can write us through comment section with any of your query 🙂
Read More Articles-