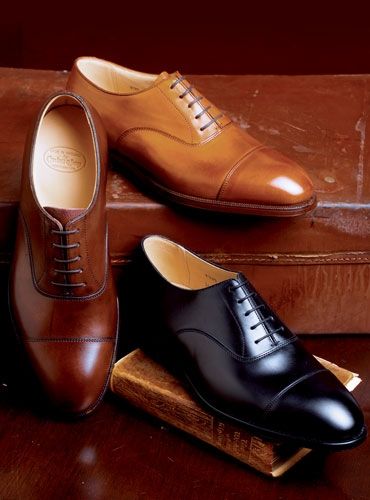 There is a very famous saying–" A MAN IS KNOWN BY HIS SHOES"
We have generally seen people only talking about the Women's fashion & clothing as they have a huge variety to opt from and style up, but not anymore, today men's fashion have also speed up to the same level. Men are also keeping themselves updated and are keen to dress up good according to the occasion.
Every man tries to wear his best but how many men tries to put on the best shoes. This single mistake of shoes turn the things off for him.
So here I'm to help you guys with the most essential shoes for every men wardrobe.
BROWN LONGWINGS
Popularly known as "WORKHORSE SHOES"
Perfect from being casual to classy, except for very important meetings with relatively conservative business partners or bosses.
The Shoes looks perfect on both casuals and denim
BLACK CAP TOE
This one will work all the time, from everywhere to anywhere, where your previous one didn't.
This shoes gives one of the smartest looks
This shoes looks great on formals
DRESS BOOT 
Handmade, well cobbler made, for the Suited & booted look.
Looks awesome when well dresses with coat and belt
DESERT BOOTS
More dressy than a sneaker, a go to option for a casual day @ work or a casual relaxed evening with friends.
One of best option when dressed for casual hang around, picnics etc.
MONK STRAPS
Sometimes, more than a lacy personality is required that is where these classy straps work.
Looks fabulous on three piece suits and formals.
CANVAS SNEAKERS
Every guy needs a understated off-duty sneakers.
There are very comfortable to do low level exercises.
Gives a great sporty look all together
PENNY LOAFERS
A casual leather shoe with a decorative slotted leather strap, perfect for a dinner with friends.
looks awesome with semi -casual and semi-formals.
Can be used anywhere except sports.
TECHNICAL SNEAKERS
For your daily run, be it around the track, or to the local watering hole after work.
Very good for sportsmen as its designed in such a way that a sportsperson toes can get feel of relaxation
Looks awesome on sports dress
ESPADRILLERS
These are for those summer days when you don't feel like wearing those boat shoes.
Looks great on three-fourths, half pants, lowers, and bermudas.
Comfortable on picnics too.
BOAT SHOES
Use them to the fullest for every other day in June, July and August.
Looks great on beaches and all those places where you prefer to relax
Gives awesome looks with loose pants.
These are because no man should be forced to pad around his place barefoot.
Used for wearing in home but looks great when shopping needs to be done from a local market.
So go guys, make full use of this information and upgrade yourself.
Above Article is the guest article contributed by Pragyee Jaiman. She is a fashion designer from NIFT and working in Groversons. Do share your views on Pragyee's point of view via our comment section.
You may also enjoy –