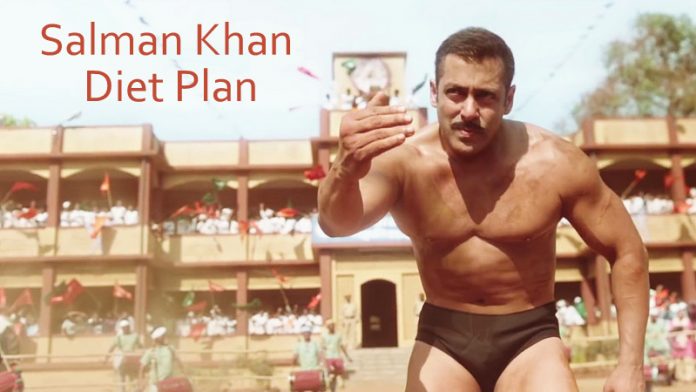 Everyone wants to look like and have a body like a celebrity. And, the most admired celebrity among all age of people is Salman Khan. He is a favorite of all girls and boys not only for his good acting, but also for his looks and especially body. Each youngster wants to have a body like Salman Khan and do rigorous exercise in gym to get that too, but still they fail.
They search a lot on net what kind of the exercises he mainly do to make his biceps, abbs, triceps etc. but hardly see what kind of a diet he is taking pre and post workout. Moreover, if some see it also, then they find it difficult to follow it.
Earlier, Salman khan used to very foodie and had a special interest in spicy Indian and Italian food. In fact, long time back (in year 2012), he mentioned in one of his tweet that he used to visit Haji Ali Juice center regularly and ate his favorite PavBhaji, pizzas etc, but now, he follows a strict fitness regime. Now, he eats a high protein rich diet such as eggs, fish, milk etc and the total amount of calorie intake per day is around 3000, which he burns every day in his daily workout schedule.
Actually, to have a body like him does not depend only on what kind of exercise he is doing or for how long, and neither it depends on his diet schedule, rather it totally depends on the fact that he eat right food at right time and as much he take the calorie per day, he burns out the same daily without carrying it forward.
Have you seen his body in Sultan? Do watch Sultan and share your views. Here are our 5 reasons to watch Sultan.
He himself says that "Workout is just 20% of your body. What is more important is your diet". So, he not only just concentrate on doing an intense exercise but also follows a proper diet and avoid all kind of processed foods and sugars from his diet to achieve the best possible results.
Do Read – Why FitBit is #Musthave for You?
Although, for those who still wants to know the diet chart of their favorite Star "Salman Khan", we did a lot of research and gathered information from various websites, to list it down below:
Morning Breakfast:
Low Fat milk
Egg whites – 4 nos
Pre-workout:
Egg White – 2 nos
Protein Shake
Amino Acid Tablet
Post Workout:
Oats and Almonds
Protein Bar
Egg Whites – 3nos
Lunch:
Veggies
Salads
5 chapaties
Fish
Lot of fruits
Snacks:
Protein Bar
Amonds and Nuts
Dinner:
Fish/Chicken
Veg Soup
Different Soups and green vegetables
Published via Fitnesscay.com
You can also read – Six Best Exercises To Get Six Pack Abs
You have to check this – Deepika Padukone Beauty Secrets : The Queen Of Hearts
Do let us know the celebrities name in comment box whom diet chart you want to see here on LetUsPublish.