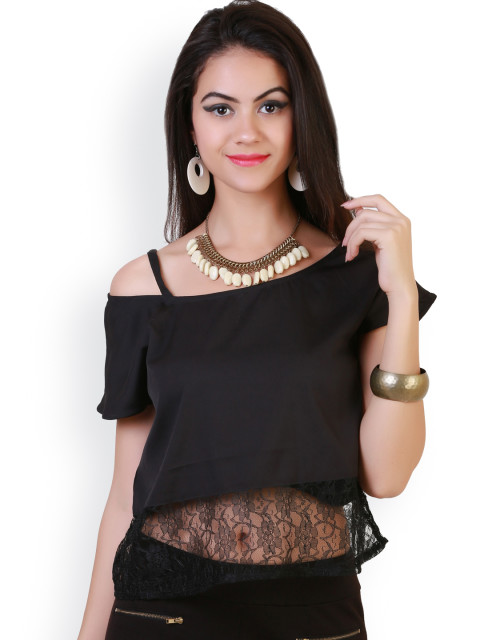 From Bollywood to Hollywood, even the fashion bloggers, every girl is obsessed with the off shoulder top. It is the love of the season and the best thing is that, no matter what color or size, off shoulder blouse looks stunning on every girl. We had shared a post with our readers on how to style their favorite off shoulder top, today we are sharing a post on the huge Myntra sale alert.
If you haven't got your hands at the off shoulder top yet, then shop online, there is sale everywhere and we found Myntra selling some fabulous off shoulder blouses. While sales are great only if they are 50% or 60% off, we decided to give you top 7 tops that are under Rs.600. Amazing right? Yes, the below listed blouses are under Rs.600 and we love them all.
Go pamper yourself this sale season and get the hottest trend of the season in your wardrobe.
White off shoulder top:
Blissful white would make everything look perfect. Be it girls night out or dinner date, we believe a soothing white off shoulder top can make you look celestial. The soft ruffles add a feminine look and this top is at 50% discount (yay). Pair it with denim, skirts or even palazzo pants and look haute for the day.
Price: Rs. 549
Floral print off shoulder top:
If being vibrant is on your mind, then this off shoulder top is just made for you! The red base with contrasting floral prints is all you need to make your day bright and beautiful. Wear this with long skirt, denim, capris and pair a choker necklace and you are good to go.
Price: Rs. 499 (50% off)
Bold red off shoulder top:
Go bold with this bright red off shoulder top and be the head turner. This 3/4 sleeve red off shoulder top will look great when teamed with black leather pants, beach shorts. If you want a boho look, then wear feather or pom pom earrings.
Price: Rs. 539 (40% off)
Seductive black off shoulder top: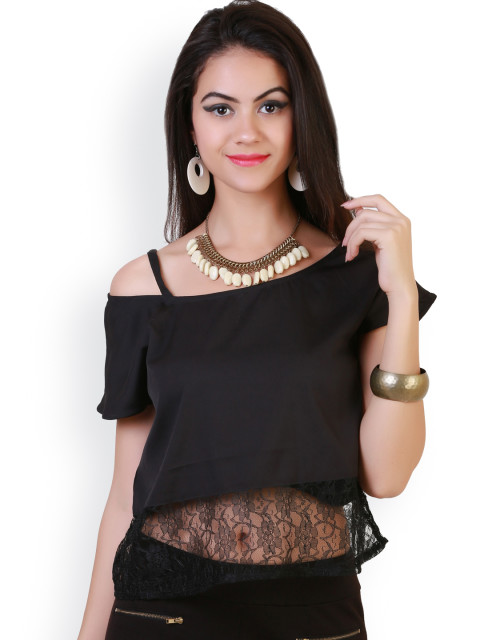 Dear girls, do you have a dinner date with the man of your dreams? Then look impressive and ultra glamorous in this black off shoulder top with lace pattern on your waist. Amp up the look with a skater skirt, skinny jeans and don't forget to wear the red pumps, chic necklace.
Price: Rs. 539 (40% off)
Printed off shoulder top:
College going girls can definitely try this cool looking printed off shoulder top which has a pretty yet swanky look. Wear it with wide legged pants, denims or jeggings and be ready to be loaded with compliments.
Price: Rs. 599 (40% off)
Cream off shoulder top:
Planning what to wear for your beach vacation? Then we recommend this stunning cream off shoulder blouse that has a subtle, classy look and perfect for the white beaches surrounded by azure seas. Wear this lovely blouse with denim shorts and look super hot for your vacation.
Price: Rs. 599 (50% off)
Electrifying blue off shoulder top:
If you have a penchant for prints and bright shades then this blouse is just made for you. The electrifying blue top will take away your Monday blues and make your day happy and peppy. Team it with white pants, palazzo, skirts and high heels to stand tall in the crowd.
Price: Rs. 510 (60% off)
Do enjoy online shopping sale and let us know which among the trendy off shoulder tops is your favorite.
Image source: Myntra.com
Also Read -: