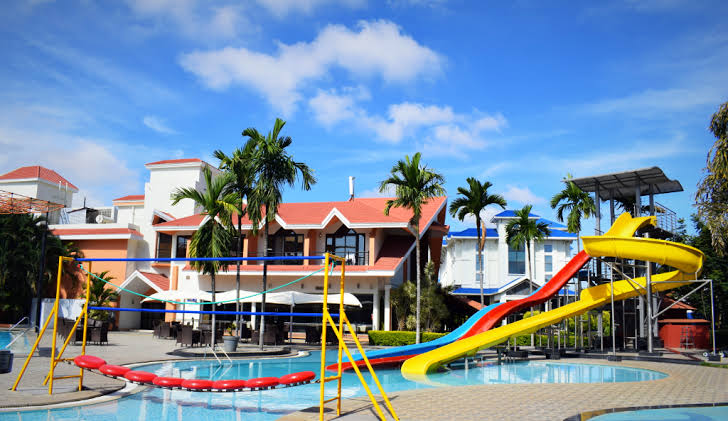 Are you looking for a fun-filled place to spend the day out with your family in Bangalore? Clarks Exotica Resort and Spa is the perfect venue for you. It has a super clean and comfortable environment for you to enjoy with family and friends.  This property is about 15 minutes from Bangalore airport. It serves as a perfect weekend getaway resort for  Bangaloreans to relax and have fun.
Planning to visit this weekend getaway with friends can be one of your best decisions.  We share here our review of our day out experience in Clarks Exotica Resort.
Package Details:
They have several packages to choose from based on your requirement and comfort. We picked the package for a day out, including lunch and high tea. This is available priced at Rs1400/- per person at that time. We planned this getaway to spend time with our friends to have a relaxing and fun time.
Entry at resort:
On reaching the resort, they welcome you with some refreshments and drinks. You will get a special band to differentiate between regular guests and day out guests. The place is well maintained and they have placed sanitizer booths at several places to maintain hygiene.
Exploring the property:
We then went to explore the property and take some photos around. The lush green acres of the property are very relaxing and photogenic. You can get a sight of the stunning scenery of Nandi Hills from here. Be sure to get some good photos and selfies in this scenic property!
It's an amazing place to enjoy and relax, as there is a lot to keep you engaged the whole day. They have indoor-outdoor games, an open bar, a spa room, kids room, pool area, etc.  The washrooms and dining area were super clean and comfortable. In case to take some rest you can relax in the club house that has many comfortable sitting options.
Food Area:
There are several multi-cuisine delicacies available here for lunch. This will give a treat to your taste buds. For the buffet lunch, you will get a vast menu having tasty and flavorful options. If you are a vegetarian though, you have lesser options to select here. Their special blueberry cake is our favorite here and is a must try.
They also serve high tea with snacks at a specific time that is as part of the package. You do not want to miss out on this warm tea along with pakoda which is ideal in the cozy environment here. But, if you get delayed then the tea would be cold by then. In that case, if you want another tea like our friend did, then it comes outside of the package.
Activities around:
You have an assortment of indoor and outdoor games here to spend time. From carrom, chess, badminton, table, and tennis, there is enough to engage you here. If you like cricket, this is the perfect place as it has a wide space to have fun. And yes some games are paid too. There is ample space for kids to play, and take a lot of pictures together.
What to pack:
You can pack your essentials like mat, caps, umbrella and water bottles. In the huge open area, easy snacks, drinks for kids, cricket gear are good for you to prepare for the best moments.
If you have an infant or a toddler though, we would suggest you carry pram so that you can stroll your baby while exploring property.
Things you will love about Clark's Exotica Resort
Great ambiance.
Clean and hygienic property.
Delicious food.
Variety of indoor and outdoor activities.
Relaxing and scenic experience.
Huge pool with amazing slides ( This was closed because of Covid 19 guidelines.)
A great option for a day out if traveling in a large group of friends. Also good for couples to spend time together.
Things that you need improvement about Clark's Exotica Resort
Separate room is not available on a day-out package. If you have a new-born baby you might not get any private space to feed or do baby chores.
Challenging if visiting with infants or kids.
High tea is available at specific times which is hard to adhere to.
Some games are extra charged as they are not as part of the package.
Lesser food options for vegetarians.
Overall, you will have a great time enjoying yourselves in the resort and at the pool area. If you are looking for a fun and relaxing getaway, Clarks Exotica resort is a must visit.
Do visit –