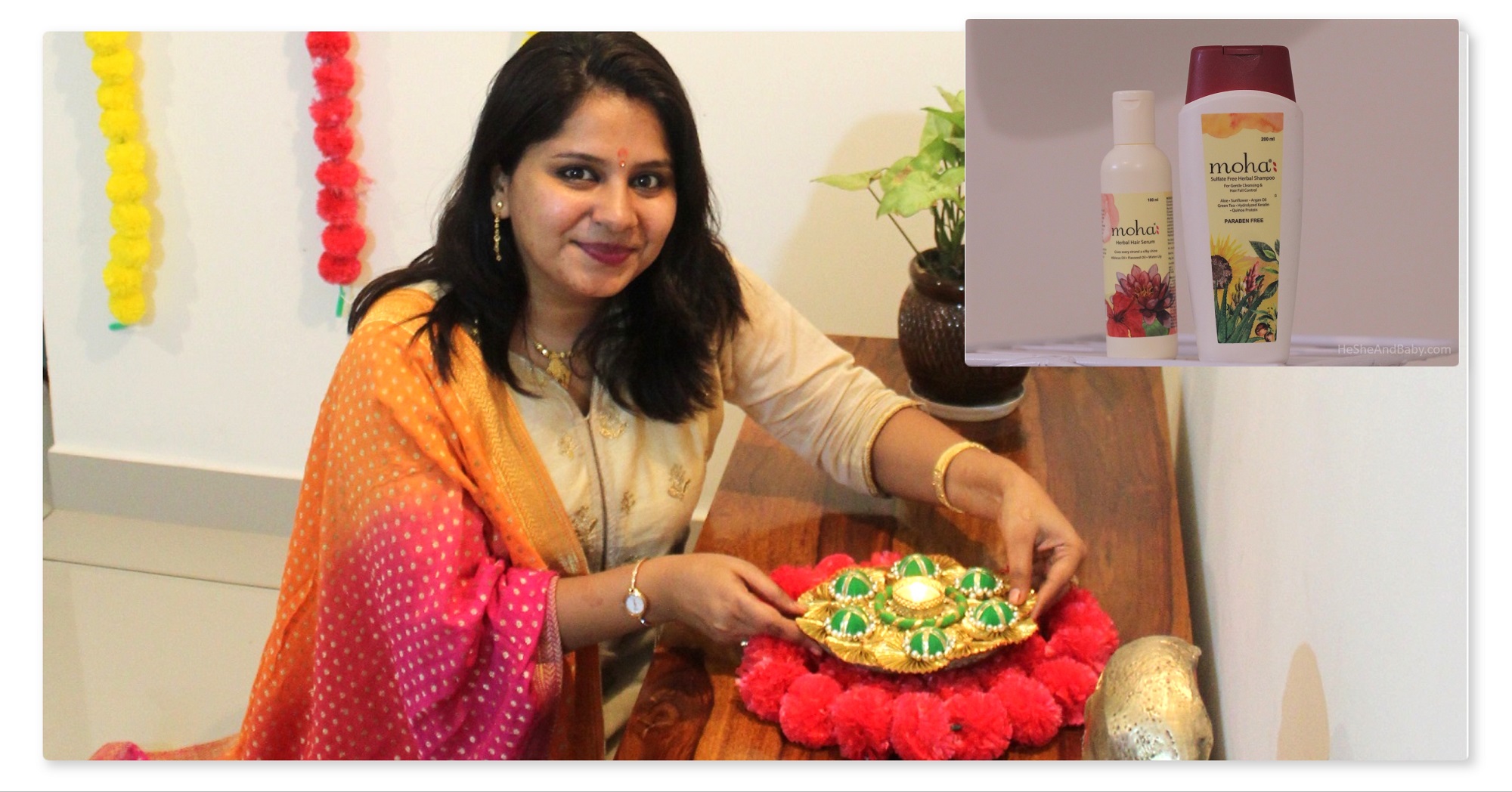 With the festival and wedding season coming up, many of us are excited and already looking forward to it. right??
With this enthusiasm and our eagerness to look beautiful, we end up missing out on taking care of our tresses and end up with dull and damaged hair. And after those parties, we find quick fixes to care dull and damaged hair, just like you did 🙂
So let's read further check my 5 – best recommendations for dull and damaged hair. Include these points in your daily hair care routine and have healthy shiny hair all year long!
1) Oiling the hair: Nourish & condition your hair by oiling it well before washing. A good massage that is done by applying warm extra virgin coconut oil on your scalp either done the night before or even an hour before wash can help improve the blood flow and nourish your hair. Oiling your hair twice a week is suggested for best results.
I choose Moha 5 in 1 Hair Oil – 100% Ayurvedic hair oil which takes complete care of hair & scalp. It is a  revitalizing mix of 5 oils – Almond, Argan, Jojoba, Rosemary & Coconut that promotes hair growth as well as takes care of my dry-brittle hair. 
2)   Use mild &sulphate-free Shampoo: There are a lot of shampoos available in the market but the challenge is to choose a sulphate free shampoo that has goodness of all natural ingredients. Our recommendation is to use Moha: Sulfate-Free Herbal Shampoo as it is the best sulfate-free shampoo for keratin treated hair as well as others. Using paraben-free and Sulphate free keratin shampoo can be very helpful here, as they are very mild and do not have harmful chemicals to damage your hair or dry-up your scalp.
Further, Moha Sulphate Free Herbal Shampoo has herbal extracts like Aloe and Green Tea that will control hair fall. Also to bring further shine and glow, it has Keratin, Argan and Quinoa Protein that will further protect your hair strength and make each strand shine. Also it helps retain your hair color & treatments upto 50-washes, which makes it best sulfate free shampoo for treated hair.
Besides using sulphate free keratin shampoo, it is also very important to protect your hair using a good natural hair serum. I personally feel hair serum is the most underrated hair care product and most of us tend to skip this process. This is an equally important product to ensure silky smooth and nourished hair. Using a herbal serum can help nourish your hair and our recommendation is to use Moha: Herbal Hair Serum post wash. Thissulphate and paraben free hair serum contains the nutrients of Flaxseed oil, Hibiscus oil& Water Lily. 
I must say it is the best hair serum for dry and frizzy hair available in India.
Moha products are brought you by Charak Pharma, leaders in Ayurveda for past 74 years!!!
3)  Avoid heat-based styling tools: If you are having split ends and other hair issues, then it is recommended to get your hair trimmed periodically. This also helps in further hair growth. While getting your hair straightened and using hair colors is the trend and gives the cool look, overdoing it is also very harmful to your hair. It is good to avoid ammonia-based hair colors and other harmful heat-based straightening and styling tools as these can make your hair frizzy and cause hair fall.
4)  Homemade hair masks: Homemade hair masks are magical; can you believe? If not then try – Banana honey mask for dull hairs and see the magic. This hair mask is perfect to moisturize dull hairs and to make them shine. For this mask, take 2 overripe bananas and mash them up. To this mixture, add 2 tablespoons of honey and mix well till the mixture is smooth. Now apply this mix on wet hair and let it remain for half an hour. You can cover it with a shower cap so that it is mess-free. wash off with a gentle shampoo. After seeing results come back here and thank me.
Or for quick fix, go for Moha Hair Conditioner, enriched Jojoba, Aloe & Wheat germ for soft, shiny& smooth hair.
 5)         Healthy Diet: Ultimately with all the external care, it is also very imperative to prioritize with the internal care. Eating healthy and staying hydrated is very important for the overall body. Make sure to eat plenty of fruits and vegetables that are high in Vitamin A, C and like oranges, carrots, and tomatoes, as they help to keep your hair looking healthy.  Including protein in your diet can also help boost hair growth & hair health.
Also do let me know your ways to deal with dull & damaged hairs, comments are open for you 🙂