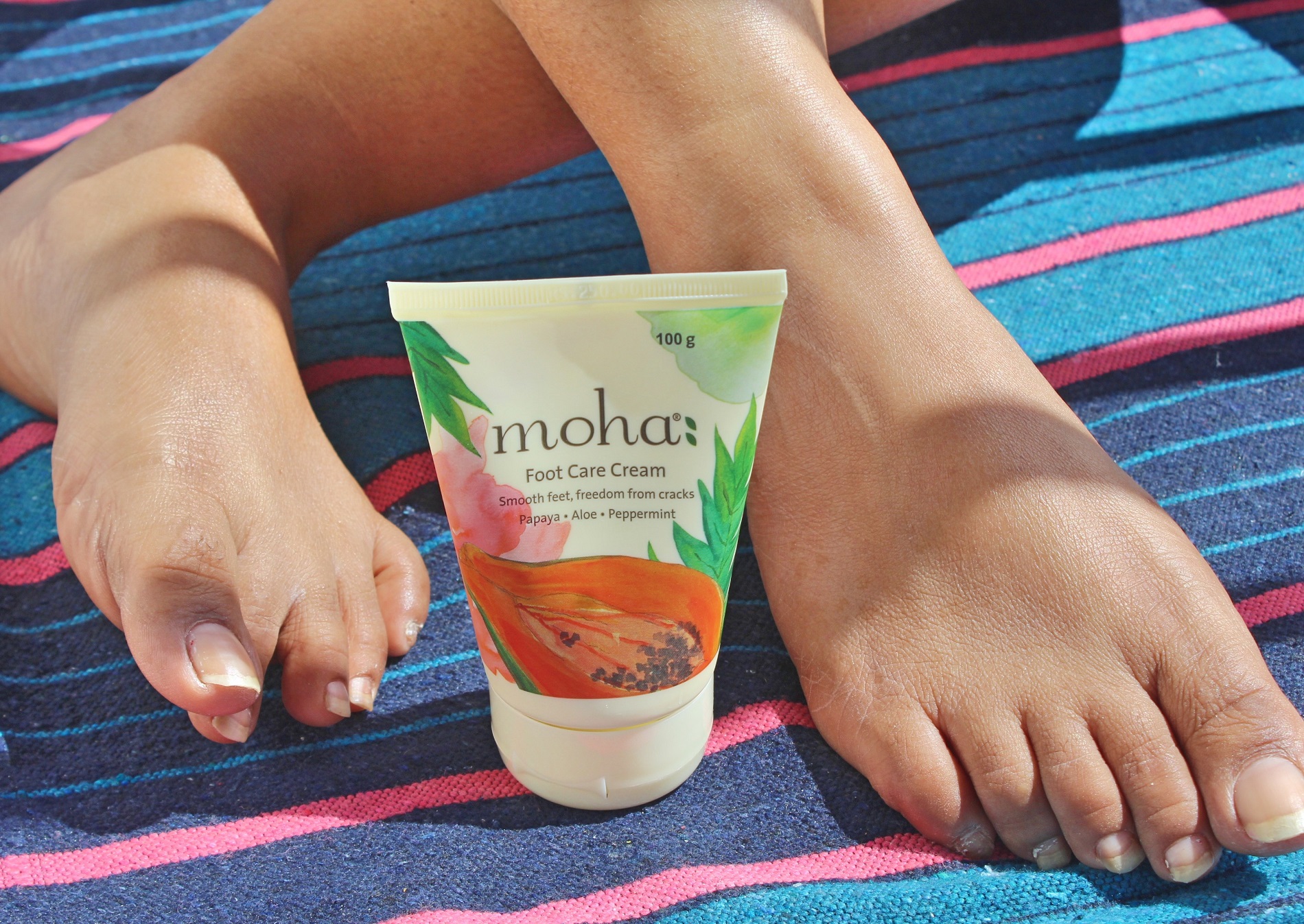 During the winter months, it is common for our hands and feet to become dry and cracked. This can be uncomfortable and unsightly. When the problem goes too far, it even gets uncomfortable and in the worst case – inflamed & painful.
Why take it so far? It's better to get remedy for cracked heels and rough hands before it gets out of hand. It is not rocket science to maintain soft and supple hands and feet during winters. All you need is the right type of products and the perfect amount of hydration.
In this blog, we have suggested some of the tried and tested remedies along with our favourite pick for cracked feet and rough hands – Moha Foot & Nail Care Cream.
So are you all set to bid your final farewell to hand and feet winter woes? Here we go!
Nails love some oil soak – It's as easy as it sounds. Heat your favourite oil in a pan, I would choose coconut oil as it is light in texture and absorbs really well! Soak your nails in the hot oil (make sure that the oil is not too hot for you) for five minutes. Wipe excess oil with tissue paper and voila. Top it up with a nail care cream. However this process can sometimes become messy and inconvenient incase you are tired or outdoors or traveling. So I choose Moha nail cream for my daily pampering. Oils of Almond & Flaxseed nourishes deep, making them strong & shiny, and I don't miss oil-soaking anymore, all thanks to Moha Nail Care Cream.
Make sure you wear gloves whenever outside – The harsh winter breeze can do more damage than you think. So, make sure you step out with your gloves on, in winters. To add an extra protective shield, you can apply some nail cream for dry nails before wearing gloves. The heat from gloves will help the nail cream get absorbed by your cuticles.
Invest in a good herbal nail cream – You spend fortunes on your face while your hands stay neglected. Your hands deserve some pampering too! Invest in a good herbal nail cream that moisturizes your hand, boosts nail growth, prevents cuticle tears, and prevents hand dryness. Many skincare vloggers these days vouch for Moha nail care cream for their hand pampering sessions. It is deemed to be one of the best nail creams for nail growth and strength, in the market.
Pamper yourself with a manicure session – Who says you need to take a salon appointment for a manicure session? Manicures can be easy with the right type of products. You can indulge in some DIY manicure nails session at home to pamper your hands and give them all the love they deserve. Use an oil soak, use hot towels to steam your hands and in the end, massage your hands and nails using a Moha nail cream for brittle nails for best results. You will see reduction in dry skin and better nail growth with just a couple of sessions. You can top it up with Moha: Herbal Nail Cream for Dry, Brittle Nails to see some spectacular nail growth in just a few days.
Your nails need some care too – Along with your hands, your nails also deal with the harsh winter weather. Don't forget to show them cuties that you care for them as well. Use a good quality nail cream to keep them healthy. You can order Moha Nail Cream to begin with. Moha Nail Care Cream is the perfect solution for your brittle nails. Sulfate & Phthalate free this nail cream is fortified with Almond oil and vitamins. Order Now!
Moving to foot care, your feet deserve skin care as much as any part of your body does. In these simple steps, we have pretty much summed up all you need to do to show some love to your feet in winters.
Use a foot care cream every day – Just like moisturizer, don't forget to massage your feet with some foot cream everyday. It might sound like an additional expense to invest in a foot cream, but it's worth splurging on. Moha Foot Care Cream is the best budget as well as ayurvedic option to begin with.


Quality product from 75-years old Charak Pharma, Moha Foot Cream is enriched with Aloe & Papaya which moisturizes the feet and fills the cracks. While Peppermint soothes and relaxes tired feet. Also, they have a loyal set of customers vouching for it and brands keep running 100% Money Back Guarantee too!!!

Use foot soaks at least twice a week with an oil or foot soak solution – Use warm water, shampoo, bath salts to prepare a DIY foot soak at home. You can add a tablespoon of apple cider vinegar as well for some detox. As you finish, use a hydrating foot moisturizing cream and wear cotton socks to lock the moisture in.
Apply foot cream before going to bed and put on socks to let the foot cream really work overnight – Winter dryness can be stubborn, so has to be you. Don't forget to use Moha Foot Care Cream before going to bed to make sure you wake up with soft and supple feet next morning. Put on socks to lock the moisture.
Use a foot scrub with a pumice stone once in a while – Scrubbing is as important as moisturizing is. Once in a week, scrub your feet using a pumice stone or a foot scrub. Again here I am a big fan of Moha Scrub – creamy formula with mild beads to deeply exfoliate deep-seated dirt and dead-skin cells.
Don't forget to top it up with Moha foot care cream for smooth & soft skin.
Hope, following these tips should definitely help get rid of rough hands and cracked feet in no time! Also, we would advise you to invest in a good herbal foot & nail care cream. However, you don't need to burn a hole in your wallet for that. Moha products are budget friends yet so effective, so order now from their official website to get access to a limited period offer!
Read more health blogs –