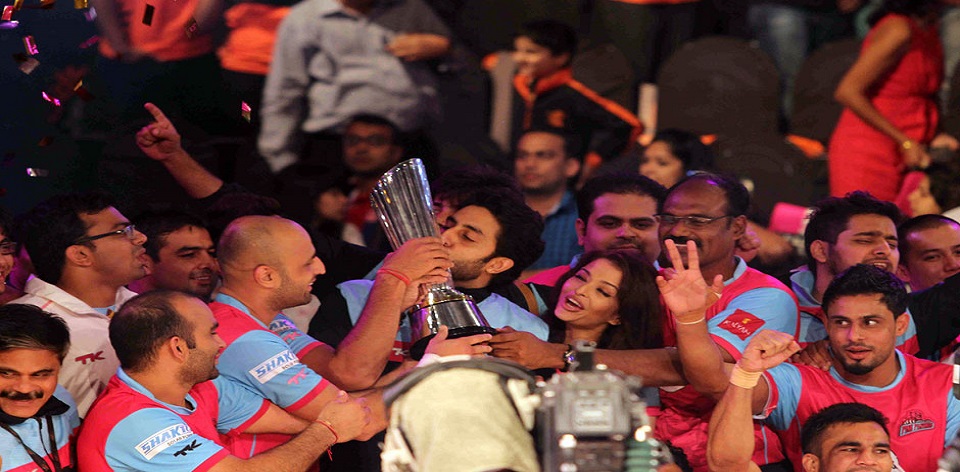 #LE PANGA with Pro Kabaddi by Guru Nath
So here we are going to talk about Pro-Kabaddi. A game that connects Indian sports strings after Cricket. In other words, the game is the 'Best Alternative to Cricket'.
When Kabaddi Caught Guru..
Since my childhood at the age of 10 years, I played many games in my school and college days but none of them were able to catch my attention and passion with exception of Cricket.
The word "Cricket" in India is like a Religion and we also have a God of Indian Cricket with the name "Sachin Tendulkar".
I am one of the luckiest guy to watch the debut match of the "Master Blaster" Sachin Ramesh Tendulkar when I was at the age of 9 years. Since my childhood I used to watch many sports like Tennis, Hockey, Football, Rugby, Volleyball etc. but again none of them worth in front of Cricket that gives you a "KICK" .
Coming to the topic, last year when there was nothing to watch on television, I accidentally landed on Star Sports channel and then suddenly something caught me in a surprise over and I was keen to see what will going to happen next in that sport I was watching there.
The Sport is none other than "Kabbadi "and I was shocked to see teams loosing even in last seconds too.
So slowly I started to search more about the game 'Kabbadi' on web and I found my state (A.P & Telangana) Telugu (Mother Tongue) is one of the teams over there and got a bit more interest and started watching every match of Telugu Titans.
The game of Kabaddi has taken me very close to heart and soul such that I just lost interest a bit on Cricket and slowly I started to watch only T20 and ODIs. I am not supposed to degrade or de-motivate any one here but that is the fact.
What actually Kabaddi is? And where did it come from?
As per sources it is said that the earliest form of the game has originated from ancient times of India including the speculations from "Mahabharatha".
Although there are few variations in the game in different parts of the states in India, the principle remained the same. We have regional names of Kabaddi, below are they –
Hadudu in Bangladesh
Baibalaa in Maldives
Chedugudu in Andhra Pradesh
Sadugudu in Tamil Nadu
Hututu in Maharashtra
Also you will be surprised to know that Kabaddi is the national game of Bangladesh and Nepal.
This game is the state game of the Indian states Tamil Nadu, Maharashtra, Bihar, Andhra Pradesh, Telangana and Punjab.
India as most successful country in Kabaddi
India has won every world cup and Asian Games title so far, in both men's and women's categories and thus we can proud to be the most successful country in Kabaddi. Even though after so many awards and champions, I wonder why the ancient game of India is not so popular.
Kabaddi vs. Cricket
If we talk about the most popular game Cricket, it is an imported game from England. India is playing since 50 plus years, still managed to win only 2 world cups so far in ODIs , is that a good sign of the game with fans treating it a "religious game"?
And on the other end, Kabaddi the "PUKKA DESI" game of our own manufacture has not even have a 1% audience compared to cricket.
There is a ton of Crores invested for various needs and aspects of Cricket in India to improve the game and to get something in return (most probably the World Cup) but what happened? But on contrary, Kabaddi has got nothing from government so far as compared to Cricket, but still managed to win all the precious and prestigious Cups.
"Master Blaster" Sachin Tendulkar, "Dada" Ganguly, "Jharkhand Dyanmite" & "Captain Cool Head" Dhoni, "Nawazgad Nawab" Veerender Sehwag, the list goes on and they all are super heroes to us although they gives us less value for money actually invested on them, but in Kabaddi how many of you know Anup Kumar, Rakesh Kumar, Navneet Gautham, Manjit Chillar, Ajay Thakur all of them got Gold Medals in both Asian Games and World Cups. Also there are players like Rahul Chaudhari, Rahul chaudhri, Jasveer Singh, Ravi Dalal, Kashiling Adake, Surjeet Narwal, Nitin Madane and Wazir Singh.
The Game of Cricket has to be viewed for a minimum of 3-4 hours for T20 (boring time is mandatory many times in between no power play zone), 7-8 hours for a One day match (boring time is almost certain after 10 overs of power play to 35 overs) and 5 days (whoops) for a test match and the tickets for each match depends on the league and popularity, but Kabaddi will give you a ton of entertainment till last second (no boring time mind you except for breaks and timeouts) and that too for a mere 50 minutes (not even the time you spend on a Hollywood movie or a 1 hour films) and in return "FULL MASTI" guaranteed.
There are several things that can be compared to and if government can provide some help to Kabaddi then we can have another power packed entertainment to us apart from cricket.
There are several sports in India like Hockey, Tennis, Football etc.. And even though there are leagues to Hockey and foot ball but none of them are as spicy and tremendous hit as Pro-kabaddi (I am tempted to compare it to IPL Cricket too).
The below pictures of the top celebrities in India from all the categories like Sports, Films, Politics, Media attending Pro-Kabaddi and enjoying themselves with fire is a more than enough truth on how this game is heading for future.
So friends I request every sports lover to give a go at each game in India alongside Cricket and don't make any monopoly to any game. And if you are one of the sports lover like me to give a try to each game, then watch your favorite team in Pro-Kabaddi and give your feedback after watching at least a single match.
As I am residing in Hyderabad my obvious favorite is Telugu Titans although I like every single team over there.
Link for Game rules of Pro-Kabaddi: www.prokabaddi.com/prokabaddi-rules
Official Website of Pro-Kabaddi: www.prokabaddi.com
Pro-Kabaddi Match Schedule for Coming Matches 
Time to say goodbye and signing off and thanks a lot to Ms.Yogita Aggarwal for giving me an opportunity here to share my views through her medium, "letuspublish.com".
Enjoy Reading –
Save