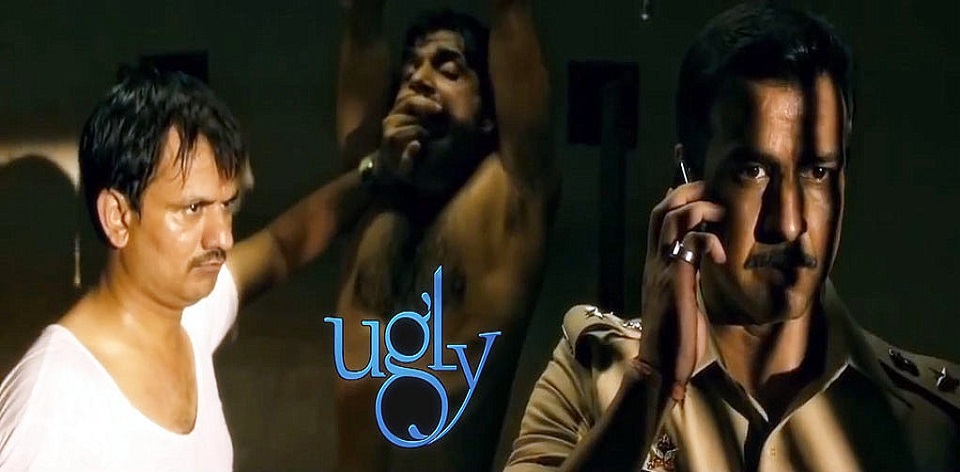 Director: Anurag Kashyap
Music composed by: Brian Mcomber, G.V. Prakash Kumar
Cast: Ronit Roy, Rahul Bhat, Tejaswini Kolhapure, Siddhanth Kapoor, Girish Kulkarni, Vineeth Kumar, Abir Goswami, Surveen Chawla, Anshika Shrivastava.
With Ugly, Anurag Kashyap takes you to the darkest side of the world you have probably never seen. The movie gets ugly right from the word go. The movie is full with filthy words so better watch out if you are about to watch the movie with your family.
The movie gets started when a little girl "Kali" gets kidnapped from a car parked in a local market area while her first dad "Rahul" leaves her in the car to meet his casting director friend. Talking about "Rahul", the girl's first father is a struggling Bollywood actor who is divorced. You will find it difficult to understand the characters for first few minutes but as the movie progresses everything gets clear.
The little girl lives with her mom who is married to ACP Shoumik Bose (Ronit Roy). The conversation between girl's first father and police officer on girl's kidnapping in the very first half is the most entertaining part of the movie. Kashyap's ugly grips you tightly during the first half. However, during the second half you will get to hear more filthy words which might not be suitable for some of the audience.
Ronit Roy delivers it again. Acting as ACP Shoumik Bose, Ronit Roy's performance will let you awestruck. Shalini (Tejaswini Kolhapure) who acts as Ronit Roy's wife is under what seemed like a house arrest. The movie portrays Shalini as a woman who is lost in the world of pills and alcohol.
The second half gets little more obscene and unpleasant. But well that's common with Anurag Kashyap's film. Surveen Chawla who acts as an item girl brings in all the spice to the film with her bold and ambiguous actions. The movie might not be a cup of tea for common people but however if you are looking for some thrill you surely should not miss this one.
To watch for-
Ronit Roy adds another feather on his cap with his spellbound performance as ACP. Also Girish Kulkarni's role as Inspector Jadhav which is as lively as a real life police inspector will leave you fascinated.
If you are tired of looking fun, romantic and escapist cinema, then this would probably top your list for alternatives.
Watch it for an amazing cinematography which is extremely engaging.

You may also love to check :
Save