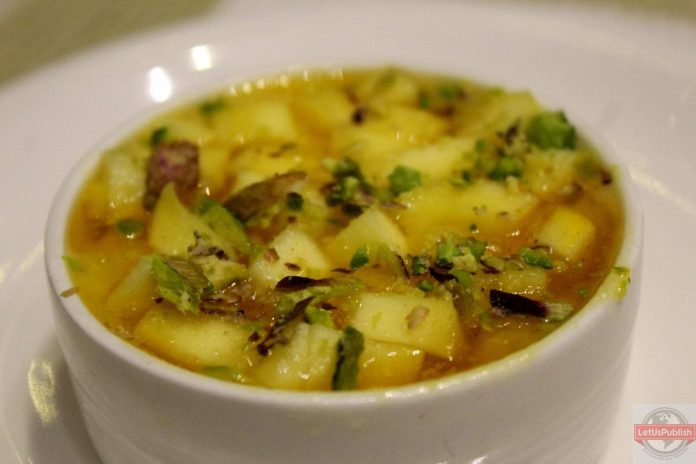 For all the mango lovers, today we have delicious Mango Kheer recipe from Park Plaza, Faridabad's 'Vegilicious Tuesdays' menu. We recently visited Park Plaza to review their very special Vegilicious Tuesdays recipes.
And after tasting their super yummy mango kheer, we thought to share their exclusive mango kheer recipe with you all!!
Mango Kheer Ingredients –
Mango Pulp (Puree) -100gm
Milk-1lit
Broken i rice(kanki)-100gm
Ghee -1 tablespoon
Cardamom Powder- 3/4 teaspoon
Sugar -100gm
Slivered almonds-20gm
Raisins-20 gm
Saffron strands -1/4 teaspoon
Directions for Mango Kheer Recipe –
1. To prepare Mango Kheer, prepare all the ingredients, including pulping mangoes and thinly slicing almonds.
2. Heat ghee in a pan. Add full cream milk and let it cook for some time. Keep stirring it in between.
3. Check if rice is cooked till soft. Then add sugar, and stir till dissolved well.
4. Add raisins and cardamom powder, give a nice stir, and switch off flame.
5. Let it cool down it a bit. Now add mango pulp and refrigerate it for at least an hour.
6. Garnish Mango Kheer with almond flakes and saffron and serve during tea time or after dinner.
Do try this yummy receipe at your home and share your thoughts with us though comment section.
You may also enjoy trying these recipes –