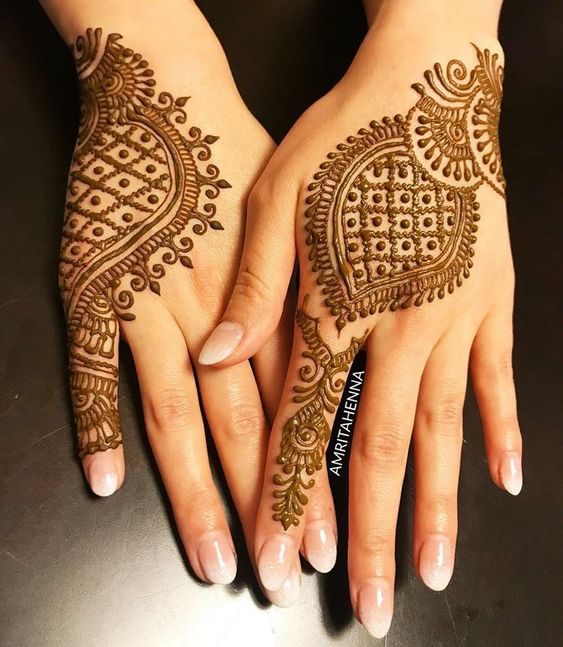 With Karvachauth just around the corner, all the married women out there are really excited. You can see the hustle in the houses, the festive vibes and celebrations. But trust me, what gets women the most excited are the mehendi designs that they get to put.
People generally pay more attention to the designs on the front of their hand, and the designs at the back somehow get compromised.
So for all the women who would be fasting tomorrow, here are some of the amazing and gorgeous Back hand Mehendi Design ideas that we have bought to you.
You can use these pretty floral design to enhance the look of your hands and make them look beautiful. Floral are the best and the safest bit to go for, and you can never go wrong with a floral design.

Next, you can try some great varieties of criss-crosses, which look exceptional too. You can even move this down towards your wrist as it would give it a fuller feeling. Check out some great mehendi designs that you can try this season. 
Another amazing type of design you can try out is just applying a small and a pretty designs on the tip of all your fingers, while the rest of it is well designed right in the center of the back of your hand. These two designs would give you a lovely idea about it. 
You can then fill just one finger, while the rest of it can just flow down as part of the design. This looks lovely and we'd love for you to try it out this year. 
If you are one of those who do not like too much, then you can even go for some subtle designs like this one. 
And in contrast, if you like the heavier and the fuller designs may be to attend a wedding, then these might just be perfect for you and you should definitely go for them. Trust me, they look exceptional on your hands.

And lastly, these are some new type of modern designs if you feel like doing something different this season.
So these are some amazing back hand mehndi designs which you can get inspired from and surely try out this wedding season too! Hope you guys have an amazing Karvachauth and then wedding season this year with these brilliant designs.
Also Read –