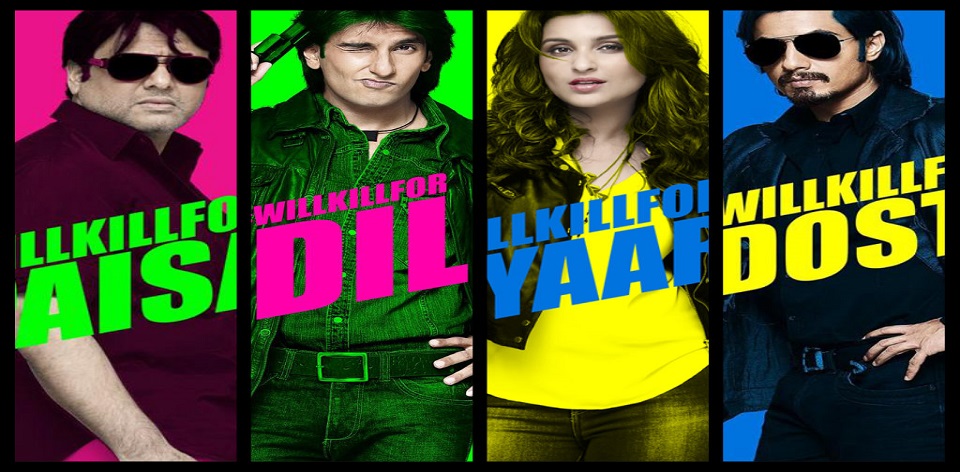 Kill Dil Movie Review cum story for movie buffs..



Producer: Aditya Chopra
Director: Shaad Ali
Music Director: Shankar-Ehsaan-Loy
Cast:  Ranveer Singh, Ali Zafar, Parineeti Chopra, Govinda, Alok Nath, Murad Ali
Kill DIL stars Ranveer Singh as Dev and Ali Zafar as Tutu in the main lead who are adopted by Bhai ya Ji played by Govinda, to be a professional shooter. The story of the film is plain and simple and you can't expect anything new. But Shaad Ali has done a very good job even with this stereotype storyline. The characters will give you a feel of the 70`s.  Ali Zafar and Ranveer`s friendship will remind you of Jai and Veeru. There is not much role for Parineeti in this film. She is just an eye candy.
The story starts with Govinda finding the two lead actors in a bin and being licked by stray dogs. He adopts them as his own sons and they end up being hitman in his gang. Even though they are very good at killing people for money, they are very good at heart. Ranveer then meets Parineeti at a pub where he saves her from a gang of Gundas. They end up being friends and Ranveer falls for her at first sight. He then tries to get out of his gangster life in order to be with Parineeti but bhaiyaji does not want to loose him. So he starts living a double life lying both to Parineeti and bhaiyaji. The climax of the movie is very predictable.
The songs are pretty catchy and there are some very nice shayaris by Gulzaar which run in the background. The cinematography is pretty good and up to the mark.
Ranveer`s performance is once again amazing and he steals the show. Even Ali Zafar has done a good job in a friend cum elder brother`s role. Govinda doesn't share that much screen time but he has done justice to his role. The first half of the film runs too fast and there are some funny one-liners which will keep you laughing throughout. The second half becomes a little bit slow and predictable. But if you don't expect too much you will surely like this film. Overall it is pretty watchable. Watch for Ranveer`s performance and Parineeti`s appearance.
As per box office records, 'Kill Dil' Earns around ₹29 Crore in 7 Days.
About the Reviewer – Apuroop, He is a movie buff. He gives his reviews for Hollywood Movies and Bollywood movies independently. As he represents young generation so he understands young minds and their liking.
Pics taken from www.glamsham.com
Share your reviews with us though comment section.
Also Check –