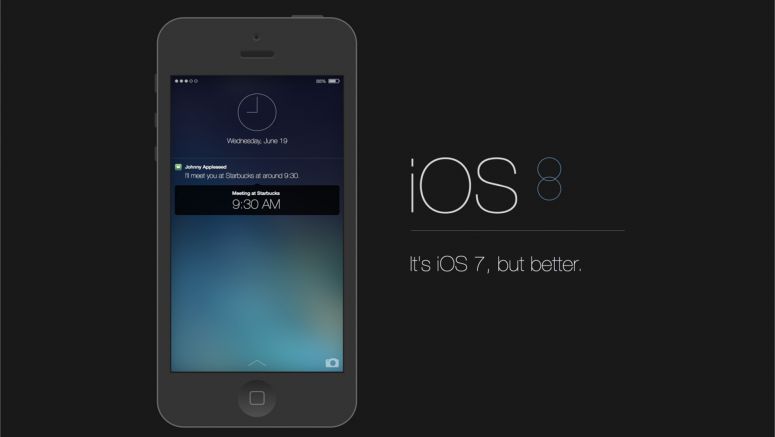 "Nothing makes me feel more happy than getting an update for my iPhone especially update from iOS7 to iOS8, really amazing!"
Hey there!
Its again the time of the year where i usually get updates for my iPhone and this being the "biggest iOS release ever" (as claimed by Apple itself) has certainly made all the iPhone users happy"
What is iOS8?
iOS8 is basically the 8th gen. version of operating system for iPhone, iPad, iPod touch. iOS8 is the upgraded version of iOS 7 which was released in June 2013.
Which are devices eligible for iOS8 update?
The following devices are eligible for iOS8 update,
iPhone 4s
iPhone 5c
iPhone 5s
iPad 5th gen
iPad 2
iPad retina display
iPad Air
iPad mini
iPad mini with retina display

Top 5 features and updates:
1. Location based lock screen apps:

Want to find the right application at the right time? Well the new iOS8 let's you do the same. Based on the location certain apps will appear at the bottom left corner of the lock screen allowing you to access the app directly from the home screen. No more swiping in and out of the folders for getting access to your favourite apps.
2.Siri Update:
Good news, "Siri" is getting better update by update. This time "Siri" is a better listener. Apple's voice assistant is going to start responding to 'Hey Siri' as soon as you update iOS8. In almost near-real-time, words and wavy lines match. Plus it will offer Shazam voice recognition, 22 new dictation languages and streaming voice recognition to offer users search results as they speak.
3.Quick-type keyboard and extensions
Google has done a good amount of work especially when it comes to its keyboard, which is claimed to be the "smartest ever" keyboard by Apple. Quick Type feature adds more to the existing keyboard. For example, In case someone asks you a question, Quicktype will automatically offer choices like "Yes" or "No".


The candidate row that appears above the keyboard with three word finishing suggestions and next best word guesses. And guess what, Apple won't let users limit to pre installed keyboard."Extensions" open up iOS8 to Android best input methods like Swype.

4.HealthKit and Home Kit:
Health kit is the place that will allow you to put all the health and the fitness apps at one place. Even if your app measures heart rate, cholesterol, you will find everything at a secure location.


Home Kit will be more like tie between smart home electronic appliances and Home kit framework. It will help you control all your appliances from your device and that without moving an inch. For that you don't need to tap on your screen, you would just have to say "Siri, im going to bed" and let your device do the work then.
5.Touch ID for all:
Earlier version of Apple fingerprint scanner was limited to lockscreen and unlocking iTunes content. But thats not the case now. iOS8 update allows all sorts of application to use biometric scanning home button. "Forgot you password?" is gradually becoming thing of the past as the pores in your fingerprint act as much more reliable method to store your valuable data.
Read more -: