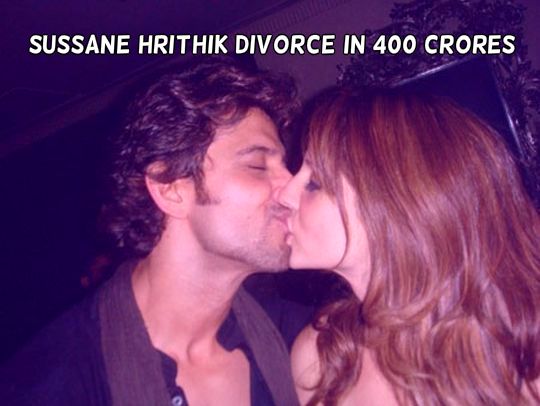 Bollywood may have seen a lot of pairs getting break up time to time; however entire country got stunned when Hrithik and Sussanne filed divorce. It all started in December 2013, when the rumors of Arjun Rampal-Sussane secret love got reveled. Back in April 2014, Hrithik-Sussanne decided to file divorce because of their unheard drama going behind and was suspected the main cause.
As per the news released from the trusted source, it is confirmed that Sussanne has asked to pay Rs. 400 Crores from her ex husband. Indeed it was shocking news for the son of Mr. Rakesh Roshan who was in trouble since the release of 'Krish 3' which was failed to even earn the basic cost spent during creation of that movie. Social media websites has already started pranks of these two famous born rich boy and girl which was surely a tragic story for them.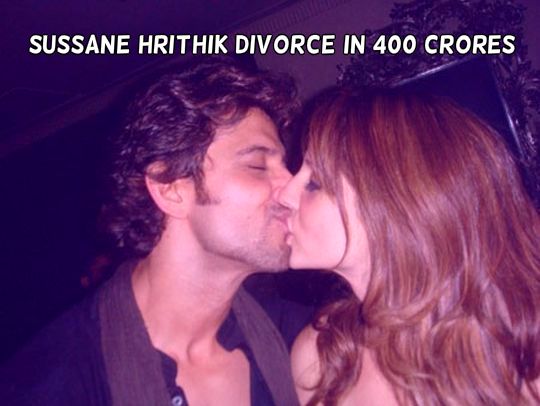 Let's know what the actual facts are-
Recently, Hrithik was asked to pay about 400 Crores in an interview of the Bombay. In the interview Hrithik accepted the fact that Sussanne still love him as before and news of filling complain of getting 400 Crores is just a rumor. The actor was seen taking full side of her ex-wife even after getting separated. He requested to people not to indulge him or his family in this difficult time. According to this Bollywood Biggie, Sussanne had not even asked for a single penny. He just raised the question on manipulative news which is actually creating problems in his personal life.
He was angry on the fact that how easily people make jokes on such serious issues. In reality, there is no confirmation of such rumor; and creating jokes on their relationship is much painful. He even requested everyone to stop these nonsense and asked people not to make any false story in between.
Here is a snippet from an interview taken recently
"Disgusted with all this manipulated alimony bullshit in an effort to tarnish reputation. When people have already separated, they don't stop being my family anymore. When a man is too strong to be affected or attacked, they target his family instead. No one DARE attack my family like this."
No doubt, the last few months was not at all easy for our Superhero Krrish. The actor went through bad phases of both physical and mental issues. But hopefully all his problems get resolved soon.
If this baseless '400 Crores news/rumor' converted into truth, it could have been one of the most shameful incidents in Bollywood industry so far.
More interesting stories-