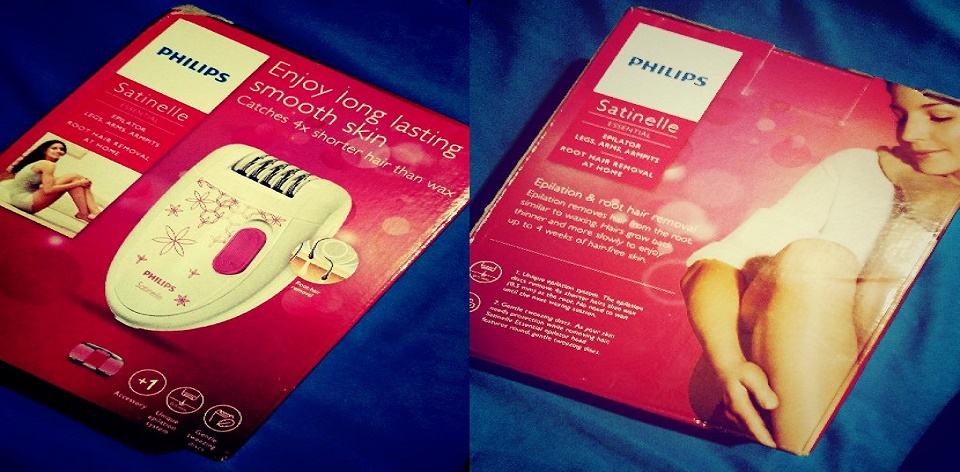 Hey, you all lovely ladies this blog is just for you. Recently I received a 'Philips Satinelle Legs, Arms and Armpits Epilator (The Basic One)' and here I am with my experience.
To use an Epilator for hair removal was something very new to me and I was so scared in the beginning. But my hesitation of using an electric gadget for hair removal could not stand out in front of my curiosity to try out the new Epilator. I used it very first on my legs so that I can be aware with the pain that I will suppose to get while using it.
I used this Philips innovation to make my arms and legs hair free in less than 20 minutes, after being a very new user. The pain was weird in the very starting but later on it was okay in front of quick delivered results.
About Philips Satinelle Epilator
Philips Satinelle Epilator is a creative and stylish product for all the ladies to make their skin smoother and shinier. The product is launched with the diva brand ambassador Alia Bhatt. Philips offers the multiple ranges of Epilators, the range starts from 2495 INR and ends at 7995 INR.
[youtube id="0aqE2FJiaRU" width="500″ height="400″ position="center"]
The product I received is of Pink and White color. The corded gadget is very compact and handy. This Philips epilator is meant to be used dry. The device comes with a tiny cleaning brush, sensitive area cap and a long cord.
This stylish epilator helps in removing the unwanted hairs of your body without giving you any burn or cut unlike you get while doing wax or razor. The product helps in extracting the very fine hair of 0.5 mm length and keeps your skin smoother and hair-free for about 4 weeks.
How to use Philips Satinelle Epilator
What all you have to do is 'Just hold the epilator upright at an angle of 90 degrees from the skin and move it against the direction of hair-growth in tiny circles. This ensures getting to all the hair.'  As per the instructions one should move it slowly for a better experience.

[youtube id="I5IhLUdtPek" width="500″ height="400″ position="center"]
Product Features are as Follows
Gentle Tweezing Discs– The tweezing disc helps in removing the very fine hairs of sensitive skin without pulling the skin.
Washable Epilation Head– It comes with the detachable cap to keep the epilator extra clean and hygienic.
Cleaning Brush– It helps in eliminating the loose hair from the disc.
Ergonomic Grip– The round shape with ergonomic grip fits perfectly in your hand and helps in removing the hair perfectly.
Sensitive Area Cap– It also has a sensitive cap for bikini line and underarms for gentler Epilation. The pain softener lid is very easy to remove for cleaning.
Some More Tips For a Better Experience

Any ice pack just before the hair removal will make your skin numb without any chemical treatments.
Always epilate after a warm water shower to get extra smooth and clear skin.
Don't use any moisturizer just before the epilation because it makes your hair softer and creates problem in extracting the hair.
Don't forget to moisturize your skin after the epilation is done. You can use some herbal or Aloe Vera products for the massage.
Final Words

Hope this read will be helpful for you ladies who are looking some better alternatives of wax in the mid of their waxing sessions. This Philips Epilator is gonna be a helpful hand for working women who can't always rush to salons every now and then for waxing.
I would say it is a quick fix for all lovely ladies but can be little weird for beginners. The product is safe and skin friendly so don't worry about that; just give it a try and #BeReadyEveryday.
If you are using this one or any other Epilator then do share your experience with us, We have comment section below 🙂

You may also enjoy reading –
Save