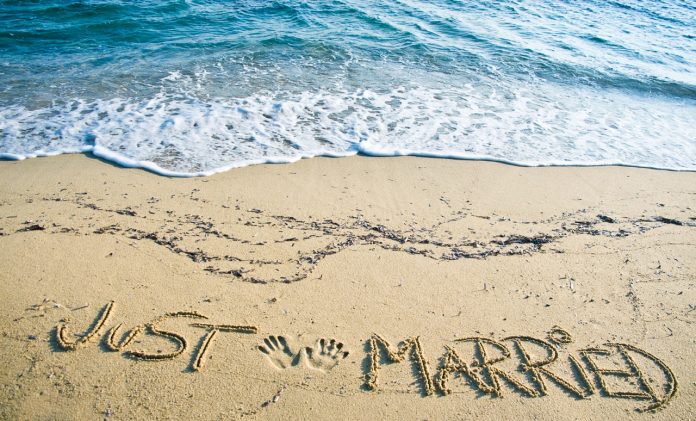 One thing every newly wed bride looks forward is her honeymoon. It is the perfect break from the craziness of the wedding and the perfect time to know more about your better half. So if you are a bride to be and are all set for your wedding, we suggest you plan ahead what all to carry for the honeymoon.
Give the honeymoon packing list equal importance as your bridal trousseau and have a blissful and romantic time of your life. Before we dive into the post, take your phone and create a checklist to add all these important items in your honeymoon bag.

1. Clothing according to the honeymoon destination:
If you are going to a tropical destination, then add
-2-3 sundresses
-Dinner date dress
-Crop tops, tank tops, off shoulder top
-Maxi
-Kafan
-Cropped jeans
-Swimwear/ Bikini
-Capri
-Cargos
-Beach shorts
-Flip flops
-Oversized hat

If you are going to winter destination
-Cold shoulder sweater
-sweater dress
-Leather pants, jeans
-Kimono
-Woolen skirts
-Beanie
-Mittens
-Scarf
-Over the knee boots

2. Sensual lingerie:
Be confident and add your suitcase with some sensual and
attention grabbing lingerie that would make your man drop his jaws.

3. Makeup:
You would have definitely invested in bridal makeup kit, but instead of taking the entire makeup bag with you, you can these essentials in your vanity bag-

-Primer
-Foundation
-Concealer
-Blush Palette
-Eyeshadow palette
–Red lipstick (must have)
-Kohl pencil, eyeliner
–Mascara

4. Toiletries:
Hygiene is extremely important, especially when you are traveling and that's why the below mentioned are a must have-
-Sanitary napkin/ tampons
-Face wash
–Shampoo and conditioner
-Razor/ hair removal cream
-Makeup remover
-Sunscreen
-Scented body lotion
-Lip balm
-Flatiron/styling tools

5. Medical kit:
Be prepared for every situation. Carry a medical kit so that your panic button is never turned on. From mosquito repellent, bandages to headache pills, condoms, birth control pills stash everything in your small emergency kit.

6. Handy camera:
Yes, you can click amazing pictures from your phone, but a good resolution camera will give insane clarity and you can store memories of a lifetime.

7. Passport and necessary documents:
It is impossible to miss this, but you never know with the wedding madness, there are chances you might skip passports and other essential documents, so do add them to your checklist.

Unwind the wedding stress and have an amazing honeymoon trip. Have the best time of your life. Au Revoir!

Image source- google.com

Post that might interest you-
Save