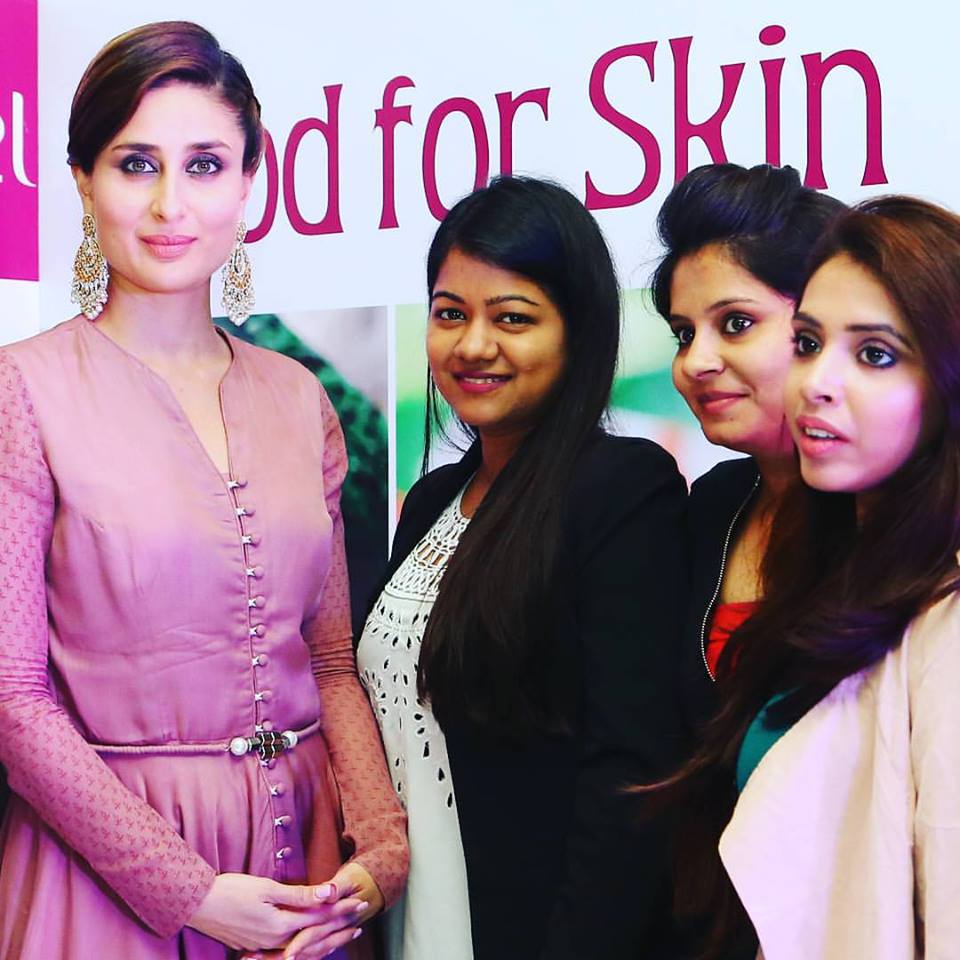 Hello beauties,
Today we are going to talk about one of the most known personal care brands, Vivel by ITC. So it all started when Vivel invited me for the 'Bloggers Meet' that happened in hotel Sherton last week where the brand ambassador Kareena Kapoor Khan herself shared her journey as an ambassador of Vivel along with some tempting beauty hacks that she regularly follows to look stunning always.
The blogger's meet was hosted by Dr. Mahima Bakshi, celebrity Fitness and Beauty Consultant. It was a great opportunity for bloggers to get real insights into Vivel products, market share and products specifications from the team at Vivel, which included Mr. Subash Balar (Category Head, ITC Personal Wash) and Mr. Vijayan Padmanabhan (Sr. Lead Scientist from ITC's Life Sciences Technology Centre).
Also present was Ms. Priscilla Corner, renowned beauty expert.
Before we talk about exclusive beauty tips by Kareena Kapoor, let's have the look on ITC's Life Sciences Technology that insures to make Vivel soaps best among all other available brands.
Recently launched personal care products by Vivel are focused on deep Skin Nourishment, which is very vital for healthy glowing skin, especially in metro cities where the air is polluted and harmful for the skin.
The new range by Vivel is enriched with Vitamin E, a powerful skin moisturizer. It's just what you need to nourish your skin, to which Kareena gives her full approval (her entire family uses Vivel soaps).
What was extremely interesting to see was the skin nourishment test, which was conducted by Mr. Vijayan Padmanabhan on stage to ensure how magical Vivel products are. The results of test were awesome.
Even I have done the test on me after meetup and I can tell you, it works. Once you have used Vivel, the test results changed dramatically for the better, which means that the skin was more nourished after it received the right food – and this is what Vivel is all about – nourishing the skin.
The new range of soaps includes 4 variants that are ideal food for skin.
Vivel with Green Tea and Vitamin E
Vivel Aloe Vera with Vitamin E
Vivel Orange Refresh Moisturizer with Vitamin E
Vivel Mixed fruit (Pomegranate, Avocado and Papaya Cream) + Cream
So now we are going to share all exclusive beauty secrets of the gorgeous Kareena Kapoor Khan –
Hydrate yourself with lots of Water intake.
Apply natural Aloe vera gel on skin to make it more soft and supple.
Use Almond oil as moisturizer; especially for the skin sections those are too dry.
Keep sufficient distance with sugar & fried/oily food.
Eating right is all what you need for a healthier skin and proper shaped body, Dieting is not the solution.
Anti-Aging products are not Kareena's cup of tea as she thinks wrinkles look sexy especially on men.
Proper sleep is always required for healthy skin.
Exercise keeps our skin healthier by releasing lots of toxins through sweat.
Among all her beauty hacks I loved the Almond oil one a lot and it is really working for me in Delhi's cold winters. Don't miss to follow Kareena's beauty secrets to have glowing skin like her and rush to get your favorite Vivel Soap to keep your skin nourished.
For me the greatest endorsement of Vivel is the fact that a fitness and health conscious star like Kareena uses it and I am thankful to Vivel because of Vivel stunning Kareena and me got captured in the same photo  🙂
Thanks for reading us my lovely readers. Don't miss to share this post on social media and must try out Kareena Kapoor's Beauty secrets.
Also Read –