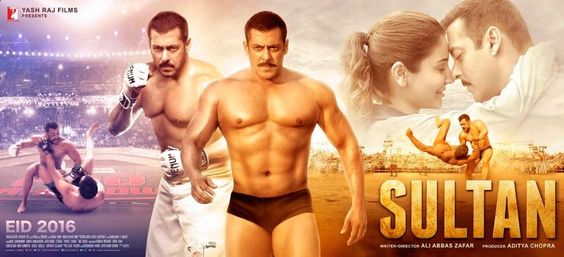 Five Reasons To Watch Salman Khan's Powerful Sultan !!
Hang on, Salmaniacs don't want the reasons to watch Sultan but they want to watch him on 6th July on screens, is not it ?
Hell breaks loose whenever Salman Khan appears on the silver screen, his fans watch him with the same excitement as ever and when the trailer is such powerful we just can't imagine how fascinating would the movie be.
This Eid on July 6, it is going to be yet again a special day for Salman Khan's fans as his power-packed movie Sultan is releasing. If you haven't seen the trailer yet, then we ask you to leave everything and watch the dynamic trailer in the end of this post, which would make you impatient to wait until July 6, 2016.
Do Check –10 Inspiring Real Life Couples of Bollywood
We love Salman and therefore we found 5 reasons too less to watch the movie. However, we have penned down the top 5 reasons to watch Sultan, which is a fresh story under the banner of Yash Raj production, directed by Ali Abbas Zafar and produced by Aditya Chopra.

1. Salman Khan the powerhouse of the film:
Salman is one of the influential actors of Bollywood industry and it is always electrifying to see his action packed movies. Sultan is a fresh movie where Bhaijaan is a Haryana wrestler and his journey.
Must Read – Salman Khan Diet Plan – Pre and Post Workout Daily Diet
The trailer shows his chiseled body which is worth drooling and his fabulous acting, dialogues. His intense performance is definitely going to be a benchmark in his career and definitely a visual treat to all his fans, especially his female fan followers.

2. First time on screen pairing of Salman and Anushka:
Salman magically sizzles the screen with all his co-stars, and it would be fresh to see Salman paired up with Anushka for the first time. We saw the fresh pair on the trailer and have loved them instantly. The best part is that they both have Haryanvi accent, which is again something new to see.

3. The story line:
Sultan is a sports drama, a story of a wrestler on how a wrestler rises from the ashes and his heart-melting love story. What catches the interest is that it isn't only the actor, but even the actress is a wrestler (Haryana ki Sherni) which means the complete film is action filled.
Also Read – Mary Kom Biography
The actors have pushed their limits to look perfect in their reel character which is sure to thrill the viewers. Sultan is definitely going to take the sports-centric movie to a new level.

4. Salman Khan's iconic dialogue delivery:
We all know how Salman Khan's dialogues are seeti maar, and it is nice to hear Salman deliver dialogue in Haryanvi accent. Dialogues which have etched into our minds are:
"Asli pehchan pehlwan ke akhade mein nahi, zindagi mein hove hain, taki jab zingadi tumhe pahtke, toh tum phir khade ho, aur aisa daanv maro ki zindagi chitt ho jaye".
"Is desh ki jaan na is desh ki ladies hai, baat kuch alag se hai inki, jitni komal yeh lage hai na, use kai zyada takat inke baju mein hai".

5. You don't need a reason to watch Sultan:
Yes, folks, we just don't need any reason to watch any of Salman Khan's movies. They are truly entertaining, mind-blowing and house full, in fact, we can watch his movies umpteen number of times and never get bored. So this movie is definitely Eidi to all his fans. Check review of – https://www.letuspublish.com/sultan-review-perfect-eidi-salmans-fan/

For those who want to watch trailer, here is Sultan's trailer

We are excited to watch Sultan on July 6th, let us know your reason why you would want to watch Sultan.