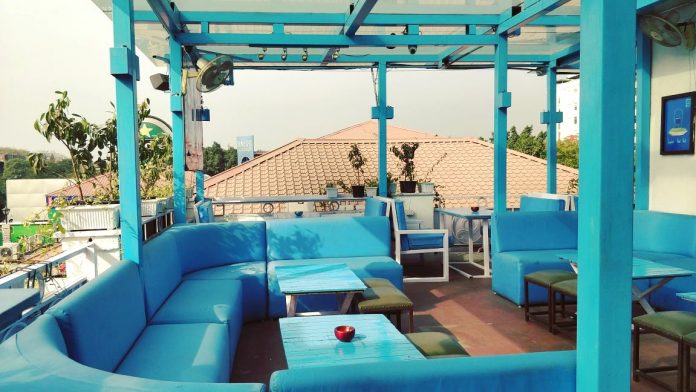 With the world getting compact by the minute, where would you find a good escape? Escape not from the world, but from its daily tensions/pressures. Where could you find a place to unwind and relax? Well, we have found a perfect place for you, Escape Terrace Bar & Kitchen.
Escape will splash freshness as soon as you step on the patio, with its monochromatic decor in clean blue. Every nook and corner is methodologically used and intricately decorated. You'll instantly sense that you have entered the right place for a good time, drink, and meal.
Good food, Good atmosphere, A full Bar, An outdoor as well as indoor seating, Good Music with Karaoke on Mondays, Good company, all in all, a complete rejuvenating experience with a twist.
The Twisted Tale of Food
The freshness is apparent from the Menu as well. International and Indian cuisines are fused and tweaked with a modern sensibility. The curator of the dishes, Chef Sudipta Saha has used his culinary skills to create perfect Drinks accompaniment. We loved his concepts and their results on our plates. Here's our verdict on the lot we tasted.
The Persian Platter
As colorful and refreshing as it can get, the platter offers a generous serve of Pita Bread, Falafel, and Breadstick with some regular and unique dips. The beetroot humus had this beautiful color and equally beautiful texture. Lentils Humus, a flavorsome dip with an Indian twist and a slight kick of chili, in the end, warmed our Indian heart.
Shirazi Salad captured our undivided attention and our unhesitant request for second servings.You need to try this dish if you love some traditional and twisted flavors.
The Tandoori Platter
Tandoori is one of the weaknesses of our taste buds and this plate placates it well.  While the Hara Bhara Kabab and Dahi Ke Shole are good on their own, the star of the platter is the Tandoori Momo and Rumali Ravioli.
The best part of the Platter is that it's not overly spicy or overly faint. A balance between the subtle and strong flavors is well pronounced. Our one to one chat with The Chef revealed that the dips served are as per the client's palette and choice of spiciness.
The Pizza
The artichoke and feta cheese Pizza with mushroom and sun-dried tomato will become your favorite instantly. Perfectly crisped thin crust Pizza with oozing cheese is a perfect companion whether you are sipping a cocktail or a mocktail.
The Cappelletti
The little hat pasta filled with Crème fresh is plated with vibrant colors and textures. The moment you bite in, the creaminess and subtleness take over your senses.
The Bento
Bento is basically a Japanese concept of single portion wholesome meal in one box. The Bento box of Escape Terrace Bar & Kitchen serves not Japanese but authentic Thai Cuisine. Lip smacking Thai Green curry with garlic fried rice, spring rolls, and salad.
Not the best plate of Thai Food I have ever tasted, but one of the best that I ever have had in a Restrobar.
The Indian Thali
A plate filled with comfort food that will make you feel at home instantly. A humble spread of authentic Indian recipes made with no tricks just good cooking skills complemented with Papad and Salad.
If you are among those who miss 'Ghar Ka Khana,' then this Thali has your name written all over it. If you love potatoes, don't even think of missing this plate.
The Payasam
If you are not a fan of sweet desserts, this one is a must try. The contemporary twist of Galangal along with the traditional ingredients tempts you for more spoonfuls than you initially intend to. It is an acquired taste but if you acquired it, you are not going to stop at just one.
The food completely compliments the fresh outlook of the interiors and color scheme. The patio setting is breezy, comfy and an intimate setting. The ever smiling and polite staff helps you escape into a rejuvenating world. In short, I had an amazing time at the Escape Terrace Bar and Restaurant at the Galleria DLF Phase 4, hope you visit the place soon.
P.S. Don't forget to share your experience of the place with us.
Also Read –