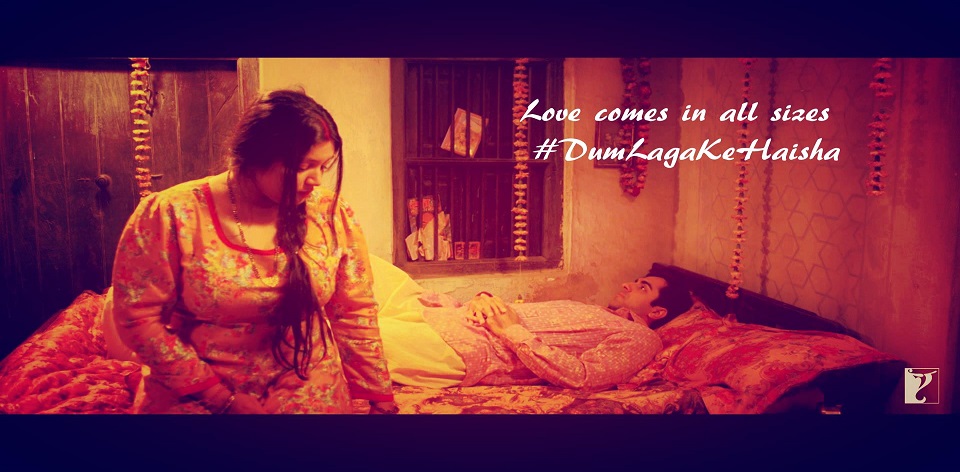 Who says "A movie can only be the blockbuster only if it has an item song or an item girl"?
If you are that "Who", then I must say "You are wrong dude". Just go and watch "Dum Laga Ke Haisha", a movie showing the story of traditional Indian people who got engaged because of their parents' choice.  A movie where a weird relationship of husband wife turned into the relation of lovers.
"Dum Laga Ke Haisha" a must watch movie from "Yash Raj Films" collection where efforts of Sharat Katariya can be easily seen. It's a movie of sentiments, crafted beautifully with comedy and emotional scenes.
After reading this much about the movie from me, you must be wondering to know about the star cast, check below –
Initial release: February 27, 2015
Director: Sharat Katariya
Production company: Yash Raj Films
Starring: Ayushmann Khurana and Bhumi Pednekar
Shooting Place: Haridwar and Rishikesh
Music composed by: Anu Malik, Andrea Guerra
Here is more on Movie from Media -You may
Dum Laga ke haisha….what an endearing & honestly made film. Congrats Maneesh & Sharad. Loved the parts I saw, hav to see the full film!!

— Shah Rukh Khan (@iamsrk) February 27, 2015
YRF hasn't produced a better film in years. Dum Laga Ke Haisha is more than just a must-watch. #DumLagaKeHaisha @yrf #Bollywood

— Yogita Aggarwal (@tanyagarg60) February 27, 2015
http://t.co/oenv0xYDio – Aditya Chopra Does Exist! : ' Dum Lage ke' director Sharat Katariya opens up #SharatKatariya #DumLagaKeHaisha

— pinkvilla (@pinkvilla) February 27, 2015
#DumLagaKeHaisha rests on Ayushmann Khurrana and Bhumi Pednekar's shoulders and the duo pitch in terrific performances. Winners, both!

— taran adarsh (@taran_adarsh) February 27, 2015

 You may also enjoy –
Save