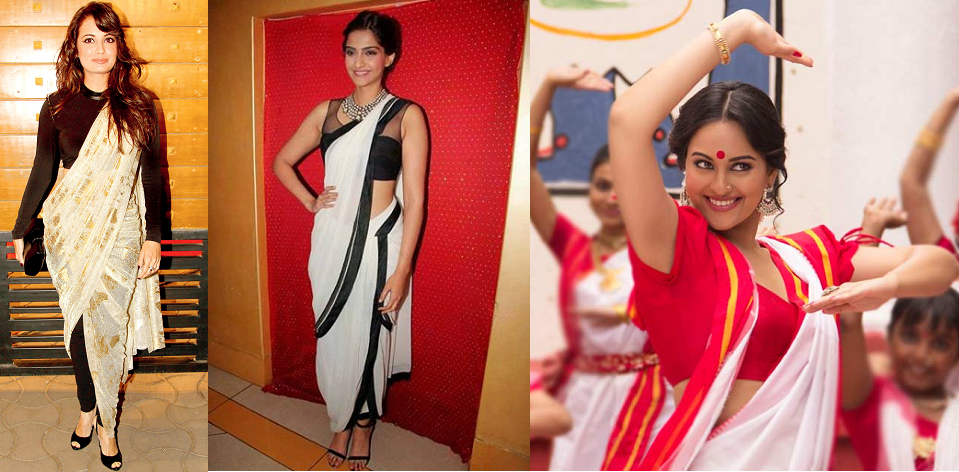 Hi Beautiful,
I am sure you will agree on the fact that 'Saree is an epitome of charisma, elegance, and pride, it illuminates the beauty of a woman in a mesmerising way that makes every woman look gorgeously beautiful.' For me (and I am sure many of you), the eternal saree is the first love.
Even though we don't wear them often, yet whenever we get an occasion to flaunt in the saree, we take the queenly en route and drape the saree in a way which would only bring out our best- don't we?
So that's why we are here, making every woman's first love look special and awe-inspiring. We decided to dedicate this post to all saree lovers by showing them stylish ways of draping their saree for an upcoming party or function. Take a look and get inspired by our fabulous draping styles.
Dhoti style:
We call this the Sonam Kapoor style saree as she took this fashion by storm and looked spellbinding and fashionable. Drape this style for wedding parties and look fabulous.
It has an indo-western look and you can quickly master this style with the video shared with us.
Style tip: Choose soft fabrics saree such as georgette, chiffon, art silk and wear a crop top and leggings with dhoti style saree.
Check this video for easy dhoti saree draping.
Bengali Style:
This traditional style saree is going to make you look like an ethnic diva. Bengali saree has an aura of femininity and is easy to drape too. Even Bollywood beauties love this style of saree, and with right accessories, the look of the saree is elevated.
Style tip: Pick tant, Bengal cotton with rich pallu work and carry an ornate ring to look beauty queen. You can get a fabulous saree from Craftsvilla.com where you can discover unique sarees.
Check this video for easy bengali saree draping.
Pant Style Saree:
Have your BFF's cocktail party? Then we recommend you to drape your saree in pant style and stand tall in the crowd. The fusion of pants with saree is just designed for the multicultural lady and we would say you would look peppy and whimsical at any high-end party.
Style tip: Wear body fitting leggings and midriff or crop top with the saree, also choose flowy fabrics.
This video would assist you to flaunt in pant style saree.
Double Pallu Saree Style:
Another unique style of draping the saree which would make you look dazzling and alluring. The double pallu drape looks unique and is a blend of two sarees that give an illusion of dupatta on your right shoulder. Our video would help you in understanding it better.
Style tip: Choose two sarees of contrasting shades and wrap one of the pallu around your neck or right shoulder.
Rajrani Style Saree Drape:
A royal style of draping the saree, which would be perfect for newly wedded brides, or even when you attend a wedding. The Rajrani style saree has the pallu draped like dupatta and gives a unique look to your existing saree.
Style tip: Heavy border pallu is recommended for this style of draping, also pick double shades saree for a chic look.
We bring you a video from Craftsvilla which shows how you can look regal in this style of saree.
We hope you loved our easy peasy five stylish draping style which you can try for an upcoming wedding, function or even party. Do let us know which of the drapes are your favourite.
Read more-