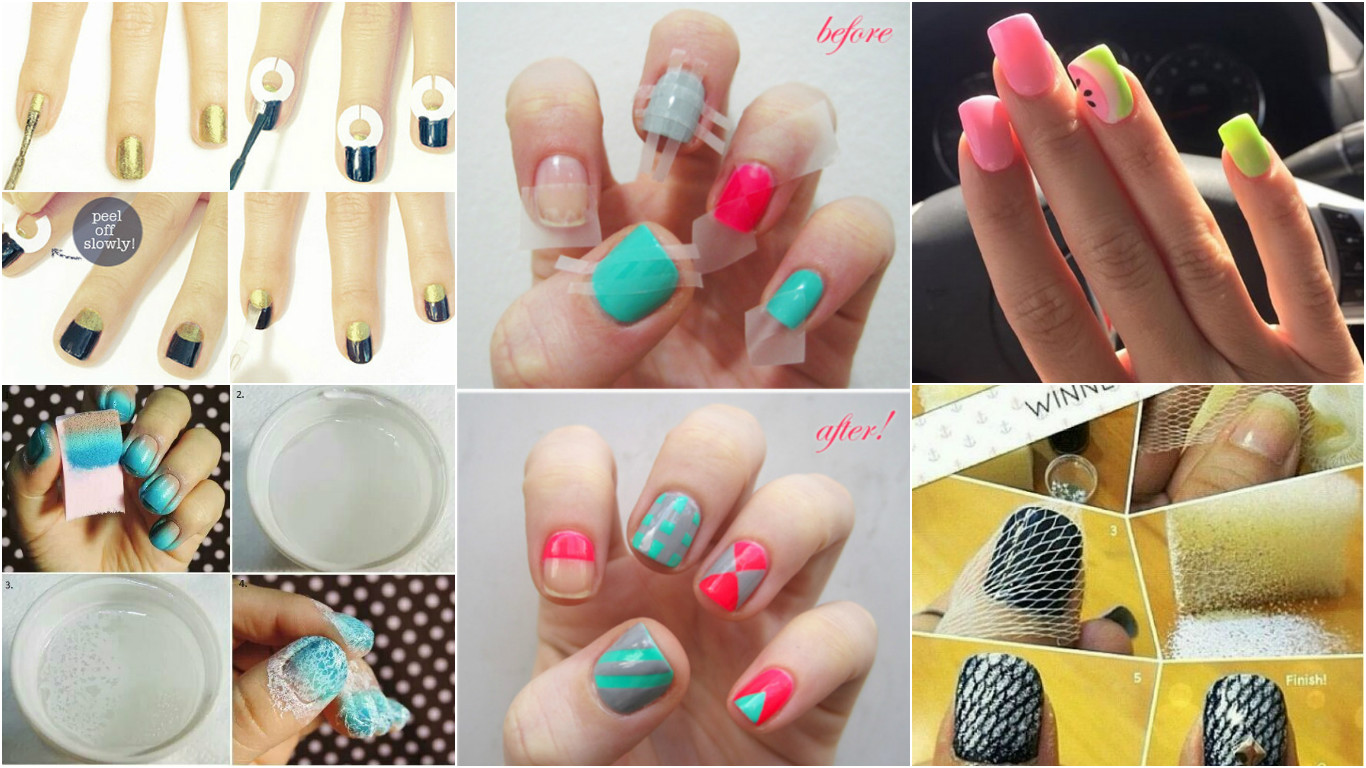 The best thing about being a woman is that I can style myself from head to toe, and no one can find that odd. Apart from fabulous clothing and makeup, I can even paint my nails (how lucky we women are). Nail painting takes immense patience and somehow I find this quote completely true- 'the woman is helpless when her nail polish is drying out'.
Yet many times, my nail polish has turned bad (lack of patience) yet I don't tire from beautifying my nails. My love for nail polish made me hunt for unique designs which I could style on my nails and that's when my Instagram was flooded with nail art designs.
Nail art is the biggest trend now, and many of us feel the designs are complex and taxing. But hey the nail art is super easy and the end result is terrific.
Don't believe me then continue reading our post where we share with you uncomplicated and trouble free nail art which would make you say wow and every girl ask you how? 🙂
Spots using bandage:
source:gurl.com
Who could think bandage could a tool for nail art? But creativity has no boundaries, so for beginners, this art would be completely helpful.
Steps:
Paint your nails in your fave shade and let it dry

.

Apply holes bandage  on top your painted nails and use a different shade and fill the holes.

Remove the bandage and you would see cute spots on your nail. You can try the leopard spots too.
Style your nails with loofah:
Source:buzzfeed.com
Don't we all adore the fishnet nail art? This nail art is perfect when you go for beach parties or even when bored with regular nail art.
Steps:
Paint your nails plain and let it dry, then take a loofah and cover it over your painted nails.

Apply shimmer on the sponge and spread it on your loofah covered nails. If you wish, instead of shimmer, you can go for different shade and apply over the loofah covered nails.
Polka Dots with bobby pin:
source:stylecraze.com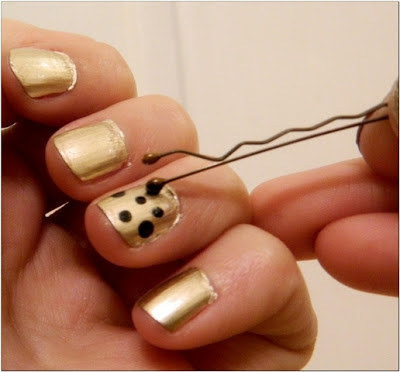 source:buzzfeed.com
Bring a vintage look on your nails by styling them with polka dots. We bet it would look super-cute. And all you need is a bobby pin (how easy)
Steps:
Paint your nails in your fave shade and let it dry.

Take a bobby pin and dip it in a contrasting shade and apply it over your nails in small dots. Voila, your nails would show a cuter side of you.
Watermelon Nail Art: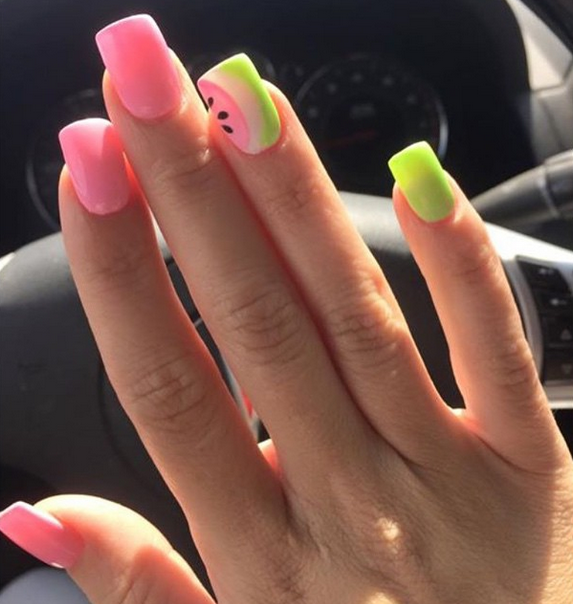 source: diply.com
This is adorable nail art which would make you cool in the summer heat. The watermelon nail art is easy and if you want, you can paint all your nails in watermelon design or just on one of your nails, the choice is always yours.

Beach waves using sponge: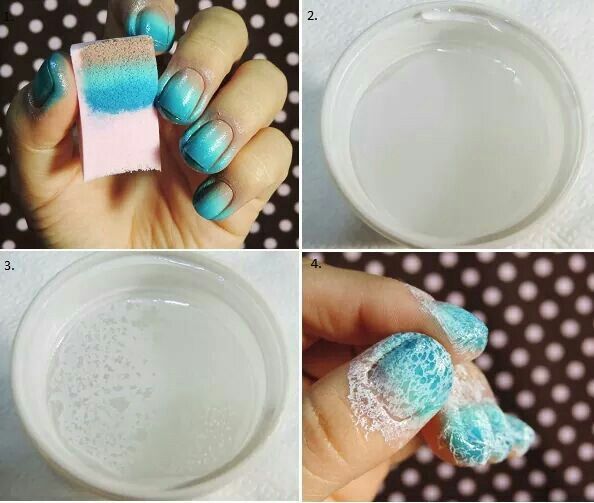 source: pinterest.com
Look cool and wow in this beach nail art which is sure to catch the eyes of all. If you are wondering it is tough, then read the steps and be surprised.
Steps:
Take a sponge and apply three shades of nail polish on it  to create ombre look (blue, peach and cyan or turquoise blue).

Dab the sponge on your clean nails and let it dry.  

In a bowl of water put few drops of white nail polish and spray hairspray or acetone in the water.

Dip your nails one by one in the bowl till you get the web-like look. Remove the excess nail paint on your skin using the nail remover and let your nail paint dry.  
Unique shapes with scotch tape:
source:diyprojectsforteens.com
If you love trying new nail art designs, then scotch tape should be your best buddy, it does wonders and gives lovely results. Bring out your creativity and keep styling your nails uniquely. Make sure you apply the scotch paint only after your first coat of nail paint is completely dry.
Diagonal nail fashion: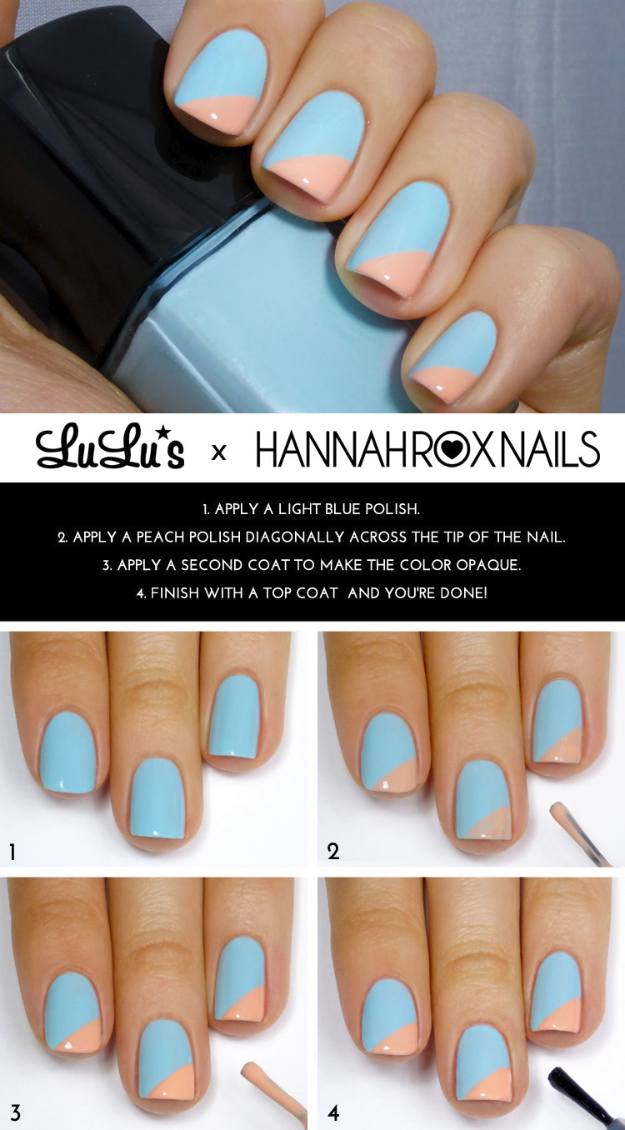 source:diyprojectsforteens.com
We bring another easy peasy but unique nail art that is sure to perk up the look of your nails. The infographic would easily help you how to style your nails.
Newspaper nail art:

source:google.com

Look fashionable and vintage with the newspaper nail art. Many dip the newspaper in alcohol, but you can get the same look with water too, check the infographic.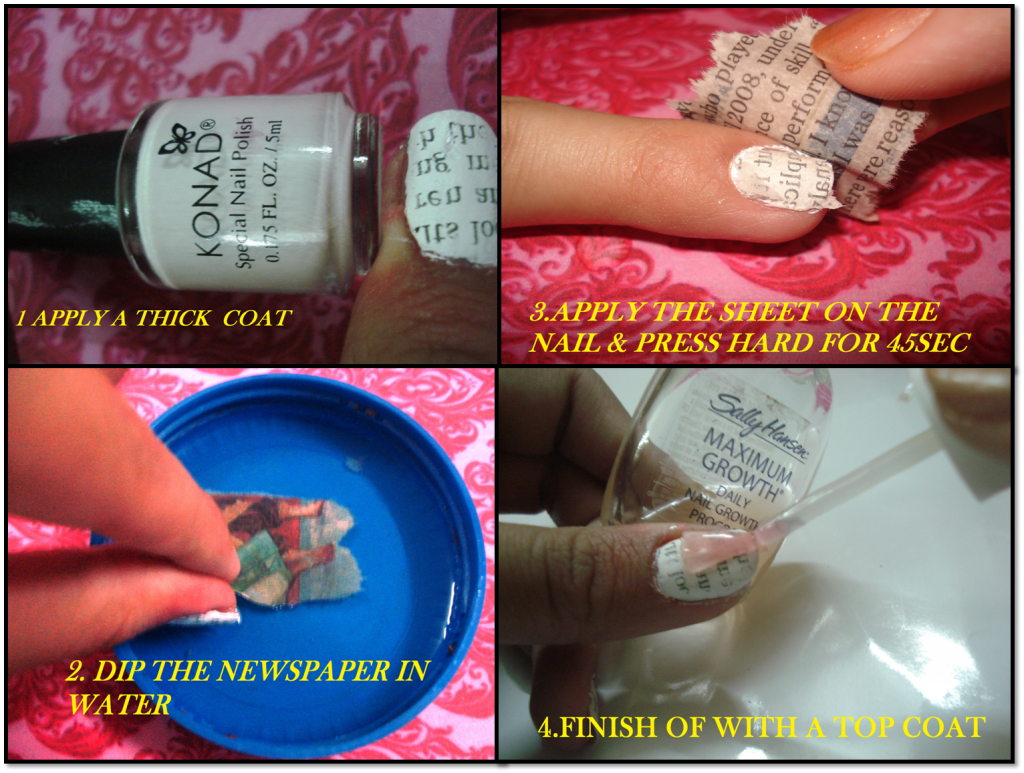 Colorblock nail art:

source:diyprojectsforteens.com

Now let your nail paint even shine brightly with the color block fashion. All you need is nail tapes, scotch tapes and some vibrant shades of nail polish. The infographic says it all that how easy it is to look uber-cool.
Semi Halfmoon using scotch tape:
source:blog.thebeautyplace.com
Look magical in this half moon nail art that is trending nail art of the season. All you need is scotch tape, scissors and two shades of nail paint and with patience, you would glam up your nails beautifully.
Let us know which of these nail art has caught your interest and if you have any more cool and easy nail art ideas we would love to hear from you.
 You May also read more interesting articles-