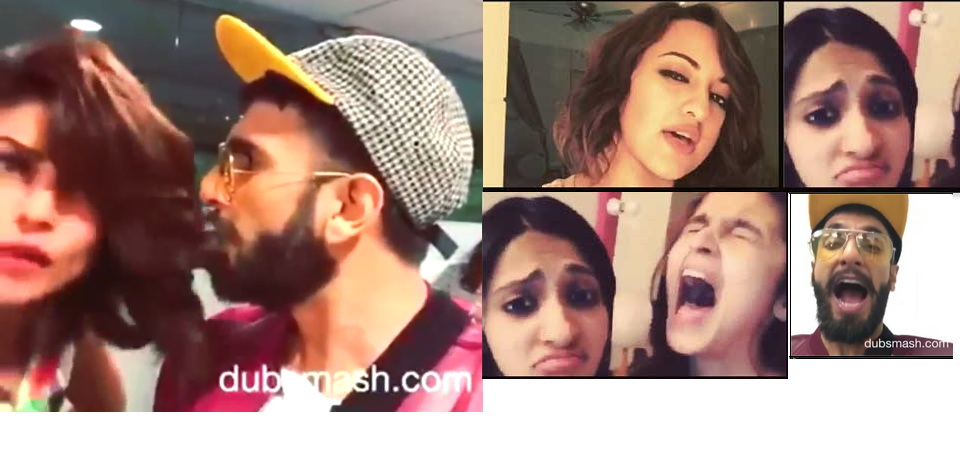 The B-Town has now turned into a crazy town. The #Selfiefever was not over then yet another is buzzing all over in the bollywood, this new viral trend is the Dubsmash.
Some must be wondering what a Dubsmash is? For them, it is an application that can be used to dub your voice to a pre-recorded audio. This sounds technical isn't it but this is the next big craze of our favorite Bollywood stars.
The B-Town celebs are busy showing off their extra talent by dubing old famous dialogues and songs. These days dubsmashes are the new trend to promote the upcoming movies 🙂 over social media.
Don't miss these epic moments created by your favorite celebs.
Check out these crazy dubsmash by celebrities from Salman Khan to Ranveer Singh, Priyanka Chopra to Alia Bhatt, Jacqueline Fernandez and not forgetting the bubbly Sonakshi Sinha in their crazy Avatars sharing their Dubsmash videos on Instagram.
Here is latest Dubsmash by Ranveer Singh and King Khan for the promotions of movie FAN-
Dubsmash Video Salman Khan And Sonakshi  –
Dubsmash Video Sonakshi –
A video posted by Sonakshi Sinha (@aslisona) on
To Ma, papa, bhaiyas, bhabs, vidhi, sakshi, kuro, shirro, my room, my bed, my tv, my car, my city. #majormissingscenes #cantwaittobebackhome #mumbaicity #homesweethome #homsick #basnow

A video posted by Sonakshi Sinha (@aslisona) on
Dubsmash Video Shilpa Shetty –
Happy Karvachauth..Be careful fasting can make you go crazy ? (our first publicly shared dubsmash) @TheShilpaShetty pic.twitter.com/Vz6PI2yTQw

— Raj Kundra (@TheRajKundra) October 30, 2015
Dubsmash Video By Salman Khan Family For PRDP –
Dubsmash Video Alia Bhatt – Link
Dubsmash Video Sonakshi Sinha –
Dubsmash Video Jacqueline Fernandez –
Dubsmash Video Ranveer Singh & Priyanka Chopra – Link
Dubsmash Video Ranveer Singh –
Dubsmash Video Arbaaz Khan –
Dubsmash Video Shruti Haasan –
Dubsmash Video Anita H Reddy Tv Actress –

Link , Link 2, Link 3, Link4
Dubsmash Video Richa Chadda TV Actress – Link , Link 2 , Link 3

Dubsmash Video Virat Kohli –
Dubsmash Video Yogita Aggarwal-


72-
You will also enjoy –
Save
Save