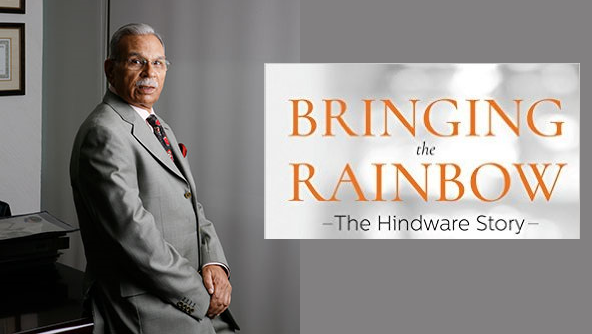 Where in the world can you not find inspiration? Before you start thinking or counting the sources that lack inspiration, one clear source is the negative force within. No matter what, ideally, one should be positive about life than crib about what's missing from it, more grateful towards what has happened than regretting what hasn't. Different people have different approaches towards the life and it's all about the approach and the outlook that you have towards various things that happening with, within and around you.
I am sure you remember Shahrukh Khan's dialogue from the Bollywood movie Om Shanti Om where he says, "Agar kisi cheez ko dil se chaaho to puri kayanat usey tumse milane ki koshish mein lag jaati hai." and he proves that in the movie, but is it possible in the real life? Yes, I would say.
Bringing The Rainbow – The Hindware Story is a book authored by none other, but the man himself who built Hindware, Mr R. K. Somany. The book is an autobiography that spans not only the professional life, but also uncovers the personal life of Mr R. K. Somany who paved his way against many odds even after coming from an affluent family.
The book can literally be termed as a complete documentation of the life that an individual has lived through and can inspire people to take adaptive measure from the point of view of overcoming problems and marching ahead towards the desired goals with all faiths in yourself first and then your cause.
The book Bringing The Rainbow – The Hindware Story is nowhere preachy, it is an experience that has been shared and the reader will only benefit from it at various levels. The simplicity of the writing clearly depicts the simplicity of the thought process that would have gone through while the Hindware Empire was being set up. It is about how one can go against all odds and still be in a win-win situation.
The book explores the early childhood of Mr R. K. Somany as well and which is quite interesting for understanding what made Mr R. K. Somany, the man he is today. Also, there are some select and rare photos of him in the book which will take you back to the life in an era where Mr R. K. Somany grew up.
There are various instances in the book, where Mr R. K. Somany gets candid and talks about the banter he had with his classmates and how he escaped punishments because of not being guilty. A strong lesson that he learnt in the childhood about standing up to what was right and rightfully yours. He also talks about his love for family, cars and his education.
There is honesty in the autobiography, and if not honesty what can make someone one of the leading entrepreneurs of the country? Being honest to oneself is what Bringing The Rainbow – The Hindware Story is all about. It will also inspire you to be high on morals and their importance, the discipline and better habits as he shares his life experiences on these important aspects as well.
Now coming to the point, that has been on your mind for the last 500 words or so that you read, what exactly is Bringing The Rainbow, what's the title all about? Well, there is an interesting story that Mr R.K. Somany narrates, he was once traveling on a not so good road and the day wasn't going well due to the various ups and downs both on the road and the work life, and between all this he sees a rainbow which brings happiness to him and encourages to keep going. Since then, in whatever Mr R. K. Somany does, he asks himself about how he is bringing the rainbow to that work. Quite interesting, isn't it? Many more such interesting life incidents and anecdotes are shared in the book Bringing The Rainbow – The Hindware Story.
I am not writing much about the Hindware story as most of us are already aware about the success, rather read it for the efforts taken to make it one. I would recommend you to read this book to know more about the formative years of Mr R. K. Somany and how they helped him be whatever he is. Look for brilliance in whatever you do, and be honest and true not only to yourself, but others and the work that you do. Success is as achievable as your determination, be happy and genuine, sooner or later, things will fall in place.
The book, Bringing The Rainbow – The Hindware Story is published by Rupa Publications and can be ordered either from Amazon or Flipkart.
You may love to read these two –
Author Bio – Kaushal calls himself a biodegradable human and is a Bollywood fan. He is an avid book readers who prefers reading debut Indian authors. When not reading a book, he can be seen tweeting from @gupta_kaushal.
Save
Save